Today the world celebrates the birthday of one of the most innovative ideas in human history: the Internet! While we celebrate, the web's creator warns that the future is still uncertain.
In 1989, Tim Berners-Lee had an idea for an information management system while working at CERN, the European Organization for Nuclear Research. A few years later it was online as the first ever webpage (pictured below), and 30 years after that, half the human population has a web presence. Whether it's social media, blogging, YouTube, HubSpot, or just checking your email, the Internet has a hand in almost all our daily lives and serves a crucial role for our businesses.
The first ever webpage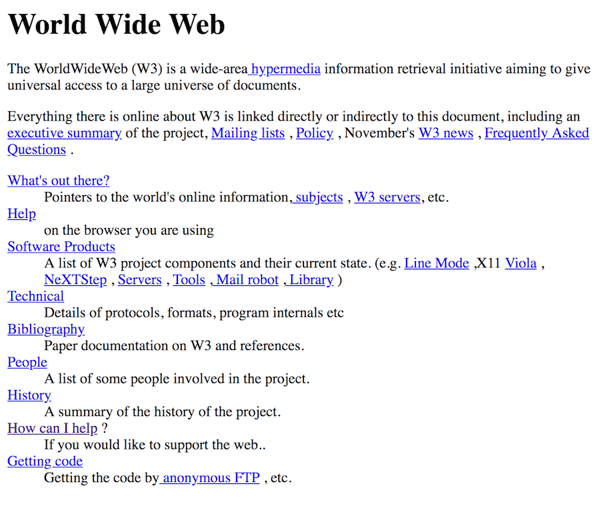 But today's celebration comes with a warning from Berners-Lee who says hacking, corruption, and greed have taken over our web and threaten what he believes is the ideal state of it. He wants a brighter future for his creation, and he's got a plan to fix it.
Related Blog: The Evolution of Web Design
So what can we do? Follow Berners-Lee's lead. At Web Summit in Lisbon, Berners-Lee's World Wide Web Foundation and fellow web leaders put together the initial ideas and plans for a "Web Contract." Similar to what governments and controlling bodies have put together regarding laws in the sea or in space, the web contract's goal is to create a set of rules that govern another government-free space: the Internet. In a letter written for his foundation, Berners-Lee said:
"The Contract for the Web must not be a list of quick fixes but a process that signals a shift in how we understand our relationship with our online community. It must be clear enough to act as a guiding star for the way forward but flexible enough to adapt to the rapid pace of change in technology. It's our journey from digital adolescence to a more mature, responsible and inclusive future."



The three most egregious offenses seen by Berners-Lee against the web are:
Criminal behaviors by governments, organizations and people such as hacking, attacks, and harassment.

Bad system designs with upside-down incentives that sacrifice user experience, such as ad-based revenue models, clickbait, etc.


The consequences of the first two, i.e. "benevolent design, such as the outraged and polarized tone and quality of online discourse."
The contract would defend the rights of the user, defend the idea of a free web, and deliver a set of rules that help the online communities hold governments and organizations accountable for their online actions and show them, as a community, that we desire a free and open web that is a safe place to express ourselves, talk with our friends, and experience the world.
"If we don't elect politicians who defend a free and open web, if we don't do our part to foster constructive healthy conversations online, if we continue to click consent without demanding our data rights be respected, we walk away from our responsibility to put these issues on the priority agenda of our governments."



What will this mean for yourself, your website, or your business? The details of the contract have not been given so there's no way to know as of yet. Keep up with our blog and social media for news and updates on what the future of the web could be, and how it will affect you.
In the meantime, Berners-Lee and web users everywhere continue the battle for the web.
"The web is for everyone and collectively we hold the power to change it. It won't be easy. But if we dream a little and work a lot, we can get the web we want."