In the marketing industry today, change can be your company's essential key to success. The ability to recognize ineffective strategies in your company's marketing plan and implement necessary adjustments is vital for growth. Without change, your company may experience a costly decline, while on the other hand; it can be a valuable investment to innovate a new approach. To achieve marketing success you must be willing to take the risk of updating your marketing and sales strategy and processes.
Related Blog:
Want Your Business to Grow? Try the HubSpot Ecosystem
When you have a business whose products and services are not attainable through the internet, you're limiting the sales for your company. Making your products available online allows visitors to easily start their buyer's journey, and with the help of your sales team they can conveniently become a customer. An online presence for your business will attract leads, educate them on your product, and ultimately generate more sales.
Do you have a big ticket item? Long sales cycle? Does your sales team need to generate more quality leads? Here are 5 ways to capture more qualified leads online:
1. Social Media
Are your ideal customers talking about their needs on social media? If so, this may seem like a given, but there are a lot of businesses out there that don't engage enough on their social media platforms. Social media helps expand your marketing efforts, build brand awareness, and attract buyers. Sharing images, posts, promotions, and other giveaways can attract customers to your business. The more you share, the more your followers will share. Images are extremely effective on social media because they encourage engagement. We recommend taking sharp, colorful pictures of your products and posting them to promote online conversation and begin to see the results. 34% of tweets with images are likely to be retweeted.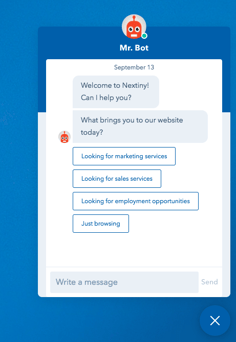 2. Conversational Marketing
As online marketing continues to grow, consumers are looking for a more personalized experience. Real-time communication will be an expectation of consumers, and as this expectation grows, live-chat functions will have to be as personalized as possible. HubSpot has a free messaging tool, HubSpot Conversations, which uses chatbots to start conversations with visitors while they're on your website. These chatbots engage with your visitors, leads, and existing customers to help, support, and educate them by offering the right value at the right time. You can set up sequences through HubSpot Conversations and create automated answers to questions, promote current deals, and when ready, allow a salesperson to jump on the chat and book a meeting with them.
3. Blogging
Blogging has become a tremendously successful practice adopted by many businesses. Along with maintaining your social media platforms, you should be updating your website with well-written, educational blog posts. Posting informative blogs to your website will attract readers to your content, keep them interested, and draw them to your business. Providing educational content on your website will showcase your company as a leader in your industry and make your business more trustworthy. By maintaining a regular blog that offers useful information, you're creating valuable content for your potential customers. Consistent blogging designed for user intent and experience will also allow you to rank higher in a Google search.
4. Email Marketing
Related Blog: The HubSpot Ecosystem: Seventh Sense Integration (Email Marketing and Send Time Optimization)
Gone are the days of sending mass emails. Today, you should be focusing on delivering specialized content to groups of people who the information is best suited. Along with your direct messaging, you should be utilizing Send Time Optimization. STO allows you to send your email at the most optimal time of the week for the recipient, giving your email a much better chance of not being overlooked.
To accomplish this, we use Seventh Sense, a software that analyzes every email that you have sent, when each of your leads has opened each email, and their interactions with it. Through Seventh Sense we can send email campaigns at the optimal time for each lead, at a time when they are most ready to engage. This software optimizes our email marketing campaigns because we can now reach people when they have time to engage with our content, which will result in higher opening rates, higher click through rates, and ultimately, higher conversions. We then utilize this data to give our sales team better insight into our prospects' buying behavior.
5. Video
Video marketing has become an online marketing powerhouse. Statistics show that 84 percent of online users prefer to watch videos from a tablet, desktop, or smartphone. Videos don't need to be long either, quick two-minute videos of you and your product could be a game changer. If you shared a video of your product being demonstrated on one of your social channels, you could attract a new demographic of people.
Video is quickly becoming the largest consumed content online. Creating videos for your website makes your content easily digestible for your site visitors and allows you to efficiently reach your leads and close them as customers. Wistia, a video hosting, optimization and reporting software, allows you to embed your videos in website pages, landing pages, and emails. Adding video content to your website helps your SEO efforts, as the title and even the captions can be read and crawled by search engines. With Wistia, which integrates into HubSpot, you are able to track how many people watch your videos, for how long, and even add calls-to-action to create leads from video efforts.

Related Blog: The HubSpot Ecosystem: Wistia Integration (Video Hosting, Optimization and Reporting)
Because technology and the marketing industry are ever evolving, your company should continuously be looking for ways to grow and effectively attract your target audience. As you evaluate your current marketing strategies and decipher what is working and what is not, think about incorporating new approaches to optimize your efforts. Remember that it takes a combined approach of successful techniques previously used, while incorporating new techniques such as video and real-time communication.