Email Marketing can be a great way to reach out to your audience and grab their attention. This can successfully be done quite easily, but there are a few things to keep in mind in order to create the best possible email marketing campaign.
Related Blog: 4 Prospecting Email Mistakes that Kill Your Chances of Engaging Your Recipient
Here are seven reasons why your email could be getting ignored:
1. It Looks Like Spam
The recipient thinks it's spam, or, more correctly, their email client does. What is an email client? Email clients, or email service providers, are companies like Google, Microsoft, and Yahoo who offer email services like Gmail, Outlook, and more. Email marketing that appears too solicitous can be flagged as spam by the email client's filter setting. Some people are diligent about checking their spam folder for valuable content every so often, but you can't rely on that. If there's a risk that important update emails might be flagged as spam, you can send a separate personal email to the recipient asking them to exempt your email address from the spam blocker.


2. Too Much "Fluff"
They didn't ignore the first three paragraphs, but, because there was no substance, they decided to ignore the rest. Try not to make your email look like the next great American novel. If you have a longer message to communicate, use it as a conversion opportunity. Create a downloadable guide and include a call to action in the email linked to a landing page where people can download more information on the topic.
3. No Context
When someone receives an email from you, they should not be unsure why they are receiving it. Make sure you are sending emails that make sense for them to receive, or more importantly that they have given you permission to send. If someone has not filled out a form on your website to receive information from you, chances are you should not be sending them marketing information emails.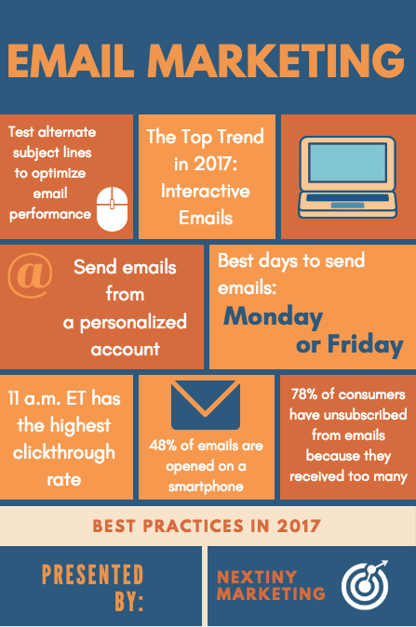 4. Too Impersonal
Creating segmented lists will allow you to alter the content to a specific audience or person. Further personalize your emails by including personalization tokens like the recipient's first name. If your company's emails comes across as too impersonal or automated, they are more likely to be deleted, sometimes without even being opened.
5. Too Personal
Just as some people don't like something being too impersonal, having a stranger be too personal can send the wrong message. When you consider adding personalization to email marketing communications, also consider the buyer's place in their buyer's journey. Someone who has recently identified themselves as a lead may be less inclined to enjoy personalization tokens in your marketing messages as someone who feels they have established a relationship with your brand.
6. Too Much Hassle
Maybe they didn't ignore your emails at first, but once they realized how much work you require of them, and all the hoops they'll have to go through to respond properly, they suddenly found something else to do. Be clear about what you want, and make it a simple process for visitors. Include all required information, such as links so the individual can easily guide themselves through your process.
7. Lost In Cyberspace
Sometimes an email simply doesn't get to the intended recipient for any number of reasons. The most common reasons are hard bounces and soft bounces. Hard bounces are typically more of a concern than soft bounces because hard bounces indicate some sort of issue with the content you are sending or your sender reputation. Soft bounces can be due to issues on the recipient' side, like an inbox that has reached its capacity.
---
Now that you know why your emails could be getting ignored, it's time to put a stop to that! Create personalized emails that contain valuable content and a direct message to work towards greater email marketing success.