HubSpot offers some of the most comprehensive online education, training, and certifications available via the HubSpot Academy. Whether you are new to the idea of or well-versed in inbound marketing and sales, there is a nationally recognized certification waiting to have your name on it. Additionally, the HubSpot Partner Program allows for even more in-depth training through additional courses, conferences, and "bootcamps" offered via live webinars with HubSpot experts.

The first time I heard about the possibility of attending Dan Tyre's sales bootcamp was from our CEO, Gabriel Marguglio. Naturally, I accepted the opportunity. An intensive, 8-week Pipeline Generation Bootcamp with HubSpot employee number 6, focusing on sales call techniques and generating a full pipeline through effective prospecting techniques?...Let's do it!

Wait...prospecting? I thought we were experts in inbound? Skeptical at first, I still came into the bootcamp excited to learn and ready to see what this was going to be all about. Why are we prospecting and cold-calling if we thrive off of generating our own leads?

Within 5 minutes of the first class, I realized that my initial perception was way off. We weren't learning to effectively cold-call strangers, we were learning how to be a successful salesperson who people actually like by using warm-call techniques and always helping.
1. Do your Research, every time!
In order to identify prospects that fit your ideal customer, that are within your vertical, and potentially need your services, you need to do some research. Sounds simple enough. Then let's call them right?

Wrong.

After identifying a company that is a good fit, find appropriate contacts within that company who would be conducive to a favorable conversation about marketing, sales, and business growth. It would be difficult to have a beneficial conversation about top of the funnel offers, as well as marketing and sales team alignment with an industrial manufacturer, if we end up instead in a conversation with the service manager. As you go through this research, take note of key information that can help you break the ice, learn, build trust and, most importantly, help. Remember that the key to the initial conversation is always to help, not to sell.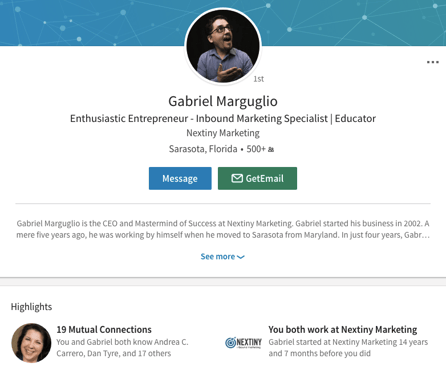 As Dan Tyre says, "Always be helping. Even if they are not a good fit for your company, help them."

Some of the most useful information for this first conversation can be found right on LinkedIn, including but not limited to:
Role at the company
Tenure at the company
Location
Common Interests
Mutual Connections
By doing proper research you will never cold-call. Going into a call knowledgeable, relatable, and ready to help, makes any call a warm call.
2. On-the-Phone Techniques
Oftentimes, sales coaches can be overly critical of phone techniques and as a result, students end up sounding like robots. Instead, focus on the importance of lines, pausing, smiling, and of actually listening.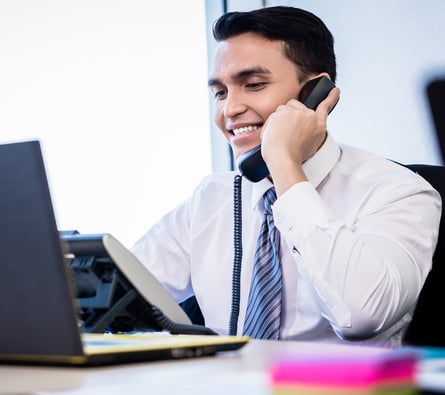 The Power of the Pause:
Dan Tyre encourages pausing, including an introduction pause, at various times during the call. Essentially, by simply putting the phone on mute and pausing, you encourage the other person to speak by leaving the conversation open to their input. Pausing causes your prospect to think instead of just hearing you and being talked at. Notice that I said hearing you instead of listening. Without an open dialogue they're most likely not even absorbing what you are saying. You have become just another salesperson and they are looking for their opening to exit the monologue.
Active Listening:
In sales, you should be actively listening. This is different from simply listening while you are waiting to speak again. Sound familiar? Do not partially listen while scanning through your notes looking for the next point to cover. By doing that, you will miss important information worth its weight in gold being handed over to you on a silver platter.
Active listening encourages paraphrasing the information your prospect has given you and then asking a follow-up question if necessary, or by asking them to confirm that what you have repeated is correct. In this way, you are once more opening the call into a conversation instead of a sales pitch, showing that you actually care about their challenges.
3. Role-Playing
Role-playing... as in fake calls? Yes, exactly.

Practicing sales call scenarios can seem a bit odd or uncomfortable at first. You're not a real prospect, this isn't a real deal, and I'm not actually selling you anything. But you can't expect to make the Major Leagues without first taking batting practice. Practicing is the majority of the battle.

In the sales bootcamp, Dan matches you up with other members of the class (Lions, as he calls them) and places you into a hypothetical situation using real people and real companies as your persona. Using the links provided (website URL, LinkedIn profiles, and description of the type of lead) you practice scenarios together as the salesperson and as the prospect.

Although difficult at first to get into the right mindset to treat a hypothetical situation as a real call, the forward progress you gain is undeniable. Practicing, hearing objections, and actually using the phrases and language covered in the class gets you more comfortable with your tone, tempo, and confidence. You begin to develop your own style by practicing through repetition.
4. Start Dialing the Phone
Role-playing is a fantastic tool for getting more comfortable with certain skills, but nothing beats actually getting on the phone. Dialing the phone can be stressful if you are new to the idea but it is simply something that must happen. Trust us, you can do it. The more you call real people, execute skills in real situations, and start seeing real deals in your pipeline, the more you realize that being helpful, confident, and genuine actually works. By learning to do your research and actively listen, you are better able to guide the conversation toward their needs and offer help. By practicing through role-playing you are able to dial the phone more confidently, and by dialing the phone you put all of your skills together and begin to come across as more genuine and natural.
Results: Confidence and a Thriving Funnel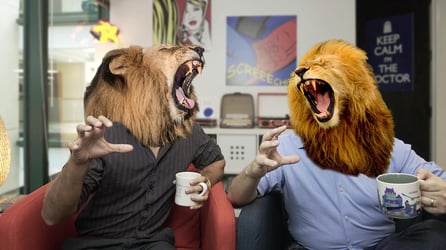 For our CEO, Gabriel Marguglio and myself, our takeaways were a little different. I personally already had inbound sales and inbound experience and, although learning from Dan Tyre every week, felt very comfortable on the phone already. What I was lacking however was the ability to speak about inbound marketing and our company as an authority in the industry. I embraced the opportunity to learn and apply my skills to something new and gain confidence to help prospects every time. Meanwhile, for Gabriel the inbound marketing methodology and identifying opportunities for companies to improve is a natural gift. Even though he has no problem in front of the camera or as a speaker for a big audience, he had never truly trained in prospecting conversational techniques and calling out of the blue was not natural to him. By the end of the course, we became a prospecting machine, calling everyone on each other's lists with confidence, finesse, and authority as we continued to help. Moving forward, we have the knowledge to be able to implement these skills into our customers' sales enablement strategies. As a growth agency, it is important to us to ensure marketing and sales alignment for our customers to be able to not only attract great leads, but to also close them as customers.
In just 8 weeks we filled up the funnel with great opportunities and are about to close the first ones already.
The fact of the matter is that people want to speak to you. You are an expert in your field and they want to work with you. They may not know it yet, but they do. Cold calls get hung up on because they are a waste of time. They have no context and are usually focused on items totally irrelevant and unrelatable to the prospect. For example, if you call a prospect and talk about how having a steady blog that covers topics catered to every important stage of the sales funnel and they are already doing that, then you aren't helping the prospect and you are utterly wasting their time. Do your research, offer help, and communicate like a human. Be a salesperson that people like.