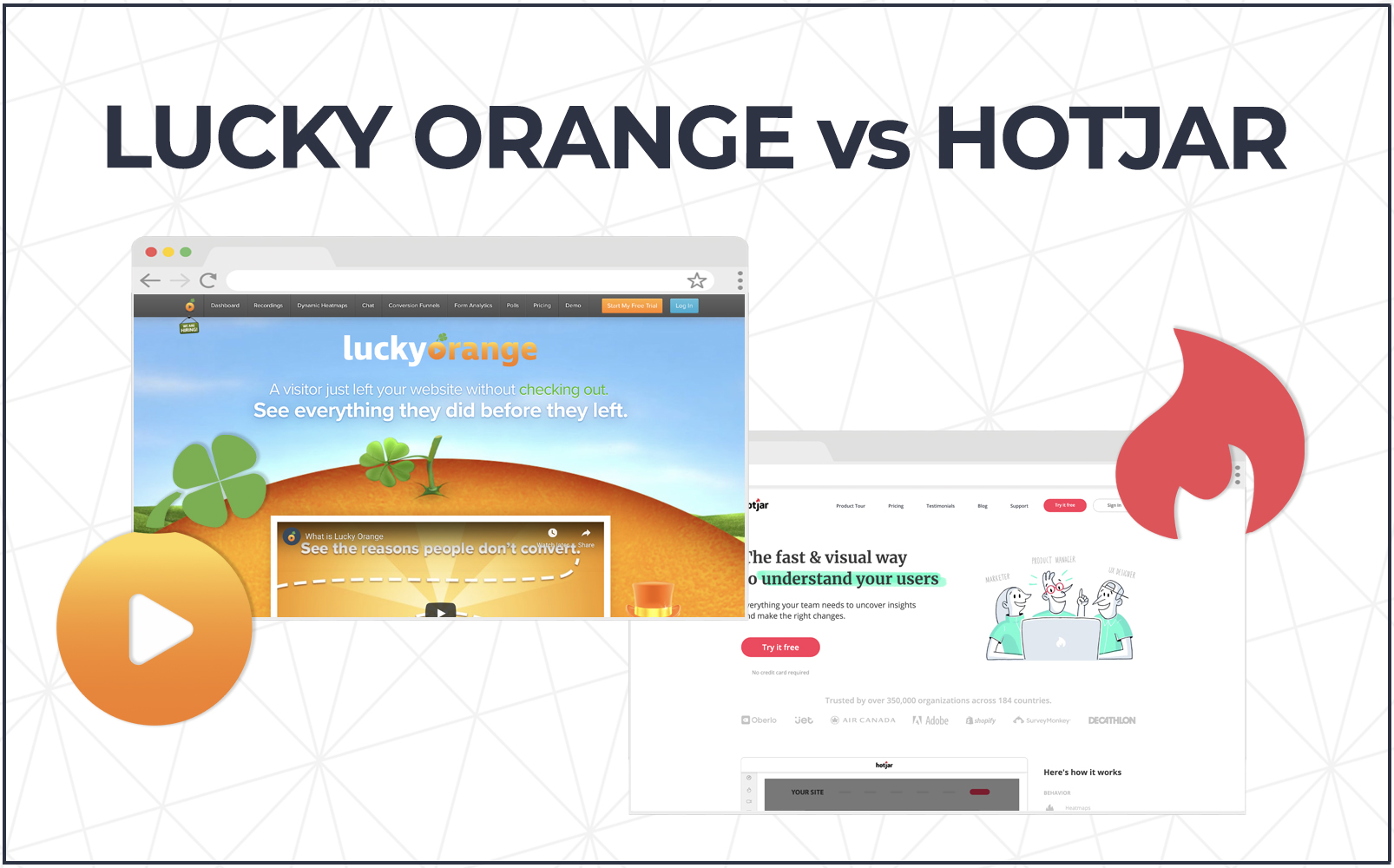 Being able to gather data and physically see how people are interacting with your website is far and away the best way to improve your site to generate leads effectively. But which software is the one that will guide you to the traffic-heavy promised land?
Watch our interview with Danny Wajcman, COO & Co-Founder of Lucky Orange on Martech Masters
Related Blog: What Are Users Doing On Your Website?
Why We Chose Lucky Orange
When it comes to analyzing how people use your website, you've got two major options: Lucky Orange and Hotjar. There are many factors that you should consider when making this choice. Below you'll find them all and why we think Lucky Orange is the best choice.
Price
The biggest benefit of Lucky Orange's pricing model is that you are allowed multiple sites under one account and there are many options depending on how many operators you want on the account and how many sites you need to operate.
That kind of flexibility on pricing means that no matter what your situation is, there's a reasonable pricing plan available. Hotjar has some flexibility, but the drawback is that it mainly focuses on one website per account and separates its pricing plan for page views a day. So, if you have one website that already gets a lot of traffic, you might consider Hotjar. But, most websites would make better use of Lucky Orange's cheaper option.
Features
Price was a big factor, but the biggest thing that factored into us choosing Lucky Orange was that the features are sleeker, easier to use and provide much more freedom and information.
Check out all the episodes of our inbound marketing video series, Coffee Talks!
Heatmaps: Both of these software provide a very helpful heat map feature that works very well for what you need. One of the reasons we still prefer Lucky Orange over Hotjar is that Lucky Orange allows you to view heat maps on live sites rather than just snapshots of your site like Hotjar. This means you get accurate information right when you need it as it comes in and you can actually interact with your website while you use it.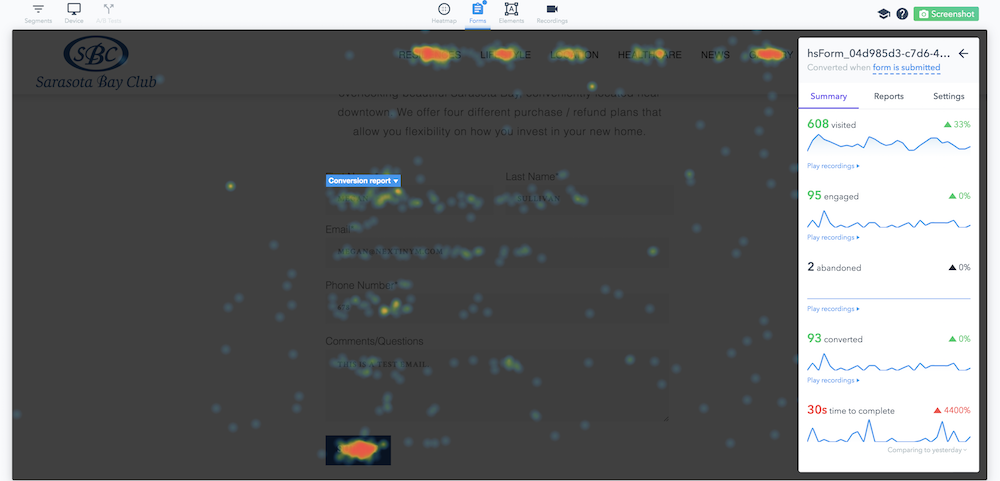 Lucky Orange heat maps give you the chance to see how people interact with your pages
Live recordings: We also love Lucky Orange's ability to follow your website visitors live and see what they're doing in real-time rather than waiting for the recording (which you can also do).
Along with that, the Lucky Orange realtime dashboard is incredibly useful for live statistics and, when combined with the live recordings, you can get a great sense of how people interact with your website and get instant reports.
HubSpot integration: A huge bonus of using Lucky Orange is its extremely robust HubSpot integration. Not only can you upload recordings and data straight into HubSpot, but you can view recordings from there, too. This streamlining helps to save time and effort and keeps your team much more organized by not having to jump between apps and pages to get all the information they need to make decisions.
Interface
This is the one place where Hotjar shines a little brighter than Lucky Orange. Hotjar's interface is smooth and very easy to understand. But, Lucky Orange has made huge strides in this department and continues to invest heavily in improving this aspect of the software.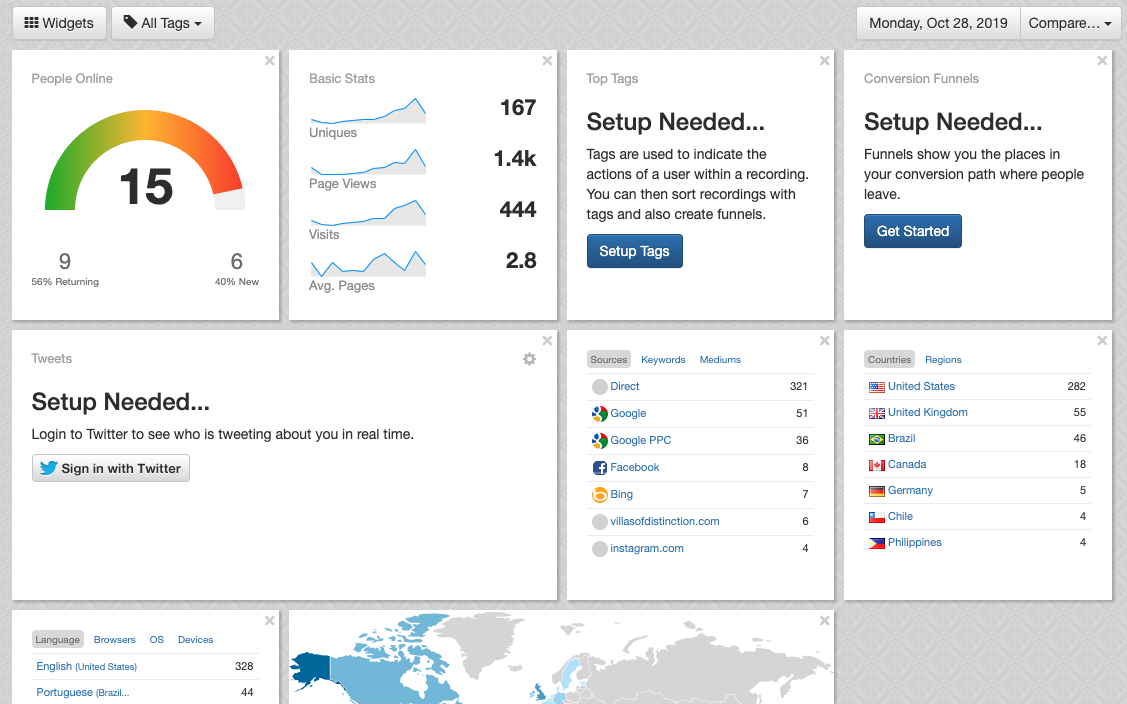 Lucky Orange's interface make sit easy to digest and analyze data
3 Lucky Orange Quick Wins For Website Analysis
Check out all the episodes of our inbound marketing video series, Coffee Talks!
1. Go to high conversion pages (LP's, forms, bots, chat, etc) and see how people interact with the elements on your page that are designed to be engaged with (videos, polls, forms, bots, etc.). Are they engaging at all and how are they being viewed? If the answer is no, this can help you find out why.

2. Analyze high-volume pages to see what makes it tick, see how to use the same tactics from it on all your other pages.

3. Analyzing your menu structure with heat maps. You can see which specific pages they go to and how they got there which will allow you to make sure each page is easily accessible. Look for buttons with no clicks or lots of clicks and try out the things you discover.
---
With flexibility in pricing, many exciting features, and continued innovation, we think Lucky Orange is the complete package that everyone should consider using for their website analysis needs.