Few things scare people more than complex numbers, graphs, and the idea that what they're doing is wrong. Pete Caputa from Databox is here to tell you not to be afraid, embrace the data and use it to fuel your marketing.
Last Week's Episode: Tips for Video Marketers
Importance of Reporting
The importance of quality data reporting goes well beyond just tracking your numbers and metrics. It goes deeper into the content you produce and all of your processes from sales to customer service. Strive to be data-driven in every aspect of your business because that's the only way to truly know if what you're doing is working.
Become data-driven
What does it mean to become a data-driven marketer? It means using your data as a measuring stick of your success. Using tools like Databox to collect your metrics, report them, and use them to build upon what you're doing or to find out that what you're doing isn't working.
Not only should it be used as a measuring stick for what you're currently doing, but the data you collect should also be what sparks the ideas of your future strategies, too.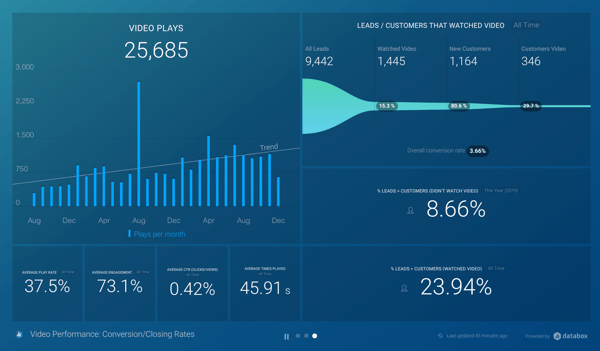 Future of Databox
Marketers are always trying to become more intentional and data-driven, but aren't sure what to do when confronted by a screen full of numbers and graphs. Luckily, Databox has that covered.
Just released, Databox's new Business Analytics Training course is a great way to learn what metrics you need to be tracking, how to track them, how to analyze the numbers, and how you can take that data to improve your marketing strategy.
What is Predictable Performance?
Databox is also working to develop easier to monitor specific metrics and making the data as accessible as possible. Rather than use the dozens of tools a typical marketer will use to check data, Databox wants you to be able to check one source for all of your data. All your data will be in one place with the ability to build a custom dashboard for easy reporting.
---
Comparing analytics tools? Here's our MartechTuesday for Databox vs Klipfolio
You and data may not be on speaking terms right now, but thankfully you've got a mutual friend in Pete Caputa who's ready to bring you back together. Check out Databox and all the ways it can help you strategize with data.
For more episodes of Coffee Talks, visit the official Coffee Talks video gallery.