As technology advances, we continue to see a shift in the way people consume content. Video is constantly gaining relevance and now it's easier than ever to pick up a device and immediately start watching content.
If you haven't already, start focusing your energy on creating a strategy to start incorporating video marketing for your clients, customers, partners, and yourself. In 2018, over 80% of companies started incorporating video into their strategies — a 17% increase from the previous year. Additionally, social videos are generating 1200% more shares than text and images combined! The numbers don't lie — it's finally the year of video.
Where do you begin? A camera, microphone, lights…but what about ideas? It's a daunting task to add video to your list of skills but with a plan, and some guidance, you'll be filming before you know it. We're here to take the stress out of the search and give you an agency's perspective. Let's look at a breakdown of the main points when taking video head on. You can also check our video marketing guide to learn when to use video in your marketing, sales and customer service efforts.
Related Blog: How Video is Shaping the Future of Content Marketing and SEO
Step 1: Evaluating what content you will be capturing
Before you jump into buying gear, it's essential to know what type of content you will be capturing. After all, this will determine what gear you'll actually purchase.
Just like creating a marketing strategy, you must evaluate what you and your customers, or clients, do. Do you offer a product or service? What about your clients? How can you display the most important and relevant information in an engaging way? It's important to understand the message and goals before you start creating a plan to shoot video.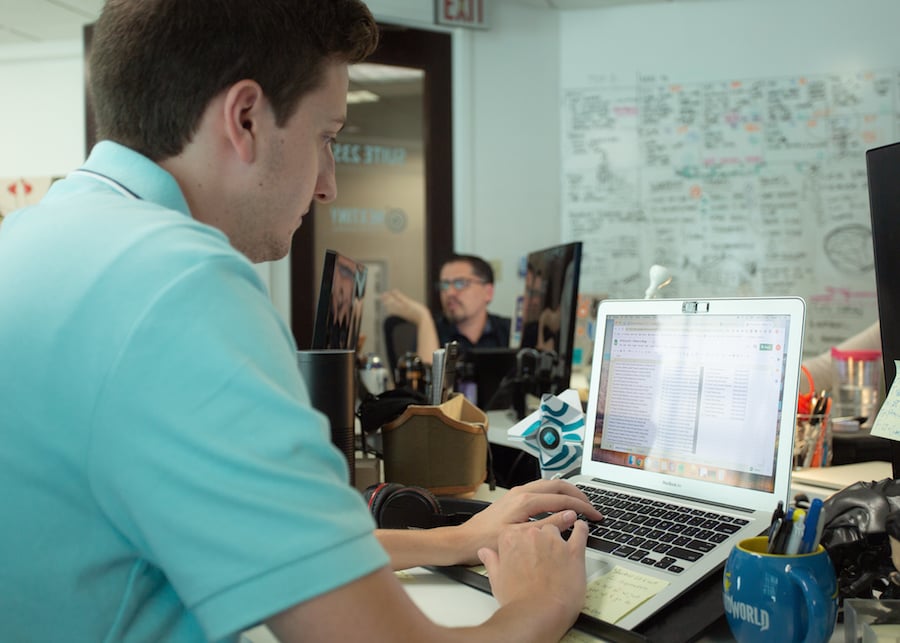 Additionally, you need to understand the client's vision and get a feel for their company as you will want the video to match their branding. Where will the video live? Is it for social media or maybe a landing page on their website? This will be relevant to the information provided within the video.
Step 2: Getting the right equipment you need
Here's the fun part — what will you use to capture your video content? We could go down a rabbit hole discussing every small intricate detail about every piece of video equipment on the market but, for simplicity, let's start with the Soapbox station. As an all-in-one station to create professionally clean videos, Wistia has made it easy to get started with a DIY kit. The Soapbox Station comes in two versions: the Pro & Lite. With both versions, you get a mini LED light, microphone, and a 4k webcam to capture crisp video.; The difference being the overall size and quality of each device. Both versions will achieve the same overall goal and is a perfect starter kit to start creating your own videos today!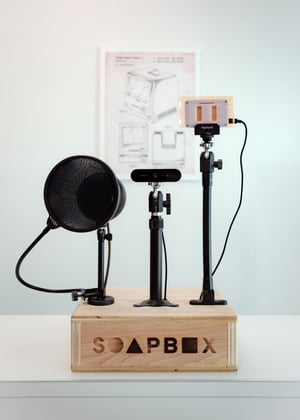 Once you're ready to bump your production level up and need gear on the go, start doing heavy research on the top DSLR and mirrorless cameras on the market. Both have different pros and cons but, in a general sense, they achieve the same relative functions.
For brands, you're most likely to get a Canon, Sony, or Nikon. Of course, there are many other brands such as Panasonic, Olympus, Leica, Blackmagic..the list goes on, but it's important to know what specifications you should be focused on. There will forever be the on-going debate between "experts" on which brands offers the "best" camera but to be honest, there's no clear-cut answer. Each brand gives you a different specification sheet so it's best to determine which specs fit your needs most. Are you shooting your videos indoors primarily? Maybe you do a lot of beauty videos that require models or subjects — determining what you're primarily shooting is the best way to approach which brand and camera to commit to.
Sony offers mirrorless cameras with incredible low-light capabilities. On the flip side, Canon's color science is widely viewed as the best for true color. Do you need a camera capable of capturing full HD video but also be versatile in taking high-quality photos? Maybe you would opt for a Nikon. Realistically, there is no wrong answer to this but we stress relevancy to what you're trying to accomplish.
Currently, at Nextiny, we are using the Sony a7iii & Sony a6300. Both of these cameras have amazing capabilities but the most important thing is having brand cohesion. This is vital as the colors and the overall look of each brand is quite different, making the coloring more difficult to match in post-processing. When looking to purchase your first camera, keep in mind that down the road this camera will most likely become your B-camera so future-proof yourself by getting the brand you most easily relate to!
You'll find that audio & lighting is also incredibly important — don't make the mistake of buying a camera and going to your first shoot with only that! You'll realize when you go to edit the video that the audio quality will be poor from the in-camera microphone and natural lighting is harsher than it seems in person.
On top of the cameras, microphones, and lighting gear, you need several accessories to accompany these main pieces. If you're interested in seeing what we use for our gear and how we accessorize it, check out our full list from our article, What's in our Camera Bag.
Step 3: Understanding the shooting procedure while on set
Once the content and purpose of the video are laid out for a client and the gear is purchased, it's time to shoot. So what's the process for a video shoot? It's dependent on what you're actually filming but we can break it down into sections — set-up, filming, and breakdown.
During set-up, it's crucial to know what you're doing because a lot of clients will be ready for you during the set-up. Looking the part is almost as important as the final outcome of the video. So, get familiar with all your gear before even setting foot on your first video shoot! If you do this, you'll arrive on set looking like a professional and instilling trust within everyone around waiting for the shoot to happen.
Once the lights, cameras, and microphones are set up, it's time to go! A key thing to remember though, is that being human is just as important as being technical on set. This is vital as mostly everyone is uneasy on camera. Between the brightness of the lights, the microphone cable wired to them, or the camera staring into their face, they will quickly realize that the environment feels intimidating. Before they start to feel this, it's important to assure the subject that it's normal to feel nervous and to not focus on the production around them but on the point of the video instead. Keeping their focus on the content will make them quickly forget about their surroundings and keep the shoot running smoothly.
As the person capturing, it's important to focus on not only the content but also on the camera itself. How's your battery life? Do you have enough storage on the card? How's the camera's temperature? These are examples of what *could* go wrong on set if the right precautions are not taken. If you've prepped your gear, you should never have these issues, ensuring a perfect shoot day! Now that the video is finished, we move on to our next step.
Step 4: Completion of a video, what's next?
Now that you've finished shooting, it's time to focus the energy toward editing. This process can be as easy or as complicated as you make it but there are several applications you can edit in. At Nextiny, we use Final Cut Pro and Adobe Premiere to make smooth cuts & transitions, balance audio, create animated graphics, and complete the project that drives a specific purpose. Editing software is personal preference but between these two, you can't go wrong. With the software, import all of your media and start dropping clips in to finalize your video.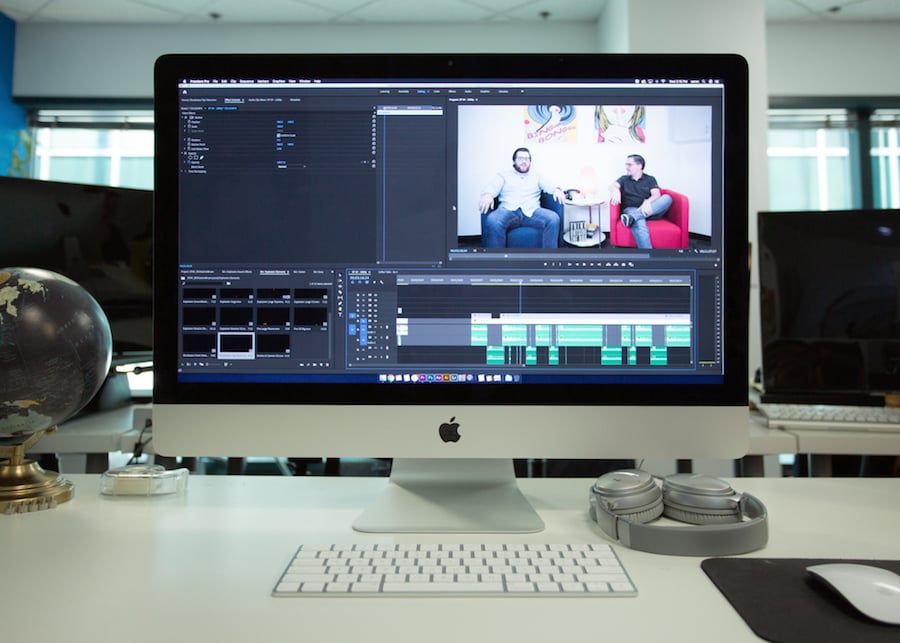 Once it's finished, the marketing magic begins. Where does the video live? Should you promote it to social? Maybe it goes on a landing page or thank you page? Every situation is unique and dependent on what the relevance of the video is but, for the most part, maximize the potential and share it to every avenue you possibly can. The more eyes on the video, the more opportunities for leads.
There you have it, our 4-step process from deciding on creating a video to your first completed project. Now that you've embraced video, it's time to start creating consistent content today for you and your clients - enjoy the process and happy filming!