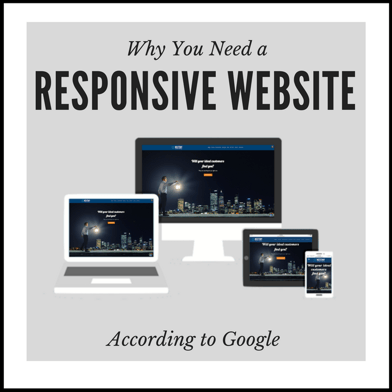 We all know that people are relying on and using mobile devices and tablets now more than ever. There are 2.6 billion smartphone users globally, and by 2020, it is expected that there will be 6.1 billion. This means that web browsing on devices is increasing, and people are expecting to be able to access your website's full content from their phones, laptops, and tablets without losing any of the user experience. Now, not only will mobile users be frustrated if you don't have a responsive website, but Google will actually penalize you for it.
Related Blog: 3 Tips for Making Your Blog Content More Skimmable
What does this mean for you?

Google will change the rank (penalize or downrank) of any sites that are not optimized for mobile devices. Therefore, if you don't have a mobile friendly website, your Google ranking can go down, meaning you will lose potential customers.
Why Your Website Needs to be Mobile-Friendly
•66% of Americans own at least two digital devices -- smartphone, desktop or laptop computer, or tablet -- and 36% own all three.
•A moblie-freindly website will help you stay competitive in your industry
•Gain access to the millions of potential clients that are smartphone, tablet, and/or laptop users
•It allows searchers to experience your content without losing any of the user experience you've curated

According to Paypal, 25% of their users access the company's website using their iPhones, iPads, and other mobile devices. If your site is not mobile-friendly, your company could be missing out on hundreds or thousands of customers. Not only that, but Google has announced that they are tagging sites that are mobile friendly, which could affect Google SEO rankings.

If you aren't sure whether or not your website meets the criteria, Google has created a Mobile-Friendly Test you can use to check.

In order to comply with Google's rules, you should do the following:
•Make your mobile pages load in under one second. The average amount of time a person will wait for a mobile page to load is 5 seconds.
•Make your mobile site faster by limiting the amount of data transferred and reducing the number of requests.
•Optimize for mobile devices by holding off on the loading of JavaScript until it's needed.
•Use Google PageSpeed Insights to see if there are any issues with your pages loading.

So what are you waiting for? In order to stay competitive in your industry, making your website mobile-friendly is a necessary step. Not sure how to start? Let us help you!
Topics: responsive website design, web seo, mobile website optimization, mobile friendly website