Are you currently using HubSpot to manage your company's marketing, sales, and service functions, but unsure how to help empower your users as a HubSpot administrator? As a HubSpot user, empowering your team to effectively use the platform is crucial to achieving success. This blog will guide you through the process of effectively organizing your portal, managing user permissions, leveraging account security, and comprehending the importance of reporting in measuring the impact of your efforts. By implementing these strategies, you can ensure that your users have the tools and resources they need to be successful within the HubSpot platform.
Here are 5 things every HubSpot Super Admin should know:


1. How To Organize Your HubSpot Portal
By maintaining a well-organized HubSpot portal you can efficiently locate necessary information without wasting time searching for it. This involves implementing a structured naming convention throughout your entire portal, keeping things clean and organized. The following are examples of the items to which these guidelines apply:


Files and Templates

Forms

Lists

Website Pages

Workflows

HubSpot supplies a set of default properties to capture information on contacts, companies, deals, and other objects. It is important to evaluate the default properties before creating any custom properties as they can serve as the foundation for structuring your data. Once the need to create custom properties is determined, organizing them into relevant groups is crucial. Since not all properties can be classified into the same group, it is essential to form custom groups for appropriate properties to ensure well-organized data.

Your HubSpot portal is a shared workspace among members of your team. By keeping the structure organized and consistent, Super Admins are providing their team with clear processes and guidelines that will ensure all team members are on the same page.


2. Managing HubSpot Users, Permissions, and Teams
Conducting regular user audits and managing the users inside your HubSpot portal ensures the platform is being used effectively and securely. A HubSpot user audit confirms that each user has the appropriate level of access and if any permission sets need to be updated based on their role in the organization. It can also help identify inactive users that may need to be removed as well as any potential security risks.

Your HubSpot portal should not have an overwhelming amount of Super Admins. To determine who should have the authority, it is important to consider the user's role and responsibility within the organization. Super Admins have the ability to access and manage all aspects of the HubSpot portal, including billing and data privacy, so it is essential to permit this role only to those who are necessary.

To effectively manage user permissions, it is necessary to develop personalized permission sets within your organization. This enables you to specify which roles require access to particular information and how those permissions can be segmented in the most effective manner. This process can be customized for various roles such as Content Marketing, Project Management, Development, and more. This organizational structure can be further enhanced by creating HubSpot teams and segmenting users based on their roles and the information they will need access to inside HubSpot. Each team can have its own set of permissions and access levels, which allows Super Admin users to control who has access to certain data within HubSpot.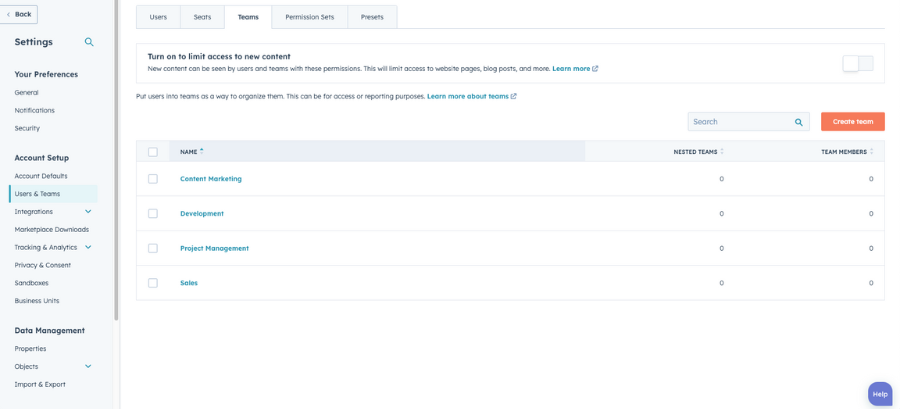 Overall, performing consistent user audits and managing portal users is needed to identify appropriate permission levels and designate Super Admin access.


3. Leveraging HubSpot Notifications and Account Security
Secure your HubSpot portal through HubSpot's enhanced Security Center, which offers a security rating based on certain criteria you have met. This data consists of details such as two-factor authentication and the number of users who have it set up, the total number of Super Admin users, and the count of inactive users in your portal. Through the security center, activity logs can be accessed and exported to inspect login history for the last year, employee access history in the last 90 days, and reports of all modified content in your portal in the last year.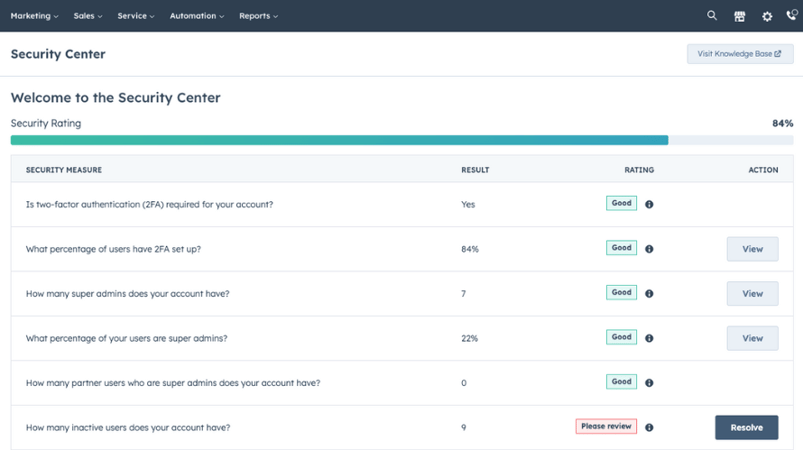 Configuring notifications in your HubSpot account is an effective way to stay up-to-date on important tasks, emails, and security alerts. You have the option to receive notifications via email, desktop, or the HubSpot mobile app, ensuring that you receive alerts in the most convenient way. As a Super Admin user, you can establish account-wide default notifications for all users, or create customized notifications for specific teams or individuals as needed. By leveraging these notification settings, you can streamline your workflow and optimize your use of HubSpot. You can read more about the various types of notifications available in HubSpot's knowledge base article.


4. Streamlining Your Operations with HubSpot Automation
HubSpot automation can greatly improve efficiency and productivity by automating repetitive manual processes, internal and external communications, email marketing, ad campaigns, and social media posting. By automating these tasks, you can save time, minimize errors, and focus on higher-value tasks.

HubSpot Workflows are an effective way to automate your marketing, sales, and services processes and can be done by enrolling contacts, companies, and other objects through specific trigger criteria, thus performing a wide range of activities. Some of these actions include assigning leads to reps, updating contact or company properties, sending follow-up emails, and creating tasks for sales reps. Setting up workflows can help businesses manage and streamline their repetitive processes to prioritize their efforts elsewhere.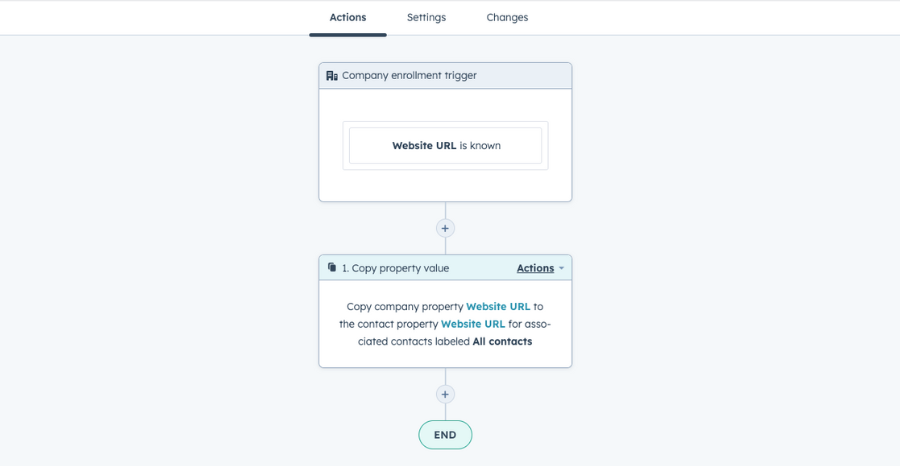 An additional automation task to consider is setting up Sequences in HubSpot to enable lead nurturing over a period of time. By utilizing Sequences, users can dispatch one-to-one sales emails via HubSpot templates, as well as schedule tasks to reconnect with the lead at a later date.

It is essential to perform an audit of your Workflows and Sequences on an ongoing basis to ensure they remain effective and relevant in meeting your business objectives.


5. Measuring Success With HubSpot Reporting
Through HubSpot reporting, businesses can gain valuable insight into the performance of their marketing and sales operations across various metrics. With access to analytics tools, dashboards, and reports, Super Admins can easily track and measure the effectiveness of their strategies. While HubSpot offers a library of pre-built reports, you can also customize your own reports to align with specific goals and objectives, providing more targeted and actionable insights. If you need to access multiple reports, you can create customized dashboards to consolidate them in a single location, which can then be scheduled out to users on a recurring basis. The following examples are types of reports that every HubSpot Super Admin should be familiar with:



HubSpot reporting is an effective tool that enables Super Admins to understand crucial metrics in marketing, sales, and service. They can determine if these metrics align with their goals and make informed decisions that drive growth and success.
---
How can you learn more about being a HubSpot Super Admin? The HubSpot Academy Super Admin Bootcamp is a valuable resource for experienced administrators interested in taking their skills to the next level. It is a six-week program that consists of weekly webinar sessions where users can learn from professionals about becoming an effective admin resource. The program's hands-on activities and comprehensive training provide participants with substantial knowledge for immediate application. Overall, the HubSpot Super Admin Bootcamp provides an excellent opportunity for users to enhance their knowledge and skills in using the platform, empowering them to drive business growth and achieve success more effectively.