Through Databox, we are able to create custom reports for our customers to showcase the value of HubSpot and many other software integrations, like Wistia, Seventh Sense, and much more. In these reports we can connect the dots between several HubSpot accounts and other software platforms. Thanks to these custom reports, we've been able to improve communication between marketing and sales. This focuses the conversation on data-driven results, which helps teams work together towards a common goal.
Related Blog: How the HubSpot Ecosystem Facilitated Ongoing Success in a Traditional Outbound Industry
What Databox Does
Databox allows you to connect multiple data sources and create custom reports. These reports, known as Databoards are responsive (mobile-friendly), they automatically update, and they are able to be easily shared by URL. You can create reports from one source with multiple data points (graphics, bars, funnels, lists, etc.) or create a Databoards that shows data from multiple different sources at a time (Google Analytics, HubSpot, Wistia, etc). Calculations can also be run in order to report on multiple accounts and produce more complex metrics that your existing systems might not produce for you.
We use Databox to showcase the Key Performance Indicators (KPIs) that create an impact on our marketing and sales efforts. These custom reports are very important to measure and to prove success when talking to marketing, sales, and leadership teams.

Goal setting and measuring success are crucial aspects of data-driven marketing and sales. Databox helps us overcome both of these challenges on a daily basis. Within Databox, we are able to set goals and notifications to show our progress over time and whether or not we are going to be able to achieve our objectives this week/month/quarter/year. At the same time, we can simplify campaign reporting by creating Databoards that update automatically and that the customer can access.
Related Blog: Want Your Business to Grow? HubSpot is not Enough Anymore. Try the Ecosystem.
In Databox, you can connect your HubSpot marketing and HubSpot CRM as two different sources to create custom reports. Lists can be created in HubSpot to report on specific information such as leads that watched videos or made calls, and these lists can be combined with metrics from other sources like Wistia (for video) and CallRail (for call tracking). The HubSpot community is very active in their partnership with Databox. There are many templates that are ready to use that can be implemented in minutes to report on all aspects of inbound marketing.
What Services Can Agencies Provide Attached To This Integration?
Improved and simplified weekly/monthly/live reporting

Custom reports to measure and showcase success from a specific effort or campaign

Custom reporting to change the conversation to a more data-driven strategy

Custom reporting to connect the dots between different tools (HubSpot, Adwords, Facebook Ads, and many other tools that integrate into Databox)


How Does Databox Provide Value For Customers?
The most valuable aspect of Databox is the simple one-click public reporting. This allows the customer to have access to their Databoard at any time to be able to monitor and review their success. You can also connect several Databoards into one slideshow to simplify multiple source reporting.
Custom reporting of data-driven efforts, that focus on the essential KPIs, can help marketing and sales teams communicate better. We have accomplished this by implementing reports that combine both marketing and sales efforts onto one page. These reports help teams understand where there might be problems and focus on what will impact the bottom line. Companies that manage multiple HubSpot accounts can use Databox to run reports that aggregate total metrics on separated accounts.
PRO TIP: It takes some time to set up Databox with all of your sources and customers. Don't get discouraged because you don't have it all set up perfectly, or because you don't have everything automated through beautiful reports.
Start creating custom reports based on key metrics for your biggest customer, you will learn a lot through this and gain some quick wins. To simplify your monthly reporting, try creating a few custom templates. We suggest checking the database first for premade templates and altering them to fit your specific needs.

---
FOR AGENCIES:
How Does Databox Help Agencies?
Agencies will get the most out of this tool. Databox simplifies your reporting efforts and saves time by eliminating the need to create presentations and Excel files, or having to have 100 Chrome tabs opened for your client meetings. You can create your report templates and then share them with all of your customers. The ability to simply share custom reports with customers through URLs is a great feature. If you would like a hard copy of a report for internal meetings, you can set up an automatic JPG snapshot to be emailed to you or to the customer regularly.
Even though most agencies use Databox to simplify reporting, we believe that creating custom reports with specific KPIs that change the conversation from "vanity" metrics to measuring what impacts lead generation, customer acquisition, and customer success is where we see the most value in Databox.
With Databox, goal-setting and management is very simple to set up and track. This feature helps agencies become more goal-focused and data-driven. The more you measure, and the faster you can react to data, the more impact your actions will have.
Here's a great example of a Databoard that combines HubSpot and Wistia data with calculations to showcase the value of video. You can see that in the last 2 numbers (bottom right), leads that have watched video close as customers at an 19.62% rate, when leads that haven't watched video close at only 7.23%.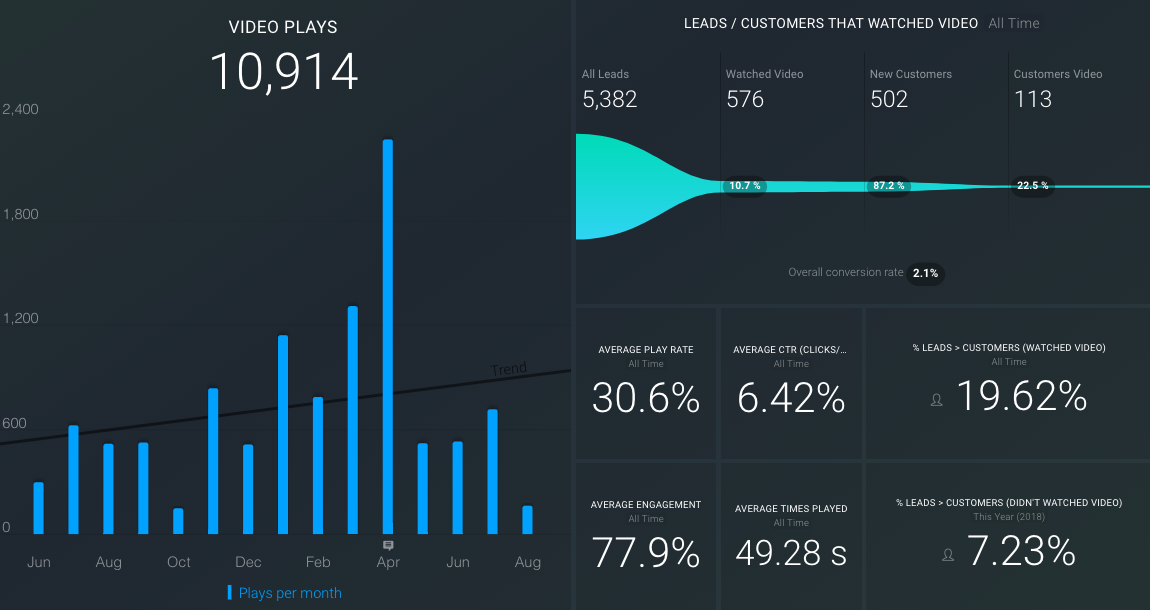 Who Are The Clients That This Integration Could Help (size, industry, fit)
Every single one of your clients and your own agency reporting can benefit from using Databox. Databox does more than simplify reporting on marketing and sales efforts. It also integrates seamlessly with many service, project management, and help desk tools, making it a one-stop-shop for all of your reporting needs.
How To Sell / Upsell With Databox
We include Databox on all of our customers' retainers. In the beginning, we used to tell customers to create individual software accounts which became a problem after we did it for 4 different clients. Nowadays, we sell a software package separate from our retainer to simplify the experience for our customers and still provide them with the opportunity to use Databox. To show the value of Databox to your clients, create a free Databox account for each of your customers, connect the most important sources, and create a few custom reports to showcase the most important metrics. For example, you can add a funnel to your Databoard template that shows the leads/customers closed that watched videos, or the keywords from PPC that are creating phone calls from CallRail. These reports will show them the power of true reporting on essential KPI's, goal-setting and how to make data-driven decisions faster thanks to Databox.
---
MORE DETAILS:
How Long Have We Used The Integration / Our Relationship:
Using Databox for 18 months. We are Databox Premier Partners.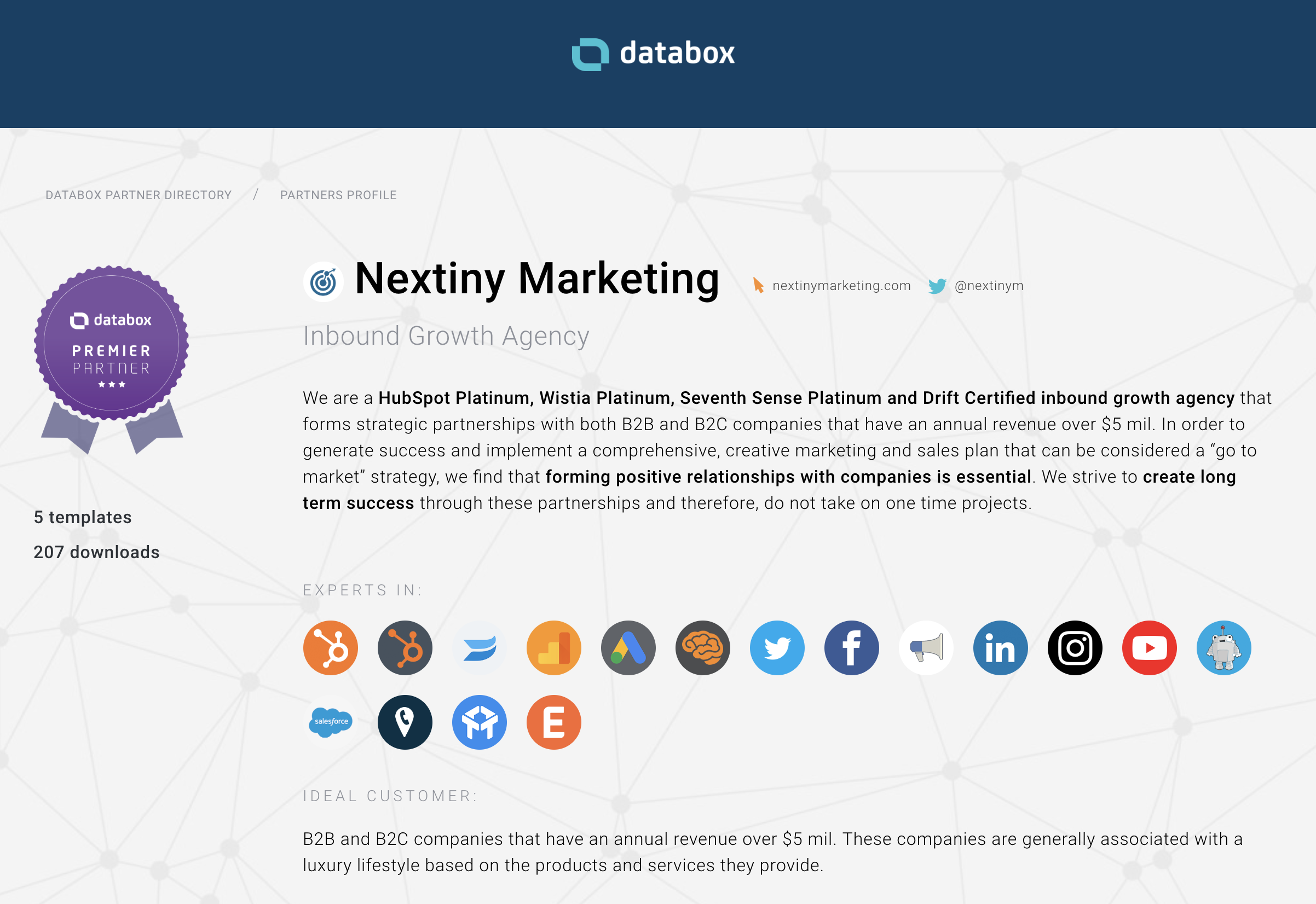 Resources Provided By Company/Content/Training/Co-marketing:
Databox has many educational blogs and videos that explain how to use the tool, how to connect reports, and how to customize reports, etc. A large selection of beautiful templates are ready to use in the template gallery for all the sources that you can connect. There is also a large community of Databox partners ready to help you with custom templates that they have created and their experience with the tool. Databox provides a partner directory (very similar to the HubSpot directory) to allow users to find partners that can help them. They also constantly request feedback from users and ask questions about the way agencies use Databox to feature on co-marketing blogs that they create. These blogs end up being amazing pieces of content sharing knowledge from many agencies, which provides exposure and link building for your agency. At the same time, it continuously educates the community to improve marketing, sales, service, and reporting efforts in general.
Do They Have a Partner Program?
Yes. With a Partner Directory.
Do They Have a Main Dashboard to Control Multiple Accounts?
Yes. You get access to all of your accounts with one login, can copy templates between accounts, and can access multi account KPI reporting to get a bigger picture of how your agency is doing across all of your accounts with the KPIs of your choice.
Do They Integrate With Any Other Integrations (to get even more?)
Yes, they integrate with many of the HubSpot Connect Partners including, Wistia, Seventh Sense, Drift, CallRail, Salesforce and many more.