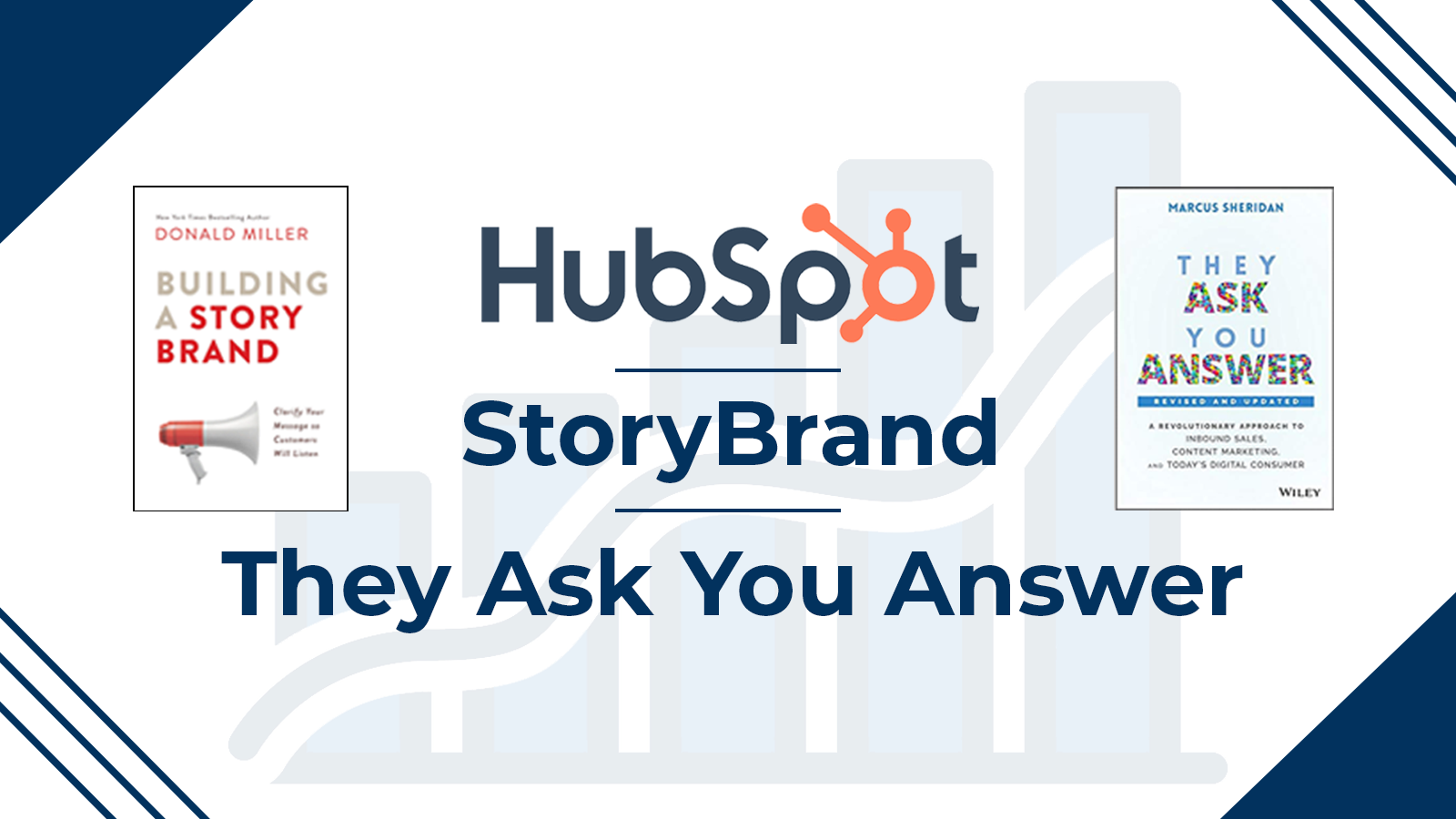 As a business owner, you understand that an effective marketing strategy is crucial to your success. In the ever-evolving marketing landscape, it can be challenging to know which tools and approaches to prioritize. For example, some people may wonder whether to choose the "Story Brand Framework" vs "They Ask You Answer methodology," but in reality, these approaches can work hand-in-hand to enhance your marketing efforts. HubSpot, Story Brand, and They Ask You Answer can help you optimize your marketing strategy by addressing three essential questions: How can you engage your audience? How can you address their needs? How can you drive conversions?
In this blog post, we will explore how combining HubSpot, StoryBrand, and They Ask You Answer can streamline your marketing efforts, helping you create an optimized strategy that effectively targets your audience, addresses their concerns, and drives results. By understanding and implementing these tools and approaches, you'll be well-equipped to tackle the challenges of today's marketing environment and achieve success for your business.
The Benefits Of Using Hubspot for Marketing: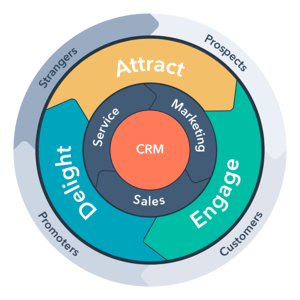 HubSpot is a comprehensive marketing automation platform that optimizes business marketing activities to attract, engage, and delight customers. Its centralized CRM helps manage contacts, track interactions, and identify engagement opportunities, fostering stronger customer relationships and increasing conversion chances.

HubSpot's email marketing capabilities enable the creation, automation, and personalization of emails, simplifying audience segmentation and content targeting. Advanced analytics provide insights into engagement and conversion rates, facilitating campaign refinement.

Furthermore, HubSpot's robust, mobile-ready, and SEO-optimized CMS platform allows for seamless website content management, including landing pages and blogs, driving conversions. The platform's analytics and reporting tools offer valuable data on traffic, lead generation, and conversion rates, helping businesses identify trends and areas for improvement. HubSpot's extensive integration ecosystem, including CRMs, marketing, and sales tools, enables businesses to optimize processes and enhance marketing efforts.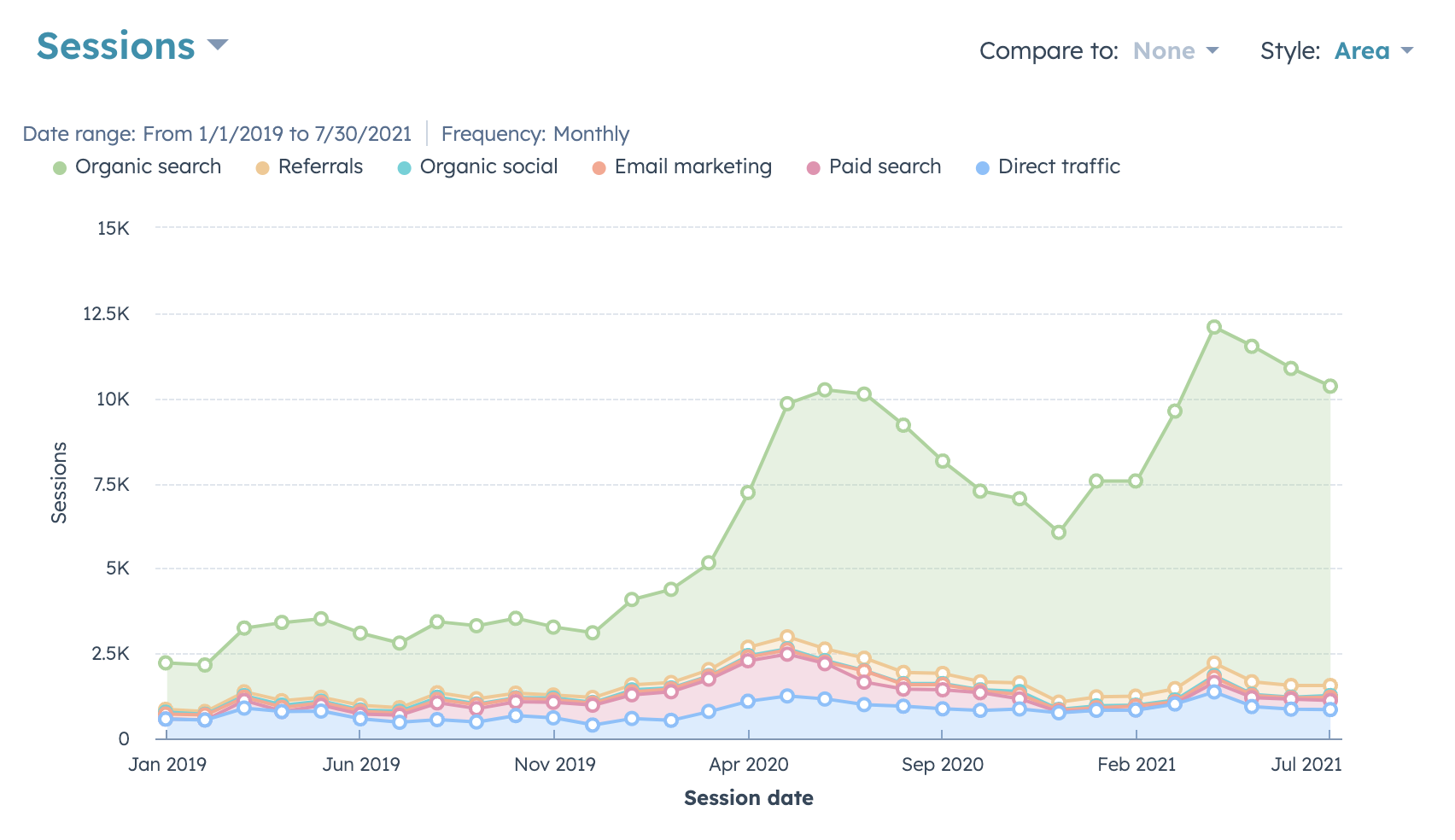 HubSpot Analytics Reports: Showing SEO and Inbound Marketing growth and lead generation results


Developing an effective content distribution strategy with HubSpot involves leveraging various tools and features to reach a wider audience and maximize engagement. By utilizing HubSpot's SEO tools, email marketing automation, integrated social media management, and targeted ad campaigns, businesses can create a cohesive distribution strategy that ensures maximum visibility and reach for their content.
---
StoryBrand Framework: Simplifying Your Message to Engage Your Audience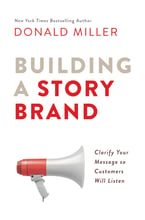 The StoryBrand Framework, created by Donald Miller, is a proven methodology that helps businesses create clear and compelling marketing messages that resonate with their target audience. A confusing message can lead to lost customers, ineffective marketing campaigns, and an inability to stand out in a crowded market. By utilizing the StoryBrand framework, you can ensure that your marketing is easy to understand and drives sales.


Create Clear Messaging and Design an Effective HubSpot CMS Website Using the StoryBrand Framework



How to Create a Brand Story Using the StoryBrand Methodology and the Power of Storytelling
Understand the power of storytelling in marketing: Storytelling is an effective way to engage your audience, evoke emotions, and create a memorable experience. By incorporating storytelling into your marketing plan, you can captivate your audience and make your brand more relatable, memorable, and compelling.
Identify the problem: Recognize the struggles your target audience faces and how your product or service can help address them. Clearly stating the problem helps customers understand why they need your solution.
Position the customer as the hero: The customer should be the focus of your marketing messaging, not your brand. Make your customers the hero of the story, and position your brand as the guide that helps them overcome their challenges.
Offer a solution: Clearly present your product or service as the solution to the customer's problem. Explain how it works and the benefits it provides, ensuring that the messaging is simple and easy to understand.
Establish credibility: Show that you are qualified to solve the customer's problem by sharing customer testimonials, awards, certifications, and past client success stories. This helps build trust and demonstrates your expertise.
Create a clear plan: Outline the steps your customers need to take to achieve success with your product or service. A clear, step-by-step plan helps customers feel more confident about engaging with your brand and reduces any potential confusion or uncertainty.
Define the stakes: Explain the consequences of not taking action and how your product or service can help customers avoid potential pitfalls. This creates a sense of urgency and encourages them to act.
Call to action: Encourage customers to take the next step with a clear and compelling call to action. This could be signing up for a newsletter, scheduling a consultation, or making a purchase.
According to the StoryBrand framework, the following sections should be included on a website's home page: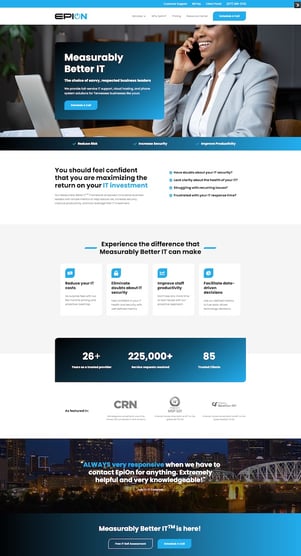 A primary headline communicating your purpose and target audience.

A secondary headline elaborating on the primary headline, emphasizing product or service value.

A brief statement identifying customer pain points.

A section positioning your brand as a problem-solving guide.

A clear explanation of offerings and benefits.

Social proof, such as testimonials or case studies, showcasing success.


A clear call-to-action guiding visitors to the next step, like scheduling a consultation or making a purchase.




By following the StoryBrand methodology, you can create a powerful brand story that resonates with your audience, simplifies your message, and ultimately drives more sales. Embrace this framework to improve your marketing campaigns, email engagement, and overall brand messaging.


Related Article: What is StoryBrand Website Design?
---
What is The "They Ask You Answer" Methodology?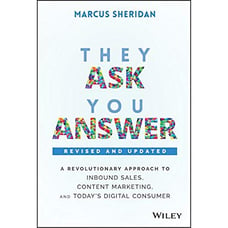 The "They Ask You Answer" methodology is a transformative approach to SEO and Inbound Marketing, which focuses on addressing customers' questions and concerns, resulting in relevant and valuable content that enhances search engine rankings and website traffic. At the core of this framework lies a fundamental principle: educated prospects become happier, better customers. By openly and honestly answering your prospects' questions on your website, you build trust with your audience, weed out bad-fit prospects, and make the buying process smoother.

Thousands of businesses from various industries, including B2B and B2C companies in retail, manufacturing, home improvement, software, healthcare, and real estate, have successfully implemented the "They Ask You Answer" framework. Its ten straightforward concepts help align marketing and sales teams around shared growth goals, positioning businesses as trusted resources within their industries, leading to increased organic traffic, better leads, and sustained revenue growth.

To implement this methodology, start by researching customer questions using tools like Google's Keyword Planner, Answer the Public, and ChatGPT. Identify relevant questions and create high-quality content in various formats, ensuring it is easily accessible, navigable, and optimized for search engines. The content should align with customers' language and terminology, increasing the likelihood of matching online searches. By providing helpful content, your brand establishes itself as a trusted information source, boosting customer loyalty and industry reputation.

The "They Ask You Answer" principles of transparency, honesty, humanity, helpfulness, timeliness, and education guide content creation to meet customer needs, thereby improving search engine rankings, driving traffic, and fostering strong audience relationships. By prioritizing these principles, businesses can enhance their online visibility and attract potential customers, leading to a more effective marketing strategy.
---
Combining HubSpot, StoryBrand, and They Ask You Answer for Effective Marketing
To develop a powerful marketing strategy that engages your audience and drives conversions, follow these steps:


Utilize HubSpot's Marketing, Sales, and Service HUBs for SEO, email marketing, Google Ads, and videos, driving website traffic and capturing leads.
Employ the StoryBrand framework to craft a clear, compelling brand message centered on customer transformation. Ensure consistent messaging across marketing channels and your website.
Implement the "They Ask You Answer" methodology, using keyword research to create content addressing audience questions and concerns, establishing trust and building relationships.
Leverage HubSpot's analytics for data-driven decision-making, monitoring website traffic, conversion rates, and other metrics to optimize marketing efforts.
Utilize HubSpot's lead nurturing and sales tools, including workflows and lead scoring, to provide personalized content and manage the sales pipeline, ultimately closing more deals.
Integrating these approaches creates a robust marketing strategy that attracts ideal visitors, converts them into leads, and transforms them into clients.

Examples and Reviews from companies using HubSpot, the StoryBrand Framework, and the They Ask You Answer Methodology:
True professionals who truly deliver what they promise

Review: "We signed up with Nextiny in December of 2022 to be our inbound marketing agency and HubSpot partner. We have just completed our first 90 days with the firm and so far they have met or exceeded every expectation. During this 90 days with Nextiny, we migrated our CRM data into HubSpot; we restructured that data from being "contact-centric" to being "company-centric"; we re-engineered our outbound sales process to incorporate HubSpot's capabilities; we designed, built and migrated an entirely new website using the StoryBrand Framework; we developed new lead magnet assets such as online quizzes, pricing calculators, & white papers, etc. In other words, we laid the foundation for the rest of our inbound sales program as we now shift into executing a TAYA (They Ask You Answer) strategy. Before selecting Nextiny, we evaluated 15-20 other agencies. I feel like we absolutely made the right decision with Nextiny. They have hit every deadline and done exactly what they said they would do. They have a great team and are incredibly professional. You won't go wrong with this team."


Services provided:
Branding, content creation, CRM implementation, CRM migration, email marketing, full inbound marketing services, website design, website development, and website migration.
Don Viar
CEO at EpiOn
EpiOn provides full-service IT support, cloud hosting,
and phone system solutions for Tennessee businesses.


---
Nextiny is Impressive, Strategic, Proficient, Efficient, & Driven!
Review: "As an end-to-end marketer for an enterprise corporation, I was delighted to find, and partner, with Nextiny for B2B marketing. From the first time I met with the team, I was blown away by their professionalism, process, data-driven decision making, and leadership. What began as a HubSpot management relationship to help during a time of transition, has grown into a full scale marketing partnership to include; video marketing, content development, strategy, sales process refinement and automation, and a [beautiful/functional] new website. The Nextiny team continues to impress with their excellent account management and strategic implementation of the HubSpot platform. Nextiny is truly integrated as a partner into our business and we are better at doing business because of their partnership. This is an agency that drives results for the businesses they partner with, we have: + Shortened our deals cycle by 52% + Increased site traffic by 22% + Seen a 36% increase in marketing email open rates + Seen a 74% increase in deals + Designed, built, tested, and launched a new website in under three months In addition, Nextiny helped us streamline our overall marketing process and sales handoff with an integrated automation strategy so our sales team now speaks with only the most qualified prospects, saving them each over 55 hours per month of calls to unqualified prospects. Their team does a superior job at providing education, tools, support, and resources to manage the process following project completion. Nextiny is the most impressive agency I have had the privilege of working alongside in my marketing career. I overwhelmingly recommend them to any business who is looking for a partner to drive growth, streamline their process, and implement an inbound sales and marketing strategy. Why are you still reading reviews? Just reach out, you'll know they're the one in your first meeting!"
Services provided:
Content creation, email marketing, full inbound marketing services, programmable automation, video production, website design, and website development.
Cindy Bercaw
Development Marketing Manager at FYZICAL Franchise
FYZICAL Therapy & Balance Centers offers an exciting franchise
opportunity for entrepreneurs, physical therapists, and current
physical therapy practice owners.


---
In summary, the integration of HubSpot, StoryBrand, and They Ask You Answer enables you to develop a dynamic and impactful marketing strategy that captivates your audience, caters to their requirements, and propels conversions. By embracing these three methodologies and adhering to the insights and best practices discussed in this article, you can elevate your marketing efforts, fostering growth and prosperity for your business.