Live chat is a popular website feature that is used by companies looking to engage with their current and potential customers as an additional support system for customer service. As the internet has grown and become a highly utilized source for product and service research, there is now a need for chat that stretches far beyond customer service. With people actively researching their next wants and needs online rather than in person or over the phone, it is time to capitalize on this and engage with them right where they are, on the internet.
Related Blog: 6 Tools We Use Daily in Our Inbound Sales Process

As HubSpot has grown into an inbound marketing and sales powerhouse, they have recognized the need to develop several user friendly tools for marketers and sales teams to use to continue to see results from their online efforts. As you may now have guessed, one of their latest tools is HubSpot Messages, a live chat tool.
Here are some things to consider as you make your decision to integrate live chat into your company's website:

Do you have a marketing and sales team?
The best part about adding live chat to your company's website is the ability to bring sales enablement philosophies to your marketing and sales team. What does this mean? By adding features such as live chat to your company's website, you are allowing sales to engage with leads on a platform (your company's website) that was built to attract these leads by your marketing team. Your marketing team has used the best practices to bring qualified leads to the website by creating educational blog content, using effective long tail keywords, and publishing engaging social media posts. Now, sales is able to immediately engage with these leads through the live chat feature.
Lead nurturing is not one size fits all:
As with any lead engagement, people are going to be at different stages of their Buyer's Journey when they visit the website and engage through live chat. This means that sales must understand the different Buyer Personas and Lifecycle Stages that have been set up by the marketing team as they engage with these leads. They must also use their knowledge of the sales funnel to understand how to properly identify where the visitor is in their Buyer's Journey. Using this marketing and sales knowledge they will be able to properly nurture leads through the chat feature.
What can live chat add to your marketing and sales efforts?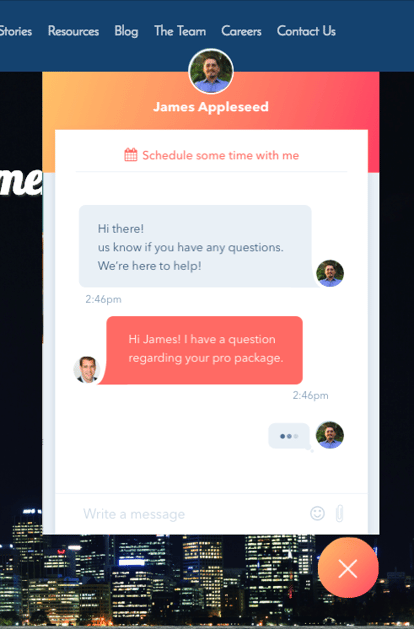 The benefit of live chat can come down to four simple adjectives: connect, engage, nurture, seamless. Live chat allows you to:

Connect with website visitors in real-time. This is the only online marketing feature that allows for your sales team to engage person-to-person with leads online. There are personalization tokens and other features that allow you to personalize the user experience, but this feature takes that personalization to the next level.

Engage personally with leads. Live chat adds some warmth to online lead nurturing. While emails and other lead nurturing tactics will always be effective, they fall a bit short in terms of personal touch. When leads are able to personally engage with your sales team in real time on their website, it will feel more personal and be more memorable for them as they progress through their Buyer's Journey.

Another opportunity for lead nurturing. Your company's sales team is driven by the thought of closing leads into customers. This means engaging with as many leads as they can in a day in order to meet their personal sales goals and the goals of their company. This effective lead nurturing tool gives them another way to do so.

Seamless integration into your sales process. If you are already using the Hubspot Marketing Dashboard, HubSpot Sales, and the HubSpot CRM or are looking to adopt these systems to bring total marketing and sales alignment to your company, then this tool is a perfect fit for your company. As the chat feature is used, leads are seamlessly imported into the HubSpot CRM if they are engaging for the first time, or the information from their chat is added to their Contact Property to further document their engagement with your company through their Buyer's Journey.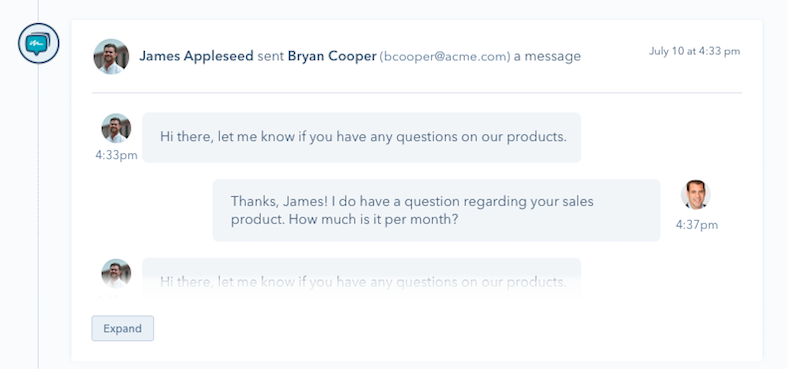 Gone are the days of ineffective cold calling and flooding inboxes with spam sales emails. Personalization and immediate contact is the future of effective marketing and sales processes. Use inbound marketing, inbound sales, and sales enablement by adding HubSpot Messages to your website to allow for personal, real time engagement.