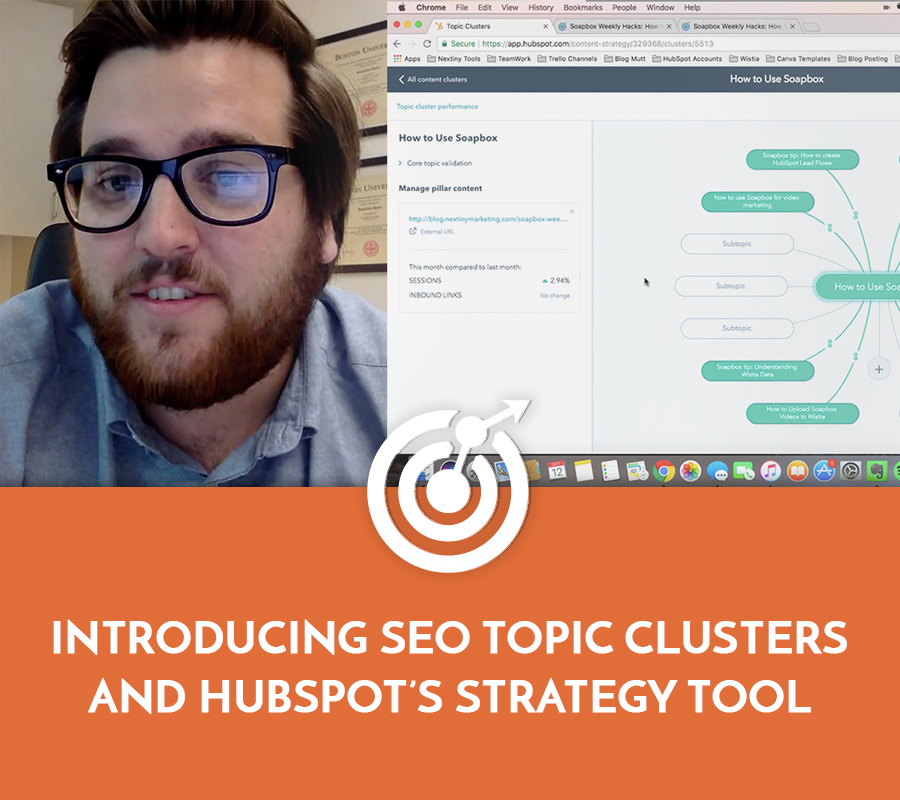 In this week's Soapbox hack, I talk about a new HubSpot strategy feature that is changing how we approach content creation, keyword research, and SEO moving forward. Our team was very excited when HubSpot released the beta version of this feature a few months back and have since been experimenting with how we can best leverage the existing content that we have, and moving forward, learning how we can adapt our current strategy to accommodate these changes.
Related Blog: What is SEO and How it Can Attract More of Your Ideal Customers [VIDEO]
Learn more about how to use Soapbox for video marketing, sales and service.
As many of you are already aware, artificial intelligence (AI) is making a large impact on the way that we operate our businesses. Implementing automation to complete manual tasks or by simply gaining consumer insights through active automated data mining allows for information to be delivered faster and for decision-making to be simplified. Google's machine learning technology, RankBrain, is just another example of this market disruption that we are ready to embrace with open arms. Google tends to have that effect on us!
What does Google's RankBrain mean for SEO?
This is not our father's SEO strategy. The days of intricate keyword research and optimized content around long-tail keywords are over! Well, not exactly. Consumers trust search engines like Google enough to simply ask for what they want. Instead of typing, "Luxury real-estate Naples" into Google, they are now asking "Where can I find luxury real-estate in Naples?" Google's refined their algorithm enough for consumers to know that they will get a quality response, by asking questions as if Google were human.

Google doesn't want content to show up on the first page just because you broke the code on implementing carefully placed keywords. The content should be resourceful, relevant to the search query, and generated by reputable sources. This is where topics begin to mean something. Your content authority is proven through relevant content connections. These connections are generated through topic clusters and pillar pages.
What are Topic Clusters and Pillar Pages?
When we generated content before, by optimizing posts around long-tail keywords, our content looked overly cluttered and redundant. We needed to restructure our content in a way that not only brought traffic to our site, but offered value to our visitors.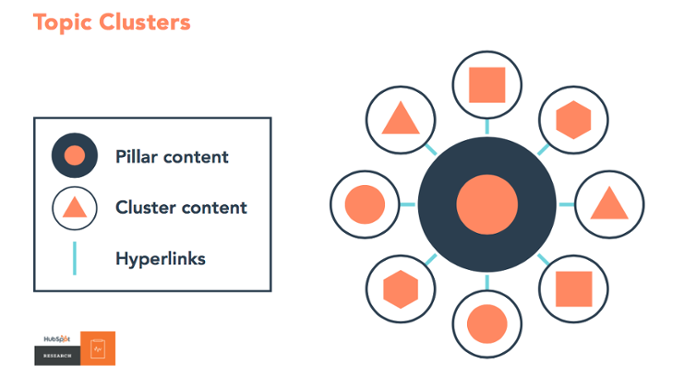 Pillar pages should be broadly defined segments of your business or industry. For instance, if you own a Golf and Country Club, your pillar pages may be segmented by the different services:
Memberships
Weddings
Golf Outings
Catering
Real-Estate
After defining your pillars, look to see if you have an existing page on your website already that can become your pillar page, making it a broad sweeping resource on the topic and optimizing the page for conversion. If you own a country club, you most likely have pages for those above service topics. The best part about pillar pages, is that you don't have to optimize for search, you can focus on optimizing for value!

From your defined pillars, you can begin creating specific content that is relevant to your topic:
4 Benefits of Becoming a Member at a Golf and Country Club

Exploring Your Wedding Options at Royal Pine Golf and Country Club
5 Fun Rule Changes for Your Next Family Golf Outing
What Every Caterer Should Know When Servicing a High-End Party
5 Jaw Dropping Homes on a Golf Course

Where Google's RankBrain truly affects our SEO strategy, is in the linking architecture. This is the most important part for seeing results from this strategy. From the content to the pillar page, you will want to have a hyperlink that connects the content internally, using the pillar keyword. For instance, somewhere in your blog article for 5 Jaw Dropping Homes on a Golf Course, you will want to link the word "Real-Estate" back to your Real-Estate pillar page. If you can find a relevant way to link from the pillar page back to the content, that also helps build cluster authority.

By branching out these topic clusters, you're telling Google that you are an authority on the content that you are creating. If one article in your cluster is ranking well, it helps boost the rest of your cluster content. Remember, optimizing for search is still important for blog content, but it's even more important to make sure that you are delivering value to your ideal audience.

By auditing your existing content, you may find pillar opportunities in recurring blog topics. Building out topic clusters from existing content will make the most immediate impact on your topic content, since that content is carrying SEO juice already.
HubSpot's Strategy Feature
Keeping track of all these internal links, pillars, and cluster content would require a lot of our time. Luckily, HubSpot worked fast to provide us with a tool that allows us to easily reorganize our content, track cluster performance, and generate new content, right within the marketing dashboard. We can now test title relevancy, to assure that the content generated would help the overall cluster, saving time by not creating valueless content.

This new tool, called Strategy, allows you to track results per cluster and know which leads started their journey on a cluster page and which of them became customers. You can also analyze, traffic, leads and customers per cluster to get feedback on how you are doing with these clusters, which brings back some of the power that was lost when Google implemented the "not provided" keywords. Now we can optimize for SEO and track results by setting up clusters into HubSpot.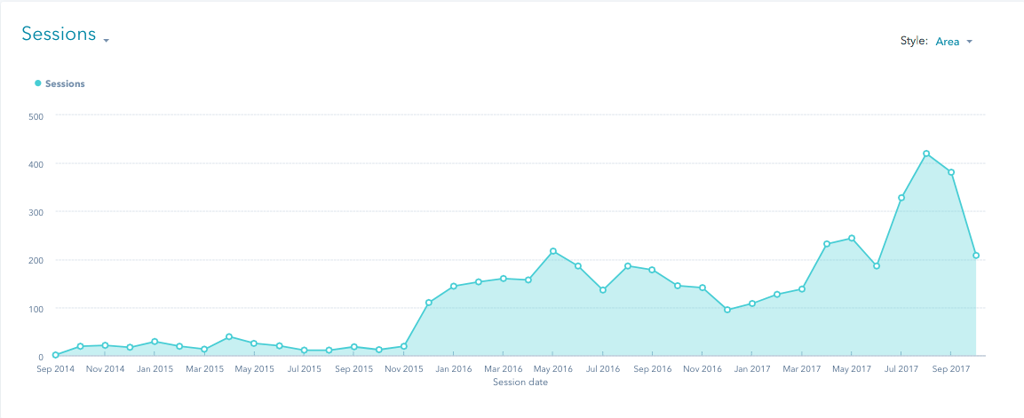 We are still experimenting with the application of this new strategy feature, but are very optimistic from the results we have already seen! Let us know how your SEO and content strategies are going and if topic clusters are bringing you similar success.