Maintaining a large contact database in HubSpot can cost a lot of time and money especially when the contacts begin to add up. Most of the time, having a large number of contacts would be a good thing but if you dig deep you'll start to uncover duplicate records that are negatively affecting your database. Ease your pain by using HubSpot's merge duplicate feature or software like Insycle that can help clean up your database and save you time and money.
Related article: HubSpot CRM Setup: Organize Data For Better Segmentation & Reporting
Duplicate Contact Records in HubSpot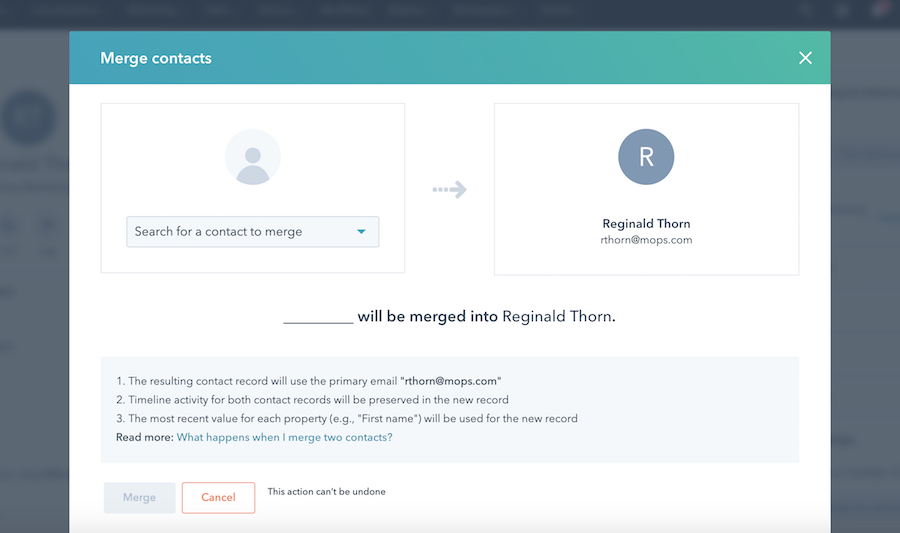 If you're integrating a number of lead generation software with HubSpot, then duplicate records are probably no surprise to you. While you're excited to see leads funnel into your database, duplicate records are frustrating and only slow down your marketing and sales process. What's the best solution to making sure that you can keep the data you need from both records without having them separated into two separate contacts?
First, merge records without having to leave HubSpot by using their new duplicate merging tool. As far as setup goes, HubSpot handles this for you with its AI-powered process that configures the search settings automatically, leaving you to sit back, relax, and wait for the duplicate contacts to be identified.
Unfortunately, this automatic process can end up with less than ideal results. While powerful, HubSpot's AI is not always right when deciding which contacts are duplicates, which are the master contact records, and which are even remotely related.
If you find these errors commonly affecting your merging, there are other options.
How Insycle Offers a Powerful Solution to Merging Duplicates in HubSpot
Insycle allows you to set rules to define the Master Record within your database. The Master Record helps isolate and showcase the most updated values of your duplicates, depending on these rules. Once you've established the master rules, you can assign those rules to a template to use later, bulk merge, or have it run automatically to a schedule that you set. Insycle allows you to safely identify and merge records in preview mode so you can review your changes before moving forward with your final clean up.
Refusing to deal with a duplicate problem can spin a troubled web for you and your marketing and sales teams; merging duplicates will help in a variety of ways:
Save money: As stated above, HubSpot charges you more as the number of contacts you store increases. Merging duplicates allows you to trim down contact counts which then trims your monthly bill from HubSpot.

Improve the experience for your leads: When leads opt-in and allow you to send marketing materials to them, that means that you've earned their trust to supply them with valuable information and good experience. Getting a lead to opt-in can take a lot of time and effort... If a contact is in your database multiple times, there's a chance they could be receiving your marketing materials multiple times and be turned off.

Increase the efficiency of the sales team: An organized database leads to an organized sales team. If there are too many duplicate contacts, the chances of different salespeople calling the same person increases. This is frustrating for everyone involved and a waste of each person's time.

Despite all its options and features, merging duplicates with Insycle is easy and streamlined. Here's a video walkthrough to help you get started:
Insycle, a database management software, also provides a big selection of duplicate merging tools that rival that of HubSpot's in many ways:
Reporting: With Insycle, a CSV file report is sent directly to your email after every merge to help you understand the changes made during the merge.

Automation: While HubSpot does not currently support automated merging, Insycle can be told to automatically merge daily, weekly, or monthly.

Control: HubSpot makes it easy to start merging duplicates by automatically setting up the search parameters. Even though this is easier and faster, it can cause issues and errors. Insycle allows you to set your own parameters and adjust settings to be sure you're finding each and every duplicate possible and hands you the power to customize and refine the process to cut out mistakes.

Timeliness: With Insycle, your data is available on-demand and in real-time.

Bulk Merging: In HubSpot, the merging can only occur on a one-by-one basis but Insycle smooths out this process with its ability to bulk merge and save you time.

Preview Mode: Insycle's preview mode, not available in HubSpot, lets you see the changes before they're permanent. This way, before you bulk merge thousands of contacts, you can see the impact it'll have on your database and check to make sure your search settings are defined clearly enough.

Whether you choose to stick with HubSpot's tool or reach out for the help of Insycle, cleaning your database of duplicates only brings benefits to you and your team.