2017 Update: Since we first wrote this blog a few years ago, we've seen Google grow and adapt to a new consumer landscape, and in those two years, we too have grown as an agency. Nextiny started servicing more B2B companies with customers spread across national and international markets. When we talk about the importance of reviews for local rankings, this is still very much true, even for companies who aren't just competing on a local level.
Related Blog: What is SEO and How it Can Attract More of Your Ideal Customers [VIDEO]
People have learned to trust search engines like Google, and if your organization is resting at the top of a list that Google's algorithm deems best, then what better validation is there than that?

One of the many reasons companies like Amazon have done so well, is that they have mastered the power of the customer review. Companies, like individual consumers, still look for validation from their peers. Companies that need inbound marketing and sales partners don't just look at our self-produced content, but they search for reviews, either from our page in the HubSpot partner directory, Google, or other industry relevant directories. Word of mouth is still the most powerful marketing tool, and even though we are well into a new age of digital consumers, marketing will never go away from that fundamental truth.
Local Google Review Display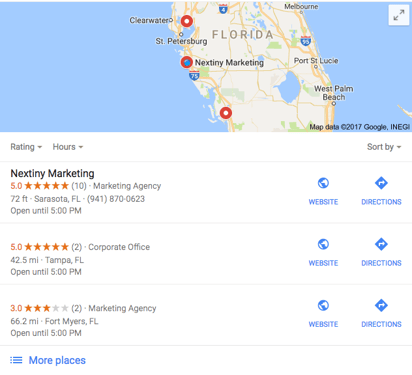 This feature is Google's local 3 pack, a local map directory that shows relevant locations based on the local keywords used. After searching for a long-tail keyword like, "Inbound Marketing Agency", we get a list of agencies based on where we are. This window would look a lot different if I were searching in San Francisco or in New York. As you can see, Nextiny Marketing is ranking right at the top for the long-tail keyword "Inbound Marketing Agency" for where we are located, in southwest Florida.
Now, if we had no Google rankings or lived in cities like New York or San Francisco, where inbound marketing agencies are more abundant, we would probably have to work a little harder to compete for top positioning against other local agencies. It would be even more important to run Google review campaigns, and attempt to build social proof against our competition.
Exposure is always good and it's why we work so hard to develop content that generates great inbound marketing leads. It's also why companies pull a lot of resources into their SEO and PPC advertising efforts.
Google also aggregates reviews, pulling in consumer reviews from other reputable sites to generate a score for your business. Positive social proof coupled with effective SEO, is a winning combination for all businesses.
Start of 2015 Post
Google reviews are created by people with Google+ accounts. These reviews have much more impact in search rankings than Yelp or other local search sites. Quality and quantity of reviews are the most important factors that affect Google ranking. This conclusion came from an extensive study by Digital Marketing Works (DMW). The key for marketers is the more quality reviews you can get, the better chance of a high local Google ranking. Another ranking variable is distance and travel time, but market size does not seem to make a difference.

Importance of Reviews
Reviews help define your image for consumers who use them for their research, since reading reviews can help speed up decisions about purchases. Businesses that get the most high quality reviews tend to get high Google ranking. So it's advantageous to optimize your profile for Google reviews, since this content creates extra clicks for your business. Reviews on other sites such as Yahoo have less impact on Google ranking.

Controlling Content
Lengthy reviews have greater impact on Google ranking than short reviews. Well written reviews can be the best promotion because they are treated as endorsements. But bad reviews can be damaging. That's why you want to make sure that your site gets higher ranking than web pages with bad reviews about your business. You can gain an edge over sites with competing keywords by creating as much authoritative content as possible.

One way to get an edge is to create more local content pages than your competitors. Google favors sites that offer a lot of original useful content. Such sites are considered to have authority and can get high search rankings.