One of the biggest challenges we encounter with our customers is a prior struggle with aligning the sales and marketing teams. They may already understand the importance of aligning their sales and marketing processes, but either struggle with implementing a strategy or prioritizing the training that is needed to make this a reality for their organization. Before a strategy can be formed or training completed, both teams need to understand their roles. In many circumstances, we encourage incorporating a Digital Sales Team to ultimately bridge marketing and sales to create one Growth Team.
What is the Digital Sales Team
The Digital Sales Team, sometimes called an Inside Sales Team, on a daily basis is responsible for:
Calling leads
Continuing the nurturing process started by the marketing team
Using tools such as video and sales sequences to move leads through the funnel
Qualifying leads for the sales team
Simply put, the digital sales team is the team in the middle of marketing and sales that conducts the last step of nurturing marketing qualified leads and handing them over to the sales team when they are truly ready to engage with sales.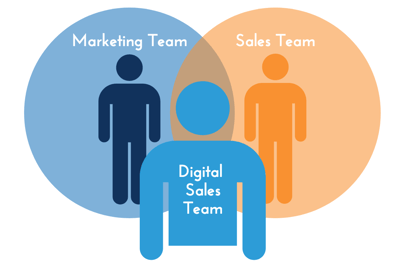 The problem with marketing and sales is that, unfortunately, most leads that marketing obtains are not ready to be contacted by the sales team yet. They need to be nurtured through the sales funnel, qualified, and then passed onto sales when they are ready. If they are not ready, they should be cycled back into the nurturing process as a marketing qualified lead.
Tips for Generating Success from Your Digital Sales Team
Use the HubSpot CRM
The HubSpot CRM is a free and user-friendly platform. Its various features offer everything you need to manage your sales pipeline and generate success so you can focus simply on selling. The HubSpot CRM offers a complete dashboard and deal forecast to easily visualize your sales funnel, allows you to see all of your exchanges with a contact and how they have interacted with what you have sent them in one place by automatically logging calls, emails, and social media activity.
The HubSpot CRM becomes even more effective when incorporated with HubSpot Sales and HubSpot Marketing Software.


Use Sequences in HubSpot Sales
HubSpot Sales puts a multitude of tools at your sales team's disposal to increase and accelerate sales. One of the most important is the use of Sequences.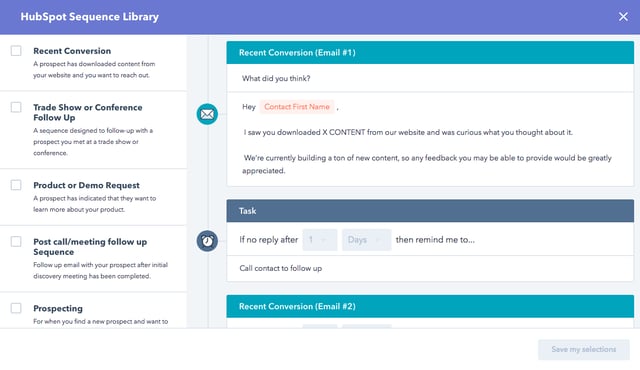 Sequences can be made from scratch or built from the HubSpot Sequence Library. By using sequences your sales team can automate email templates based upon what the lead was interested in and whether they respond to your outreach. In this way, the sales team can focus on leads that are actually engaging with them and also receive feedback on the effectiveness of the emails being sent.
Merging Salesforce
A common question we get is "what if my sales team already uses Salesforce CRM?" Simple answer: you can integrate HubSpot and Salesforce quickly and easily by getting the integration. This way, any and all sales revenue closed in Salesforce will be automatically sent into the HubSpot Software so that you can track success and prove the ROI of your marketing efforts.
Inbound Sales Enablement: How We Incorporate the Digital Sales Team for Our Customers
As a growth agency, we help our customers by generating leads and ultimately acquiring new customers. To do so, we help our customers move leads through the funnel so that the sales team can engage with them. Once the digital sales team is incorporated we help the marketing, digital sales, and sales teams each understand their roles in the Growth Team by:
Working with each team to define what determines a marketing qualified lead vs. a sales qualified lead
Educating each team on the tools they can use to nurture leads
Establishing processes for engaging with leads
Providing ongoing training for the sales team