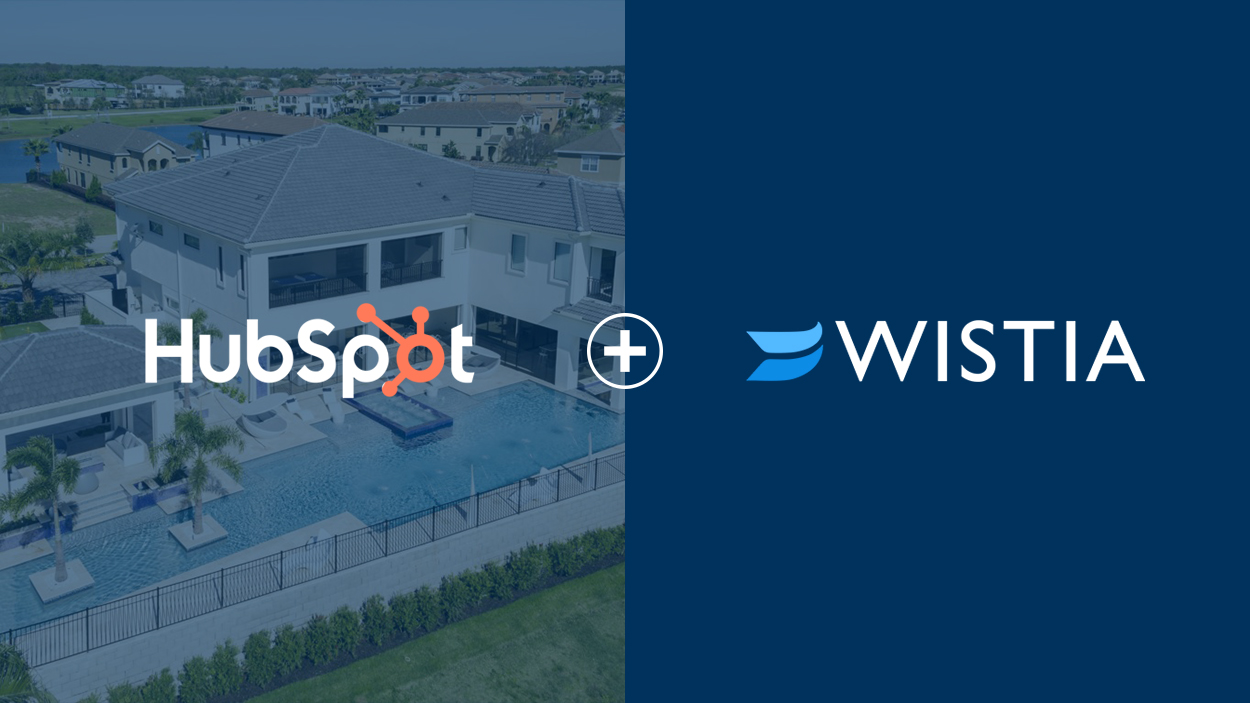 B2C - Hospitality / Vacation Industry: 3X customers closed when video was a part of their buyers journey. 30% increase in customers closed when they have had conversations through chat.
You are planning a vacation and you don't want to stay in a hotel. Where do you go to find alternative accommodations? For some people, the answer is Airbnb and other popular booking sites. So how can a local property management company compete to get more bookings directly through their website? Jeeves Florida Rentals is a property management company in Orlando, Florida experiencing this challenge. While they do list their properties on well-known booking sites to make sure that the homes are getting maximum exposure, their goal is to get as many of their monthly bookings directly through their website or over the phone with one of their reservations specialists.
We are proud to announce that this article has won the 2018 Impact Award for integration innovation from HubSpot. The Integration Innovation Award recognizes creative uses of HubSpot Connect Integrations and honors the innovative way agencies are creating unique services for their clients.
Related Blog: Want Your Business to Grow? Try the HubSpot Ecosystem

Increase Site Traffic and Generate Leads
First, we had to focus on driving more traffic to the Jeeves website. Through a consistent content strategy and some onsite SEO, we were able to increase their website traffic from Organic Sources from 1,400 visits a month to 6,300 visits a month. Now, looking at all sources, Jeeves gets over 20,000 visits a month to their site where they used to get just over 5,000. Now that we had attracted four times as many people from all sources visiting the website, we needed to make sure the website was providing a personalized and engaging experience to encourage those visitors to convert into leads and eventually close as customers who would book their dream vacation home directly through the Jeeves website.





Use Video for a More Engaging Onsite Experience
With how spectacular the Jeeves vacation homes are, video marketing was a natural addition to their strategy. We started very simply. When we added video to our services as an agency, they were the first client we offered the services to; and we originally offered it to them for free. Our first video shoot was done using an iPhone 7. We went to a few of the vacation homes and shot the different rooms and the exterior. We knew that even though these videos were not at Hollywood production level, they would make an impact. They would add more engagement to the property pages and allow people to truly experience the homes they were hoping to book. As our video services grew and became more sophisticated, we started incorporating their team into the videos. We shot interview videos with the staff and guests so they could communicate the Jeeves difference to site visitors.

We use Wistia to track how these videos are performing on the Jeeves website. Through the HubSpot-Wistia integration, we have not only been able to make more informed decisions to optimize the videos over time, but we have been able to form a correlation between watching video and close rate for direct bookings. Using Wistia, we were able to analyze the steady increase of video views as we continued to optimize website pages to include relevant video content. Video views grew to over 1,000 views per month. As more and more leads watched Jeeves' videos, we were able to determine that leads who watched videos on the website closed three times faster than leads who did not watch video.


Video is easy to sell because everyone loves it. It is engaging content, it can differentiate you from competitors, etc. All of these things give it a high perceived value. Using Wistia and HubSpot to understand how leads close as customers when they watched video gives video real value by providing a return on investment.


3X customers closed when video was a part of their buyers journey.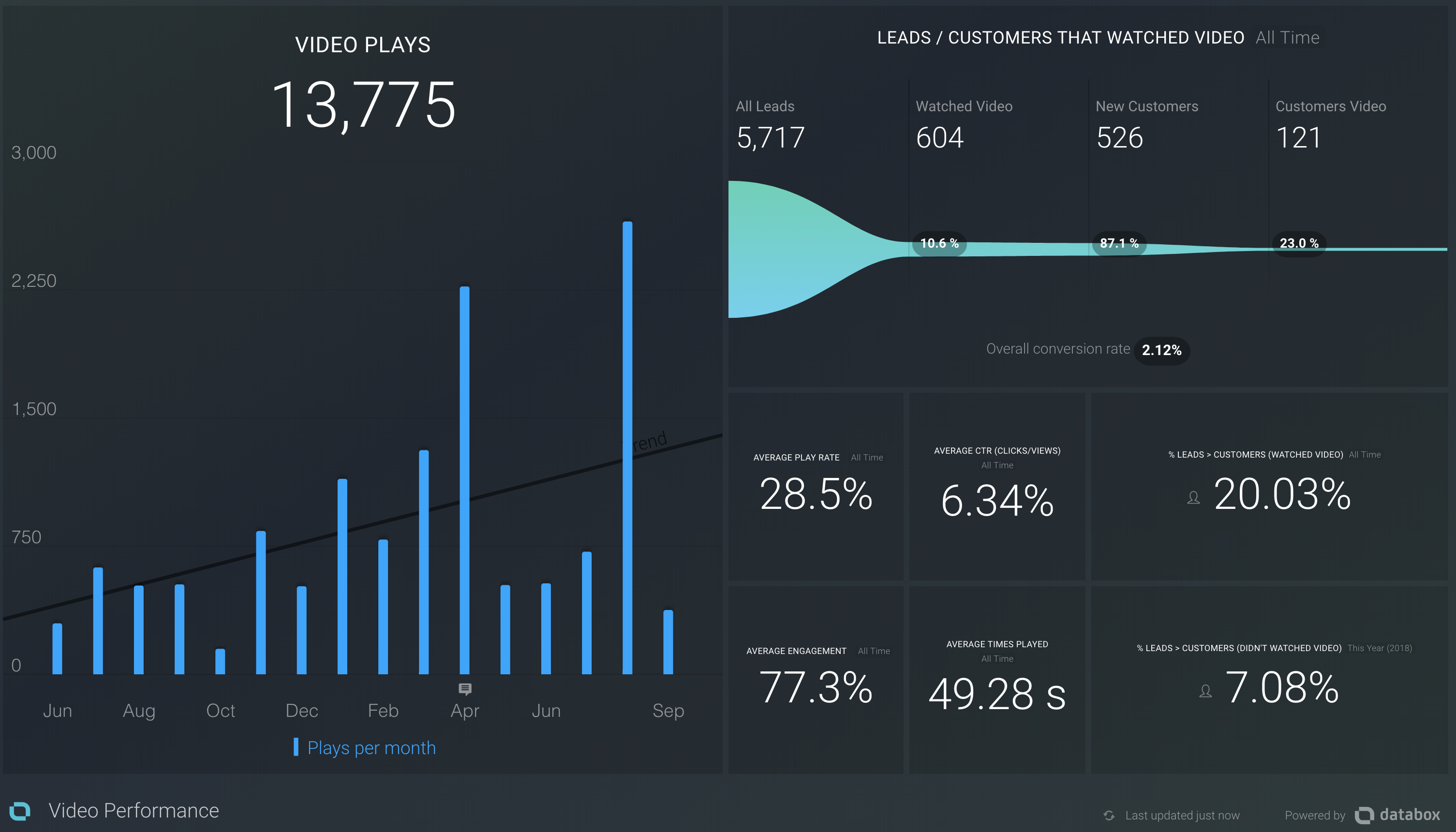 Implement Chatbots and Live Chat to Foster One on One Conversations
Live chat is a feature that the Jeeves team has been eager to add to their site for a while. The problem was, we could never find the perfect tool. Using a tool like Drift, that allows chatbots to initially engage with leads and then transition qualified leads to a reservations specialist when they are ready to engage with a person, seemed like a great option to test. Again, we chose Jeeves as our test client for this service and did not ask for any financial investment from them. We told them we would work with their team to set up the tool and train them to see if this long-awaited feature would make an impact on direct bookings as they had hoped.
A chatbot encourages leads to start engaging with your business. Chatbots remove the pressure of immediately talking with sales. The bot starts by guiding visitors through a conversation. Once the bot has taken them as far as it can, if the lead is interested in talking to a reservations specialist, they are routed to a live chat experience. As marketers, when we build out a website and include valuable content, we are still making assumptions to some degree about what site visitors are going to be most interested in learning about a company. By adding chatbots and live chat, you are creating a medium for leads to easily ask their unique questions through a conversation. They don't have to fill out a contact us form or call your team, even though those options exist, they can simply type out their questions and engage with your team in real time. Once they start those chat conversations, they are instantly making connections with your team. In the case of Jeeves, forming these personal connections through chat meant building rapport with their site visitors. A rapport that would encourage them to book directly with Jeeves because they felt a human connection with the person who was assisting them in planning their vacation.
After just two months, we saw the impact chat had on bookings. 1,877 contacts engaged with the bot, 725 conversations were had, 124 new leads were generated, and 14 customers were closed from chat. In total, 18 leads that had engaged in chat conversations closed as customers. Just like we did with video, we wanted to see a comparison of the close rate of leads who did not engage with chat versus the leads who did. Leads who did not have chat conversations with the reservations team closed at 9.4% while those who did closed at 12.2%.


30% increase in customers closed when they have had conversations through chat.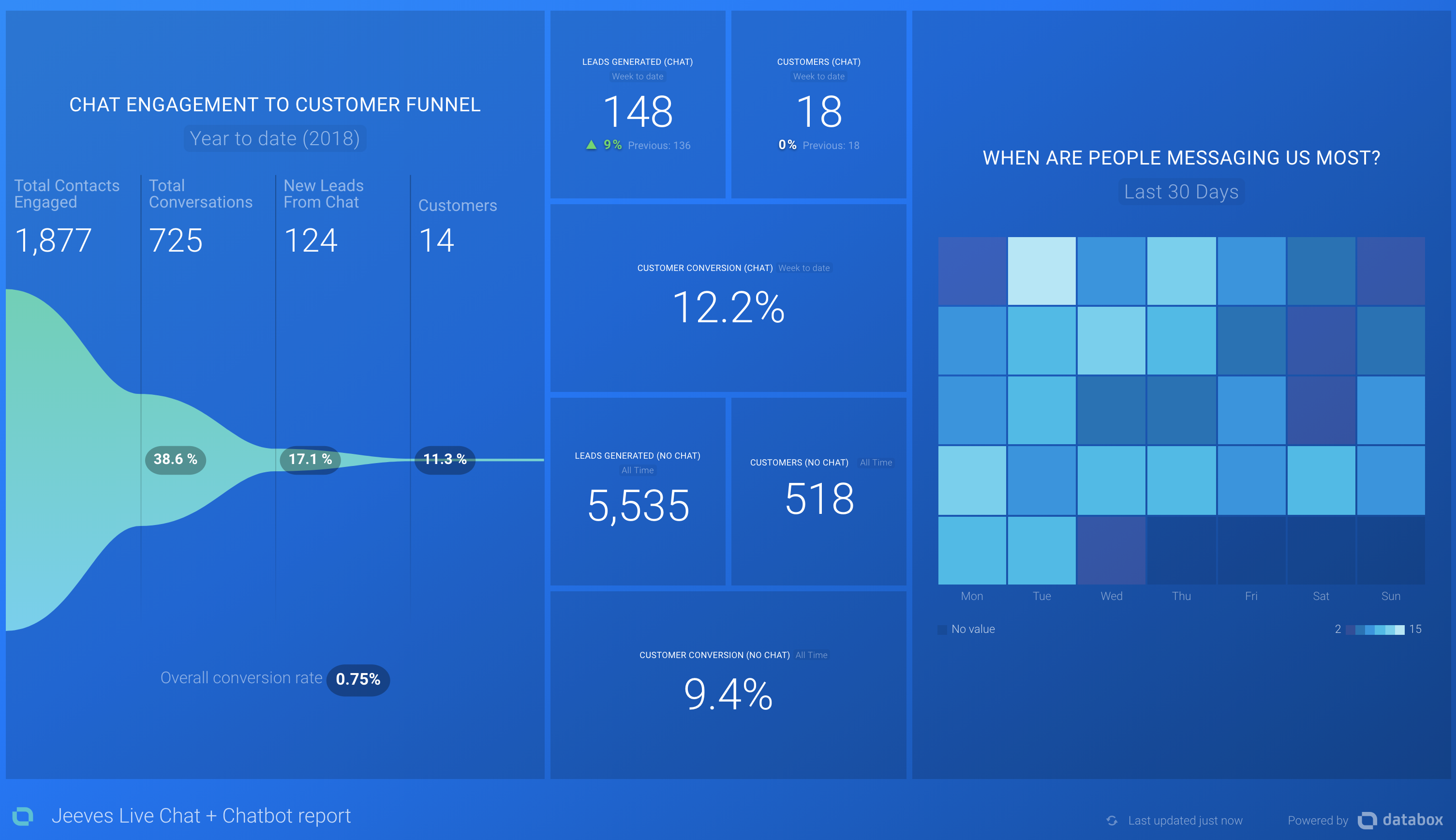 This two-month test showed us that the personalization of chatbots and live chat is an important part of the Jeeves inbound marketing strategy. Now that the HubSpot Conversations Tool is live and can provide a similar experience for both site visitors and the reservations team, we will be continuing the Jeeves conversational marketing strategy using HubSpot.


Visually Show Success Using the HubSpot-Databox Integration
In both cases, we were pulling data together from two sources, HubSpot and Wistia and HubSpot and Drift, to do an analysis and determine the impact that each strategy had on direct bookings for Jeeves. These are tools we use every day as marketers, so reviewing the data and finding these numbers was something we were able to achieve and understand internally at our agency. We needed to be able to pull this data together into one concise report that we could share with the Jeeves team so that they could easily understand the success as well. We used the HubSpot-Databox integration to pull this data together and create simple, visual reports. We could not have clearly displayed the success of our video marketing and conversations strategies with the Jeeves team without Databox.
As a HubSpot Connect Partner focused on custom reporting, Databox allows us to leverage the important data we get from other HubSpot integrations like Wistia and Drift, combine that with the data we have from the HubSpot software, digest it all, and create a report that clearly displays the most relevant data to the customer's goal. In this case, we were able to show Jeeves how two incredible additions to their inbound marketing strategy - video marketing and conversational marketing - were not only good for marketing, they were good for business because they provided a ROI by contributing to direct bookings through the Jeeves website.

Databox Case Study: The Essential KPIs for Tracking The Performance of Your Marketing Videos



The Impact of Reaching Goals
Now that the Jeeves team has been able to see this return on investment from video and conversations, they are excited to continue to invest in these strategies in the best way possible; they are investing time.
For video, their team is going to be adopting and implementing more video into their day to day routine outside of the marketing video shoots we do together as a team. Their reservations team is going to create simple sales videos to engage with prospects, their marketing coordinator is going to use tools like Facebook Live to showcase the new properties that are available, and the strategy will surely continue to grow from there. To empower them and make video an easy part of their daily job, we are going to install a portable video station in their office. Again, we will do this for free. This station will have a video camera, a simple lighting kit, and a microphone so they can create hassle-free videos whenever they would like.
As our conversational marketing strategy continues to evolve, we will continue to work with the Jeeves team to find more opportunities for customized conversations depending on visitor intent. Using the HubSpot Conversations Tool, we will be able to customize the experience to have more targeted and personalized conversations.


Customer Video Testimonial