For marketers, one of the toughest aspects of our jobs is finding out ways to prove the value of what we do. We know it, but proving it to others can be a struggle when talking with people who maybe don't understand the underlying strategies. So, you've got to use the universal language of numbers and these two software are best at taking your numbers and displaying them in ways that are easy to understand and analyze.
But, another tough part of the job is choosing between two different software that do many of the same things, just in different ways. Which is the right choice? Which is the wrong one? How could you ever decide? Well, Nextiny CEO Gabriel Marguglio is here with another edition of Martech Tuesday to help guide you through the ins and outs of Databox and Klipfolio so you can make an educated decision and figure out which is right for you.
Watch Every Episode of MarTech Tuesday!
Watch our interview with Pete Caputa, CEO of Databox on Martech Masters
Features of Klipfolio and Databox
First, let's discuss the basic quirks and features of both software, what they do well, and what they lack compared to each other.
Price
Pricing for each is similar enough that if money isn't a crucial deciding factor, it really won't persuade you one way or the other.
Both have many options. Klipfolio offers many different account options for both businesses and agencies with a wide range of prices and some of the higher-end options include features like up-to-the-minute data refresh and unlimited users that Databox doesn't offer.
Databox has slightly fewer options but they tend to skew cheaper and on a smaller scale. The smaller options (Basic and Plus on Databox) are $10-20 cheaper than their Klipfolio counterparts. Databox also offers a very-basic free option which Klipfolio does not.
When it comes to agency-style packages, Databox wins again with very affordable pricing and flexible plans. Databox also offers a robust partner program with bulk pricing so that you can get Databox for you and your clients for a smaller price.
Integrations
For the sheer number of integrations, Klipfolio wins with over 300 integrations of all kinds. Another benefit of Klipfolio is that it allows you to directly connect to an API. While Databox can also do this, it requires a middleman software to do it.
Databox has less total integrations, but its most powerful one might be the most important one. If you're a HubSpot user, you'll want to go with Databox just because of the power behind its integration.
Educational Resources
Both Databox and Klipfolio provide many resources in many forms to help you better understand the software and better understand the data that goes into it.
Databox recently launched its Business Analytics Training Course which is a free multi-video course online that teaches you about predicting data and reporting trends in data.
Databox also provides very interesting written content that brings some of marketing's top minds together to weigh in on a variety of topics. These blogs aggregate options from many marketing thought leaders and are an extremely useful tool when learning about new topics.
Ease of Use
The most noticeable difference between the two is the UI. Databox provides a much more streamlined process of making great-looking data boards. It's literally as easy as dragging and dropping your metrics into the board template. You can also customize the colors of the board and, in the Business options, company branding customization is available.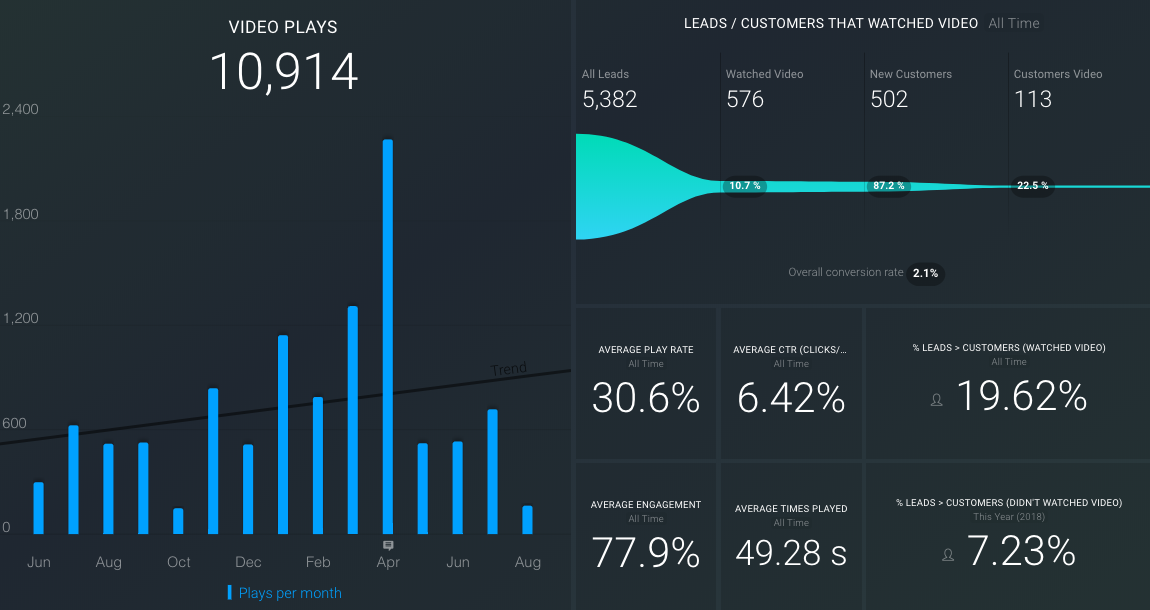 A Databox board presents your data sleekly in an easy-to-read format
On the contrary, Klipfolio is clunkier and the boards are much less sleek looking in comparison.
Also, Databox allows you to use pre-made templates that can be shared. So, finding the board that best defines the point you want to prove is as easy as finding the board, dragging in your data, and customizing it to fit your business.
Why We Use Databox over Klipfolio
For us, it was a no-brainer to go with Databox. With the powerful HubSpot integrations, the ease of use, the great-looking customizable boards, and the agency pricing options, we couldn't find a downside.
Another great feature of Databox is that the team behind it and the customer service and the chat and email support are top-notch. It's like having a data analyst on-call and ready to help you build your perfect board.
---
Both Klipfolio and Databox are good at what they do and will do the job they're designed for. Which one you pick will depend on many factors like which payment option is perfect for you, whether or not you use HubSpot, and much more.