There are many marketing software to choose from and use in the daily life of a marketer. Things used to plan and schedule to aiding in the creative process. Each of us at Nextiny has and uses different software in our daily work.
For more information on the software below, check out our tech stack.
Here are our favorites:
---
HubSpot and the HubSpot CRM
Inbound Marketing Software
by Gabriel — Agency CEO
What Do You Use the HubSpot CRM for?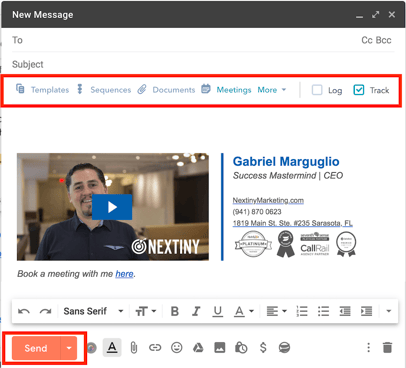 I use the HubSpot CRM on a daily basis for my prospecting and by registering every contact in the CRM and then updating the record every time there's an activity, news, or communication with the lead, we can make sure that we keep moving leads through the sales process. The CRM allows me to keep all leads organized and follow up with potential opportunities.
The HubSpot CRM makes it very easy to track emails and calls since it is all done automatically. Emails are tracked if sent directly from the Hubspot CRM contact page, but you can also set up the Hubspot Gmail extension (left) to track every email you send from Gmail. You can decide which ones you want to track as a sales activity which helps you keep the CRM clean while updating the necessary records.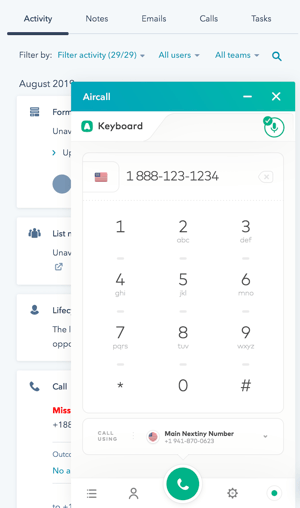 We also track all sales calls made or received since we use Aircall for our phone system.
Aircall (right) integrates directly into Hubspot, so every time you make or receive a call on the sales line, the phone call will be tracked on the corresponding HubSpot contact. The Aircall embedded phone app also works directly from the contact page.
The use of deals really facilitates keeping up to date with all sales activities for opportunities that are getting close to the end line. At the same time, filters and views on the contact list allow you to follow up on leads that you haven't or create a view that includes all the leads that you contacted in the past week, so you check their status and decide what the next step is going to be.
Why would you recommend the HubSpot CRM over others that are similar?
The simplicity and ease of use of the HubSpot CRM is the best feature and what separates it from the rest. You can automate tracking efforts which makes it even easier to use.
by Kara — Agency Strategist
What do you use HubSpot for?
Strategic analysis of marketing activity performance to determine the results and how they align with our agency or clients' business goals.
Why would you recommend HubSpot over others that are similar?
Anyone who is trying to understand how their marketing efforts are helping them reach their business goals should use HubSpot. Once you create a marketing strategy that aligns with your business goals, you can track the progress of that through the HubSpot tool.
Creating the strategy and the supporting marketing campaigns to carry out the strategy is necessary to be able to measure anything in HubSpot. If you are in a senior marketing role in your company, you should take advantage of being a data-driven marketer by reviewing analytics and tying them to overall business goals and success.
---
Monday.com
Task Manager | Teamwork Organizer
by Jackie — Agency COO
What do you use Monday.com for?
I use Monday.com to make sure that I get tasks done on time, such as editing blogs and videos and providing dates to coordinate scheduling of interview appointments. Monday allows for very clear communication about tasks that need to be completed, including expectations, who needs to do what and gives clarity about when the task is completed.
Why would you recommend Monday.com over others that are similar?
Slack is great for communicating about everyday things and happenings but Monday is fantastic for ensuring that tasks get done and that assignments don't get lost in the midst of other communications.
by Megan — Creative Director
What do you use Monday.com for?
I use Monday.com to manage my to-do list.
Monday.com is a powerful tool our team uses to create, assign, and oversee our agency's day-to-day tasks and projects. As a lean team, we often have many hands working towards one project or goal. With Monday.com we can easily work collaboratively towards these efforts. Monday.com prevents important information from falling into the abyss of an inbox or a Slack channel. All the updates, comments, and files associated with a project are in one location.
Each project is completely customizable to include the projects pertinent information like status, timeline, or owner. Introducing this software into our tech stack has greatly streamlined and improved communication and organization for our entire company.
Why would you recommend Monday.com over others that are similar?
We have tried pretty much every management platform software on the market and Monday.com has proven to be our favorite by far. The clean layout and limitless customization options that Monday offers are what sets this tool apart from the others. We are able to create tasks that include only the information necessary for each specific project. This keeps the tool from becoming a black-hole of unnecessary information. Monay.com is the perfect tool to plan, track, and collaborate with your team.
---
Wistia
Video Marketing & Hosting Platform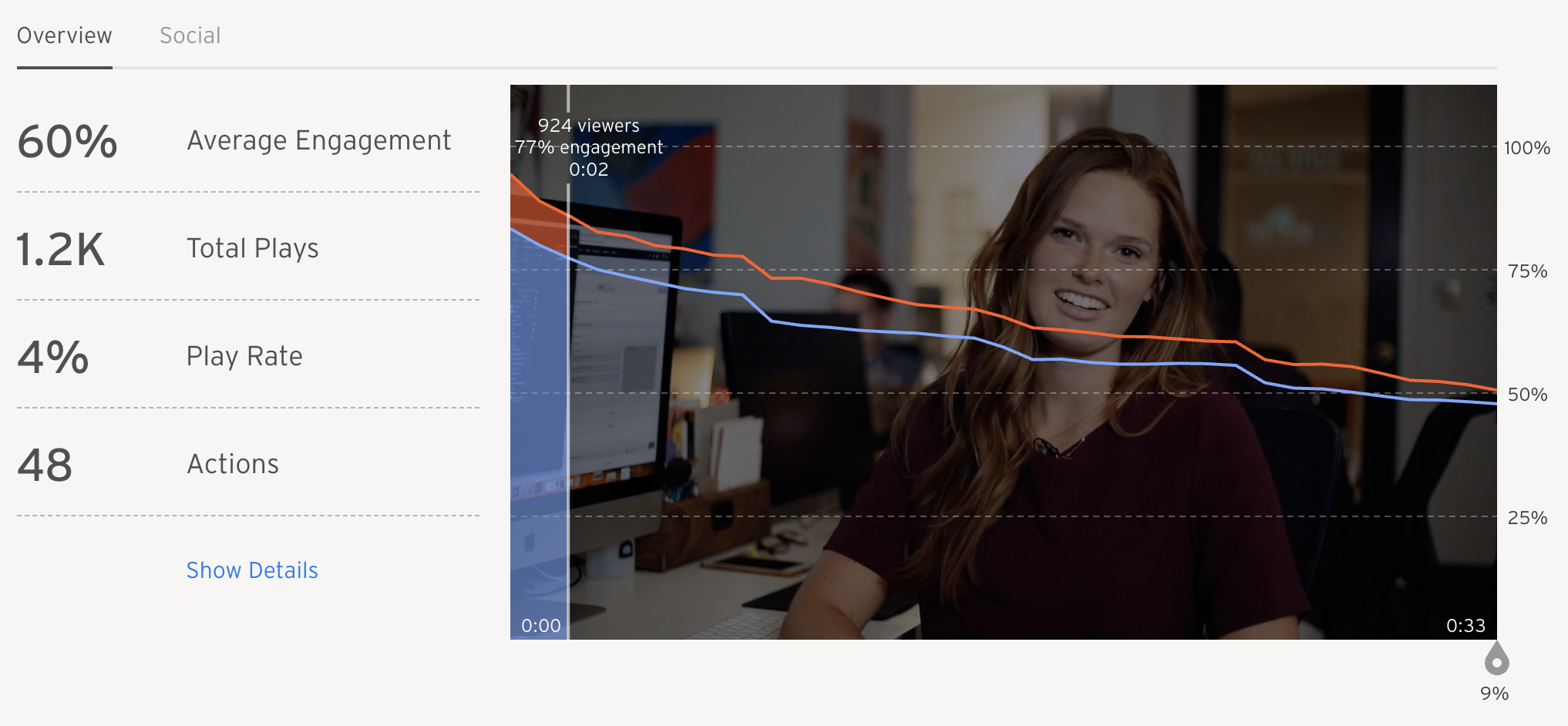 by Isabella — Video Marketing Manager
What do you use Wistia for?
I use Wistia to help brand, analyze, and optimize videos on our client's websites. Outside of its hosting capabilities, Wistia also provides lead generation tools such as custom CTA's or annotation links which we use to help lead viewers to convert. I use its analytics to review opportunities to optimize or change our videos, whether it be by using their heat-maps (which shows the video engagement on an individual-viewer scale) or through their engagement graphs that show how videos are performing overall in regards to drop-offs, rewatches, etc. It will also show you the engagement rate, the play rate, and the conversion rate for each video, which helps us determine if the video needs to be moved or review how its performing in its current location.
We've also been using Wistia Channels to help showcase both our own and our clients' videos in a clean and easy experience for the viewer.
Why would you recommend Wistia over others that are similar?
I would highly recommend Wistia for users who are interested in diving further into their video analytics as opposed to platforms that only allow limited hosting capabilities. For video marketing, Wistia is the perfect tool for taking the guesswork out of your videos' performances. It also integrates with marketing software like HubSpot to take your video insights to the next level in your lead generation strategies.
by Aaron — Creative Marketer
What do you use Wistia for?
I use Wistia for the Channels feature, as Channels gives us the ability to create our own page in a more immersive movie-viewing way. By doing this, we can combine all of our similar videos and give them an overall theme for viewers to have clarity on what they are searching for and viewing.
Why would you recommend Wistia over others that are similar?
The ability to customize, track analytics, and create Channels, Wistia has an incredible amount of resources to perfect any video project. On top of all of their unique features, they also have an incredible customer support team and are ready anytime we need to discuss any issues. I highly recommend Wistia.
---
Seventh Sense
Email Marketing AI Software | Send Time Optimization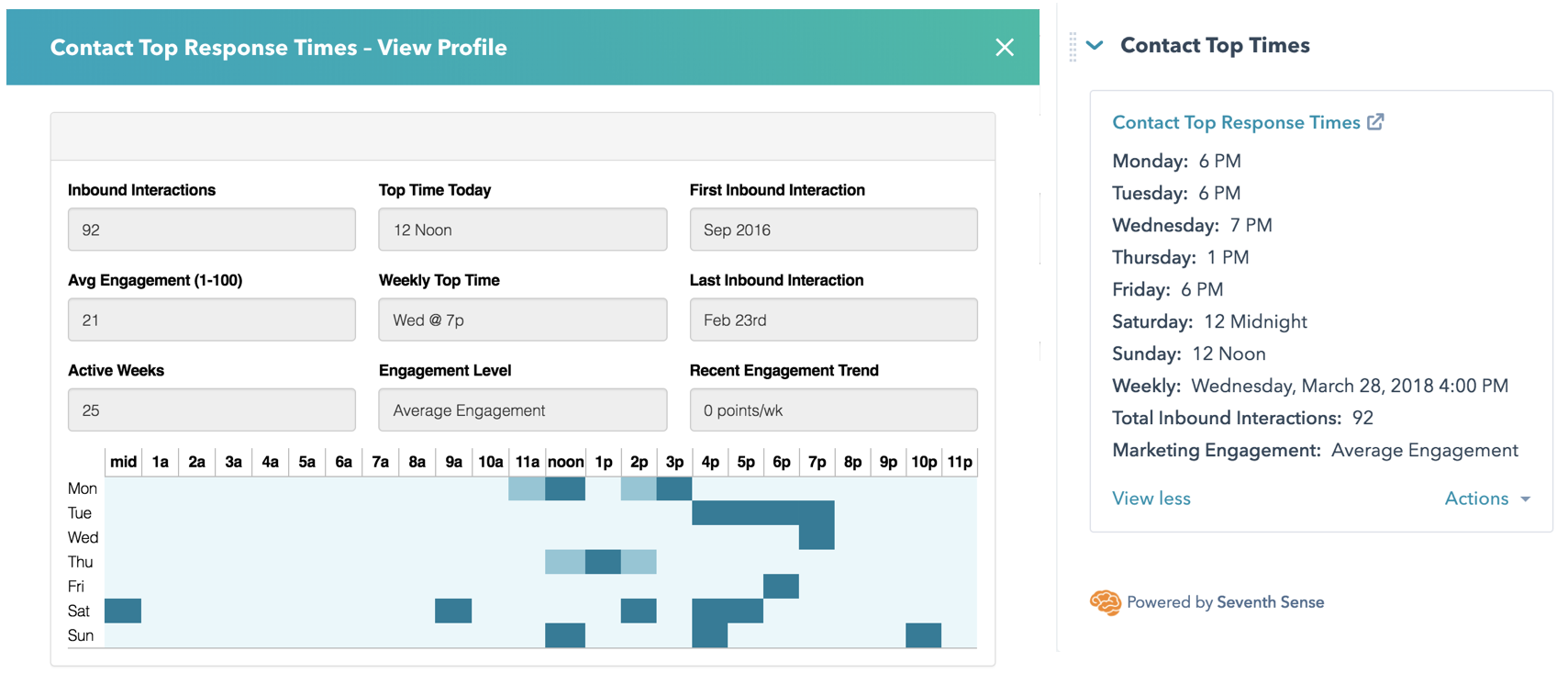 Bryan — Senior Account Manager
What do you use Seventh Sense for?
What we've seen since implementing Seventh Sense into our email marketing efforts is a huge lift in open and click-through rates. The more engaged we can keep our contacts and drive them back on to our website, the more chances we have at moving them through the funnel and eventually into customers. Seventh Sense has helped us do just that.
Why would you recommend Seventh Sense over others that are similar?
I am not familiar with any Software that matches what Seventh Sense offers on the email marketing side. We use HubSpot for every one of our clients, and Seventh Sense's integration with this platform makes it very simple for us to add it into campaigns and efforts that we are already running. It's not a tool that requires extensive training to make the most out of it. You're just adding a layer of optimization that you otherwise couldn't do without software like this.
---
Google Docs
Word Processor | Collaboration Tool
Dylan — Content Marketer
What do you use Google Docs for?
A big part of my job is creating and editing written content and that tends to involve not just me, but many people at Nextiny. I always ask for opinions and edits on work before posting or moving forward and Google Doc's ability to have everybody editing together, and at the same time, is incredibly useful for collaborative efforts. You can do everything right in the same document.
It's also helpful to be able to send my docs directly to people through email or by shared links, and
Why would you recommend Google Docs over others that are similar?
The big competitor is obviously Microsoft Word which brings its own worthwhile features to the table, but when working in a very collaborative environment, like Nextiny, the ability to quickly toss the doc around to whoever needs it is invaluable.
Google Docs is good for all forms of writing. It's fast, can be used with many different apps like Grammarly, and is easily shareable. I don't know what I'd do without it.
---
Adobe Creative Suite
Image/Video Editing Software

Abby — Creative Marketer
What do you use the Adobe Creative Suite for?
I use Adobe creative suite for the majority of my work at Nextiny. Working on various creative tasks, I use different apps within the creative suite to produce content such as PDFs, graphics, and social videos.
Why would you recommend The Adobe Creative Suite over others that are similar?
I would recommend this software because it is the most advanced creative suite in its class that provides limitless opportunities for creative designers.
---
What are some marketing software that you use frequently? Let us know in the comments below or on social media!