Imagine a world where anyone can build websites, analyze intricate data, manage loads of content, create automation logic, integrate different apps to work together, and more. You don't have to imagine because 'no code' is revolutionizing marketing technology. What used to be firmly behind the wall of technical knowledge is now open to every marketer thanks to the tools and software using 'no code' techniques to make it possible.
Related Blog: How Zero-Click Searches Are Changing Digital Marketing and SEO


What Is 'No Code'?
Though the name is pretty self explanatory, let's first talk about what exactly 'no code' is. 'No code' is the recent push from apps and software to offer features that would generally require some technical knowledge to people who have little to no experience coding. Stuff that used to be difficult like building websites, design, blogging, and analyzing data from multiple sources has become as easy as signing up for software and connecting them together.
This rise in no code apps has made it easier than ever for marketers to dip their toes into a new areas of marketing. For example, people who've never even touched a website can create and edit beautiful landing pages, post blogs, and create entire SEO strategies using just the HubSpot tools and some videos from the HubSpot Academy.
Marketers have never had more power at their fingertips.


How is 'No Code' Used in MarTech?
In marketing, no code has come into play in three key areas that many marketers use everyday: Websites and Design, Data Analysis, and Automation. These aspects of the business—usually some of the most complicated—have been simplified to the point where most people can effectively utilize them without technical back-end knowledge of complex coding.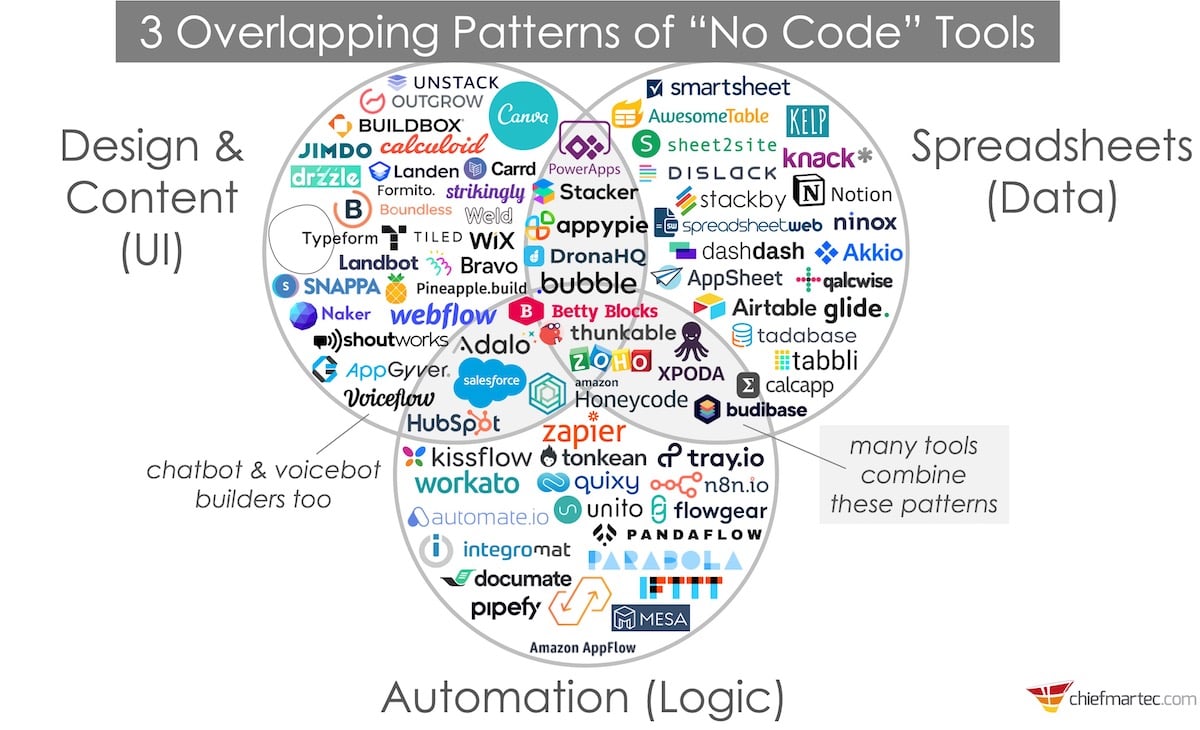 The 3 overlapping patterns of 'no code' Tools from Chief Martec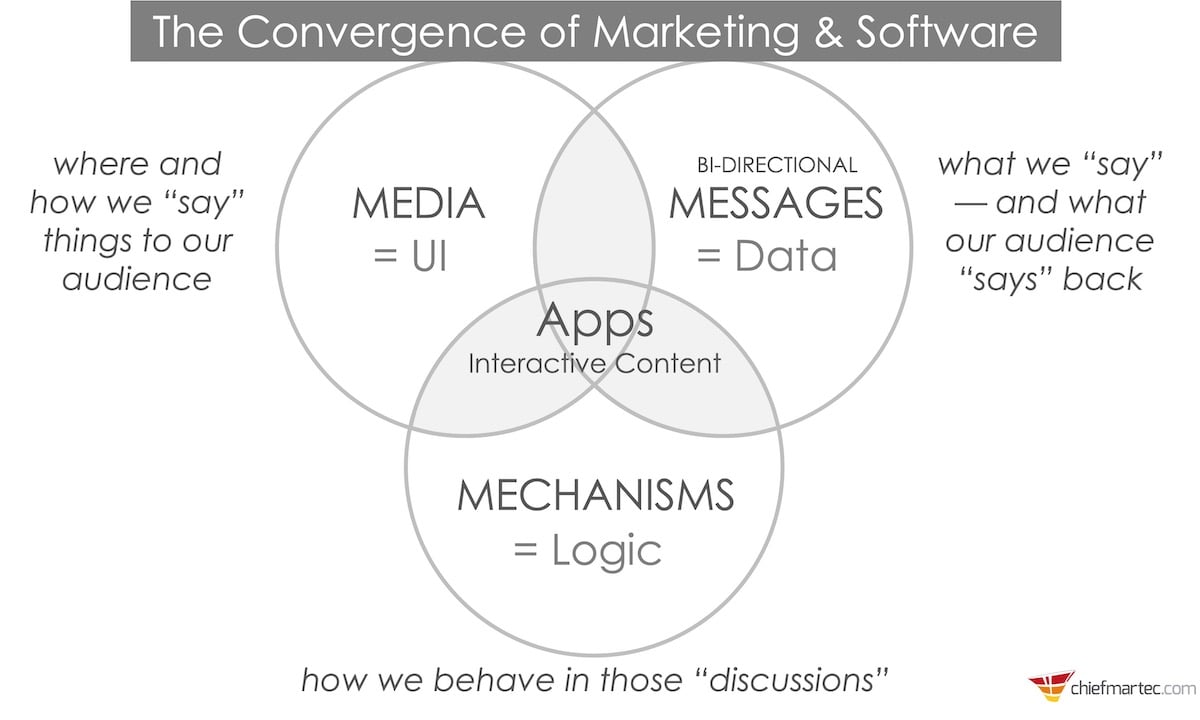 The Evolution of the Martech Landscape & The Future of no code: Scott Brinker from HubSpot
Watch Every Episode of MarTech Masters

As part of our brand affinity marketing efforts, we've been producing video series and podcast shows for our agency and our customers. This year we participated in the Stackie Awards run by the Martech Conference. We challenged ourselves to graphically represent the tech stack we use to manage, produce, promote, analyze and optimize our video podcast series, Coffee Talks. Our team proudly took home the winning Stackie award with the entry below. As you'll see, we produce our entire video and podcast series with no code tools like Wistia, HubSpot, Monday.com, and more.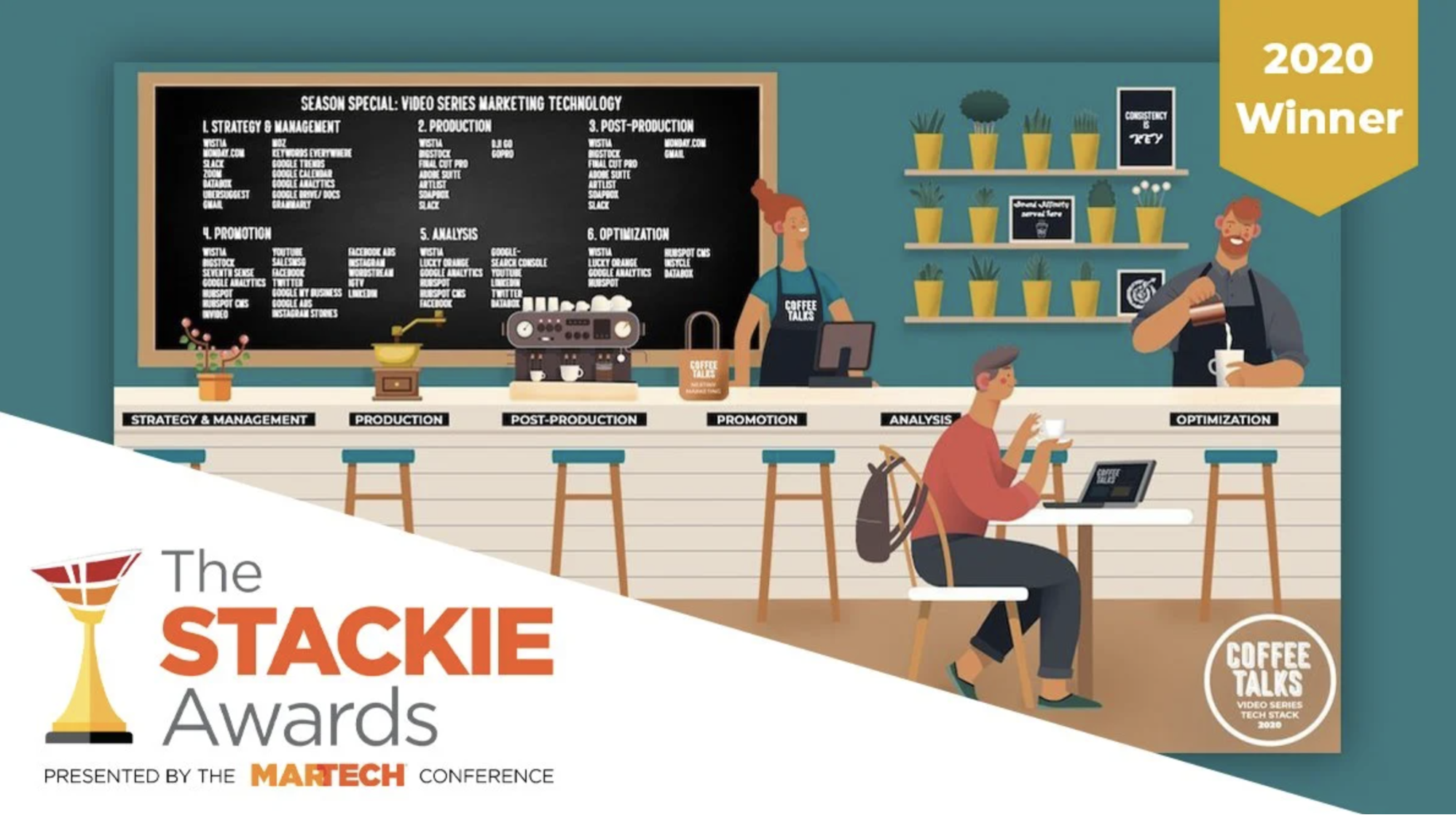 Nextiny's award-winning 'Stackie' featuring all the MarTech tools we use to create a video series (above)
Building Effective Websites Without Code
There are 'no code' applications for designing and developing landing pages, pillar pages, SEO, blogs, contact pages, and more. Building a unique, effective website for you or your customers is easier than ever thanks to the abundance of different website building apps that have implemented 'no code' website building.
Apps that you are probably aware of such as SquareSpace, Wix, Weebly, etc. are good for small businesses or personal websites but when larger marketing efforts are needed you may feel overwhelmed. HubSpot and its arsenal of tools have taken that same 'no code' approach and used it to not only help you build a strong website, but also to do the SEO and behind-the-scenes marketing that makes the website tick.


Establishing Workflows and Automations
Nothing seems more complex than setting up automated marketing campaigns and internal workflows that move automatically. 'No code' applications have made it easy to build automated marketing and sales actions, all without having to know any code. These apps will help you connect and integrate many different software that you use to help set up a seamless workflow creation process.


Analyzing Complex Data With Help of 'No Code' Apps and Software
The third side of marketing that has been impacted by no code tools is data analysis, aka figuring out what works, what doesn't, and what you should do next. No code tools let you pull data from multiple sources, compare them, analyze them, and even present them in easy-to-read formats like the Databox board below.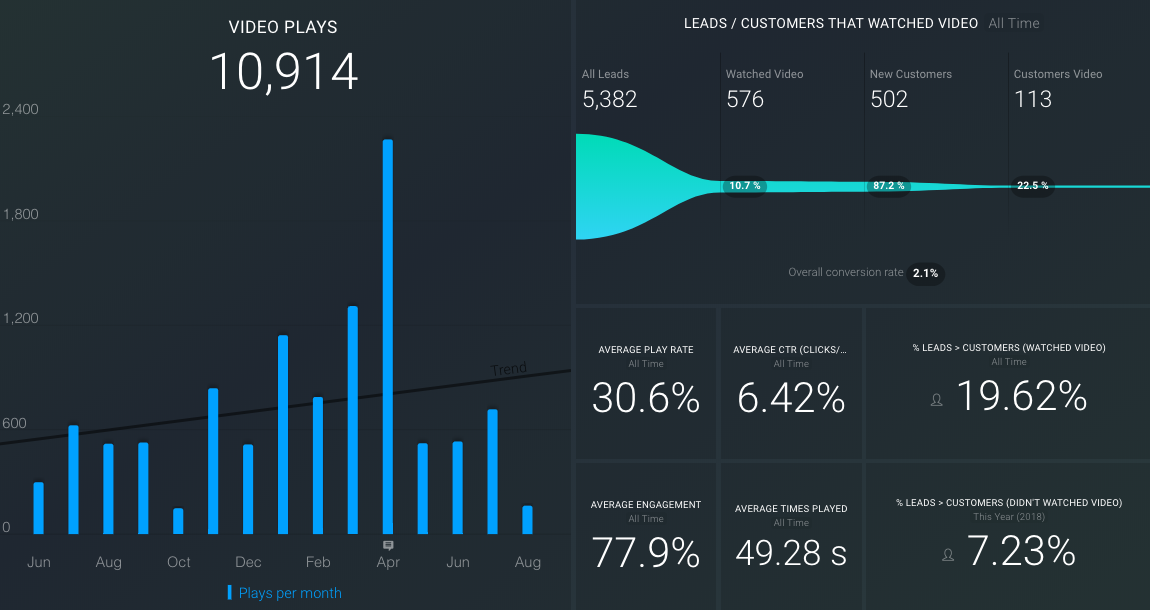 Databox board showing the impact of video helping leads to close into customers 3X at a higher rate
With the use of no code tools like HubSpot, Wistia, and Databox, we're able to gather information from customer behavior, including video engagement, and combine it with the lead journeys to understand the impact of video turning leads into customers.
Learn more about the use of Databox to build unique reports our customers can't get anywhere else on this Databox case study.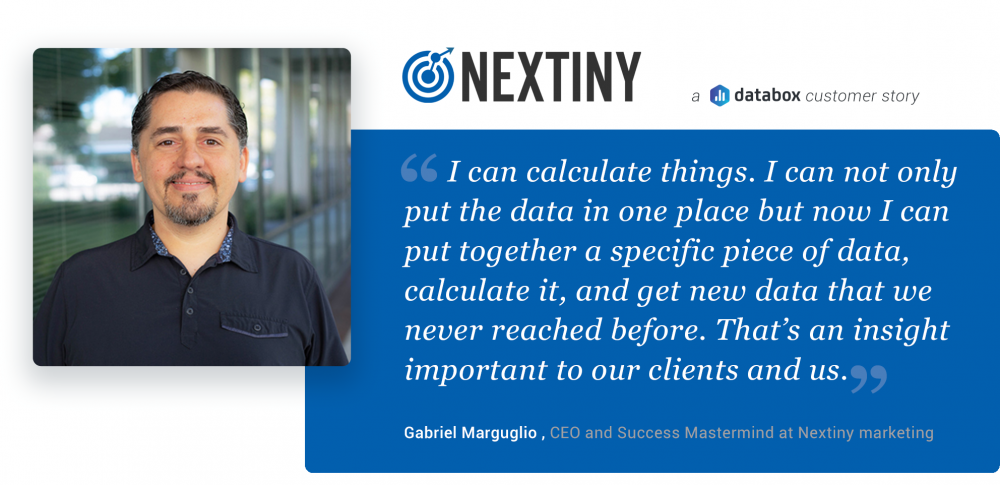 This is a key part of decision-making for marketers who pride themselves on being 'data driven' and who want to make important decisions based on hard evidence. No code data applications aggregate all the data you need to help you find the gaps in your current strategy or build a brand new one based on the numbers.


30 Useful 'No Code' Apps Empowering Marketing Professionals
Here are some of the biggest and most useful software that use no code to make marketers' lives easier every day.
Design and Content Applications



Canva: Design and create almost anything with easy-to-use, intuitive tools. There are thousands of customizable templates to start from, fonts to use, colors to choose from, and it integrates with many other software including HubSpot, which makes it easy to publish your creations online.



Figma: Figma is a collaborative web application for interface design that connects everyone in the design process so teams can deliver better products, faster.



Voiceflow: Build, optimize, and implement voice apps for Amazon Alexa and Google Assistant with Voiceflow. Its easy-to-use application builder lets you visually build your voice experience.



Bubble: Build and implement website applications and workflows with Bubble. Bubble lets you create interactive apps for web browsers with no coding needed.

Shopify: Create your digital storefront with Shopify and its easy-to-use e-commerce platform that you can integrate with hundreds of other apps to build an effective store. Automate your checkout process, carts, stock, and build a highly-presentable store page that's easy to build and easy to use. Shopify also integrates with HubSpot.



Data Analysis Tools / Content Research



HubSpot: What may be the ultimate no code tool, HubSpot is an all-in-one marketing tool that helps you build and optimize websites, manage contacts, run your blog, and see all the data that makes it tick. It may sound overwhelming, but the Hubspot Academy provides everything you need to get started and become an expert.


Databox: With just a quick drag and drop, pull data from multiple sources into one board to help you compare and contrast data in order to help make the most effective decisions for your business and customers. Learn more about their Databox-Hubspot integration.



ChatGPT: ChatGPT (an Open AI product) can assist marketers in creating personalized and relevant content, engaging with leads through chatbots or messaging, and providing data-driven insights to optimize their campaigns. With its natural language processing capabilities, ChatGPT can also improve lead nurturing and customer experience, leading to increased conversions and customer loyalty.



Screaming Frog: If you're looking for ways to optimize your website for search, Screaming Frog has got you covered. It crawls your site to help you find where you can improve your technical SEO.



Insycle: Insycle helps with data management, data cleanup, data automation, data preparation and manipulation and it integrates with tools like HubSpot, Salesforce, Intercom, Mailchimp and more. Companies focus on data creation/capture and data analysis, but as we have learned from Arpit Choudury—Product Marketing Manager at Trifacta—80% of time in data management is spent preparing the data for analysis.



Wistia: Truly an all-in-one video marketing tool, Wistia helps you with everything and its list of features is seemingly endless. It hosts videos, provides fast analytics, and the ability to have a Wistia Channel with a beautiful design, embedded on your site to provide the best possible viewing experience for your audience. They do it all for podcasts, also. The Wistia-HubSpot integration allows you to connect your lead generation analytics with your video engagement data to understand the impact of video throughout the buyer's journey.



CallRail: From voice calls to tracking, CallRail is an automation tool that helps you track phone call leads from digital and offline sources. Along with managing leads in their Lead Center, CallRail has every tool you need to optimize and automate your marketing via the phone. The CallRail-Hubspot integration helps you understand the original source of leads coming from phone calls.



SparkToro: A tool like SparkToro automates and simplifies finding out what your audience is searching for, where they're searching, and more so you can find them and reach out with the proper marketing materials. As Rand Fishkin says: "To do great marketing, you need to understand your audience." Learn must-know data that helps you determine how people use the internet, where they go, what they do, and how you can capture them.

SparkToro is a search engine to help you find and understand a demographic by crawling bilions of website and social accounts, aggregates those into profiles, and gives you the power to search them all.



Automation Tools (Logic)



Seventh Sense: Using machine learning, and the data available in Hubspot, Seventh Sense helps optimize email send times, messaging, and format to increase the chances your emails are opened, read, and acted upon. Learn more about send time optimization with HubSpot here.



Zapier: Work smarter not harder with Zapier which helps you automate repetitive tasks by connecting your apps and creating workflows that save time and effort. Zapier removes the need for development with custom integrations between other no code software.



Mailchimp & HubSpot: Send optimized marketing email blasts with the help of tools like Mailchimp and HubSpot which let you draft up pretty and effective emails to send to your leads and customers.



ActiveCampaign: The email marketing, marketing automation, and CRM tools you need to create incredible customer experiences. ActiveCampaign is built for each stage of the customer journey so that you can send exactly what your contacts want.



IFTTT: Connect your apps, devices, and software together (Internet of Things) to create helpful and time-saving (If this, then that) workflows across them all.



Slack: Communication is how Slack made itself a household name and providing easy communication is why it's on this list. Slack lets you connect not only with your team, but your clients, your friends, your peers, and more. Also, it's able to integrate with many software like Zoom, Google Drive, HubSpot , Microsoft Office, and more.



Monday.com: Keeping multiple projects among multiple team members well organized is no easy feat. So, we turn to apps like Monday to help track progress, assign tasks, keep records, communicate, and more. Monday.com provides everything you need to do exactly that while providing a sleek interface. This project management tool also has plenty of automation features that can help you set up alerts, create tasks, assign tasks, track progress, and organize.



BrightLocal: Organizing a company's citations and links for SEO and Local SEO can be tedious and time consuming, but nevertheless it's a crucial step toward optimizing your local search presence. BrightLocal provides the tools you need to simplify this process by collecting a company's citations and links from across the web in one place.



Coda: Re-thinking online documents has made Coda a popular choice among writers, marketers, and many others. Coda is essentially a hybrid software that combines the features of collaborative digital documents (like those on Google) with the organization and team/task management of Monday or Airtable. Have all of your information in one place with Coda and finally close the 25 Google Doc tabs!



Hypefury: Tweet like never before with Hypefury's tweet scheduler, composer, reporting, sharing, and more. Of course, it also has plenty of automation tools to help you simplify the process.



Stripe: For online businesses, providing a secure and easy way to accept payments from customers is a must in order to deliver the best possible experience. Stripe makes that easy. Its suite of payment products helps businesses accept payments, send payouts, and manage their business completely online. Stripe also integrates with many tools like HubSpot.



Demand Sage: Automating data from HubSpot is Demand Sage's bread and butter. They specialize in giving you ways to 'put your reporting on autopilot' by letting you custom-build reports from HubSpot data.. It also has plenty of integrations, such as Google Sheets, to help you organize data even further.



Google Tools: From emails to documents to collaboration to scheduling, Google's suite of tools has everything to create and share without having to touch a line of code. Tools include: Google Docs, Sheets, Drive, Slides, and more.



tray.io: Automated workflows is tray.io's game, allowing you to quickly connect and integrate your software to build streamlined processes with an easy-to-use editor interface.



Integromat: The self-proclaimed "most advanced online automation platform," integromat is an app that helps you automate processes that used to all be done manually. It connects apps, transfers data, and helps you save time by handling long automation processes 24/7.


Data Management and No Code Integrations feat. Arpit Choudhury, Product Marketing Manager at Trifacta
Watch Every Episode of MarTech Masters

AWeber: A powerful yet simple email marketing tool, AWeber is designed to do 90% of the work for you by automating as many processes as possible. You can write and design emails in the designer, send them to your customers or leads, and decipher each email's successes and failures in order to improve and grow.



Zoom Meetings, Webinars and Phone: Setting up meetings, webinars, phone calls, and more has never been easier with Zoom and Zoom Phone. All it takes is the click of a button to start a meeting, send invites, and put together huge conversations. Zoom also integrates with many other communication tools like Hubspot, Monday and Slack to make it even easier.
---
No code applications and tools have truly removed the barriers that previously sat between most marketers and the complicated processes involved in creating websites, blogs, workflows, emails, and more. Now, not only are the tools available to you, but they're purpose-built to be easy to learn and use so anyone can utilize them.