Clear the runway. Nextiny's 2019 Stackies Contender has taken flight and is inbound to San Jose to compete at The MarTech Conference.
What are The Stackies?
The Stackies are an award given out each year at The MarTech Convention, a marketing and technology conference. Every year, organizations from across the country build their own stacks to submit. A "Stack" is a collection of all the different software a company uses during their daily operation. Anything from automation, social media management, CRM, videos, content management, or any other tool that assists in the growth of a business. Organizations are tasked with organizing their stack in a 16:9 slide and designing it in a fun and interesting way to represent their company or industry.
Check out every episode of our inbound marketing video series, Coffee Talks!
For an idea of past stacks, here are all the participating entrants of Stackies past from 2017 and 2018.
Why Compete?
Besides our innate hunger for victory, why submit a stack to The Stackies? For a good cause! For every submission to the competition, MarTech will donate $100 (up to $10,000) to Girls Who Code.
The goal of the competition isn't to pit organizations against each other in a winner-takes-all competition. It's to inform and to help all of the presenting organizations as well any who happen upon the selection of stacks.
For us, it provided a fun way to take a step back and think critically about the roles of all the tools we use, and take in our overall process of running a business and serving our clients. So, while we had fun putting it together, it also served a tremendous purpose for us and our agency.
Nextiny's 2019 Contender
Without further ado, allow me to present Nextiny's 2019 Stackies Contender: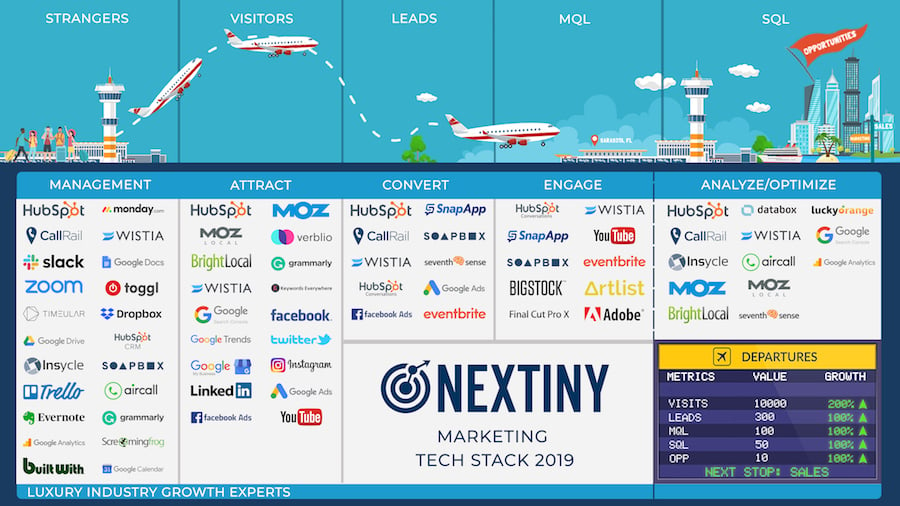 Let us guide you through a flight on Air Nextiny, and the abundance of software used on each leg of our journey:
Management: The tools we use to help manage content creation, social media, contacts, scheduling, and anything else. The software in this category keeps us organized and efficient through everything we do.

Attract: Everything we use to help us attract viewers, prospects, leads, etc. to our content. This includes websites, video hosting, blog posting, SEO efforts, analytics, and everything in between.

Convert

: This selection of software is where visitors become tangible leads for ourselves and our clients. These tools help us move strangers into known prospects.



Engage

: The internet is a tough place to keep people's attention. We use the tools in this section to offer value to visitors and leads who end up on our site or through social media.



Analyze/Optimize

: In order for us to grow, we need to be able to adapt our strategies from the data coming in. These tools allow us to organize the data coming in, review it quickly, and make the changes we need to optimize for success.
The inspiration for our design comes from our ever-present passion for skyward growth. The plane, and its journey, represents the journey we take with our clients and our contacts through the buyer's journey and the inbound methodology. We're in this journey together, and we'll help you through it.
Today, as we see our beloved stack fly away toward its competitive destiny, we are able to reflect on it and appreciate what it has done for us during its stay at Nextiny. Here's hoping it comes back a winner, but in our hearts it already is. Unless it loses, then it's not allowed to come back home.
Just kidding.