In the past couple of years, the most effective change to our content mix has been the addition of video. We use video to communicate internally and with our clients, but, most importantly, we have made video marketing part of almost every client's strategy. This allows us to have more human interactions with them as well as to empower them, with our support, to create videos for their audience.
The use of video as a product is crucial. Effectively crafted videos, which convey a compelling message about products and services, can be a powerful marketing and sales tool. Video is so much more than that, though. Videos can be used not only to enhance a website's user experience (UX) and to create engaging content, but a single video can be used in multiple ways, such as a resource for blog articles, value offers, service tutorials, on-boarding employees and clients, and for promoting to your audience on social media. You're not limited in the same way you would be with written text.
Video conveys voice, intent, and context. This is perfect for communication between teams as it conveys a stronger and more personal message than text can. Marketing efforts depend a lot on content that needs to be created at an expert level by leadership, product, sales or customer service teams. The problem, oftentimes, is that key people are busy and seldom have time to write blogs. Instead, we put our clients' teams in front of the camera and ask them the same questions about their products and services that would be asked by prospects and customers. We can then use that to create blog content for their site.
Related blog: The Shift in Your Content Marketing Mix: 25 Marketers On What's Changed in 2 Years
Videos VS Blogs:
Have you ever asked yourself: Would a blog post or video (or both) be more beneficial in a certain situation? Of course we will still create blog posts without videos, and vice versa, but that happens when we establish separate goals for that content.
Maybe we want to explain something super technical that requires a lot of text with steps and bullets showing how to do it; so we create a text-only blog. In a similar way, we create videos to use on website pages and landing pages which require more personalization and a more targeted message; something that written text struggles to accomplish.
These distinct blogs and videos have a predetermined goal which is usually to either enhance onsite SEO or to describe specific processes with much more detail. In the case of video, it allows us to engage with visitors on a more emotional level than writing, and helps them move through our marketing and sales process.
It is so easy to create high-quality videos from your computer nowadays with amazing tools like Soapbox by Wistia. If you make a $200 investment into a nice webcam, a good mic, and a small light for your desk, your soapbox videos will look professional enough to use them on pages, blogs, and social efforts. Getting started with video is easier than it has ever been.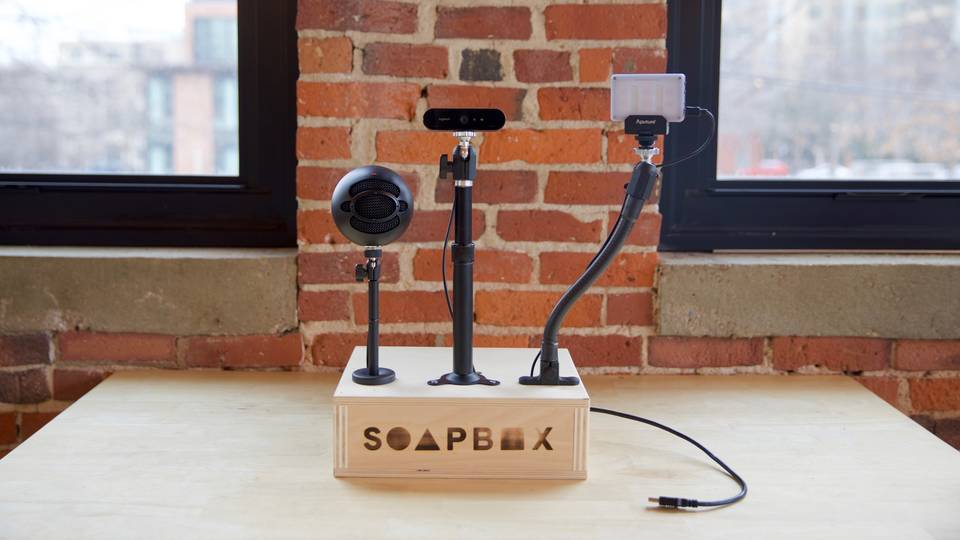 Related blog: Blogging vs. Video: When Does Each Format Work Best?
Why we use videos to optimize website pages, landing pages, and blog posts:
To optimize content over time, one of the many things we do to get high performing and high ranking blogs optimized is to add video to them. This brings new life into old blogs, personalizing the content and making them more engaging. Then we repost them to the top of the blog feed and promote them on social media to revive this older content.
Every time you can attach a video to a blog, do it for the following reasons:
Your time on site will increase, which helps your SEO for the blog.

Your reader will have the option to read (and skim), watch the video, or both. Don't just provide a transcript, but instead, make the text more comprehensive and the videos more interactive. Depending on your audience they might get more from one or the other medium.

A video blog will interest more people since it is easier to consume than reading, yet text expanding on the concepts explained in the video will also attract people who prefer reading. Furthermore, Google will be happy on both ends, since text is digestible by search engines and videos keep people engaged, increasing your time on site metric.


If you have a video for a blog, you can use part of it to promote on social.
Tips for using video in blogs:
Written content is more skimmable but video is more engaging, so decide what you want to show in each medium.

Make sure you tag your videos for SEO. The simplest way to do this is to use tools like Wistia that take care of all of this for you.


When using Soapbox you can include your screen and yourself in the video. Make sure the screen part is engaging and adds to the content. You can show websites, software, reports, photos or even slides depending on what you are trying to convey.
Blogs are still a very effective way to increase your SEO and to attract the right people to your website, but video is way more effective in showcasing your personality and what makes your company unique. The human element of video makes it the perfect medium to showcase who you are, your professional culture, and many nuances which are impossible to convey through text.