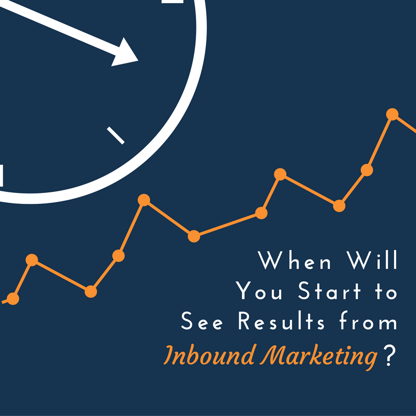 If you're new to inbound marketing, you may be unsure of how long to expect to wait to see results. With traditional marketing, you can see results fairly quickly, as people respond directly to the ads you send out. Inbound marketing is not as quick to show results at the start, however, the long term results are what make it worthwhile. The answer to how long inbound marketing results take is not a certain number of days or weeks, but depends on a number of variables.

Related Blog: Why Inbound Marketing and Growth-Driven Design?

Preparation
If you've already established the foundation of your company, you can really start to delve into your marketing strategy. Working with an inbound marketing agency helps, but even if you're doing it yourself you need to focus on a few preliminary steps:
Perform keyword research
Review your competition
Establish Smart Goals
Create Buyer Personas
Creating Content
Your preparation stage can last anywhere from 1-2 months depending on the size and industry of your company, and how prepared and equipped your marketing department is. After the preparation stage, your focus should be on creating great content in the form of blogs, content offers, and campaigns, which you will then analyze the success of.

The time it takes to see results from inbound marketing are dependent upon multiple things. If your company is completely on board and starts getting content out immediately, you'll see faster results than if you're hesitant to start or if your content has to go through many stages of approval.
HubSpot statistics show that not only does inbound marketing work, it works within the first year! Most companies credit their number one reason for increase of leads to inbound marketing tactics like landing pages and calls to action, with blogging coming in second place.

Are there things you can do to speed up the results?
Social Media
If you don't already have a strong social media presence, it's imperative to start building one. If you're not sharing your content through various social media outlets, you're basically relying on people searching through your website to find content and offers. (Hint: This is not a good method.)

With an inbound marketing tool like HubSpot, you can even track your social posts, seeing who clicks on and responds to your posts. This makes it very easy to track leads and target the customers you know are interested in your product.

Blogging
Blogging is one of the most important things you can do to increase traffic to your website. It champions as the #1 method for increasing traffic, with SEO in second place (HubSpot). Blogging creates new, fresh content that drives potential customers to your business.

Although inbound marketing may not provide you with instant results, when you do start seeing more leads and traffic, they will only compound from there. If you'd like to learn more about inbound marketing, contact us today and get a free inbound marketing assessment.
Topics: inbound marketing