YouTube is the second largest search engines on the web, right after Google. So, it's incredibly beneficial to have a strong presence on it. Not only is it making high-quality videos, it's SEO and promotion. It can be a daunting challenge at first, but with patience and understanding, creating an engaging YouTube channel can be easy.
Related article: Video SEO: How to Rank on Google With Your Videos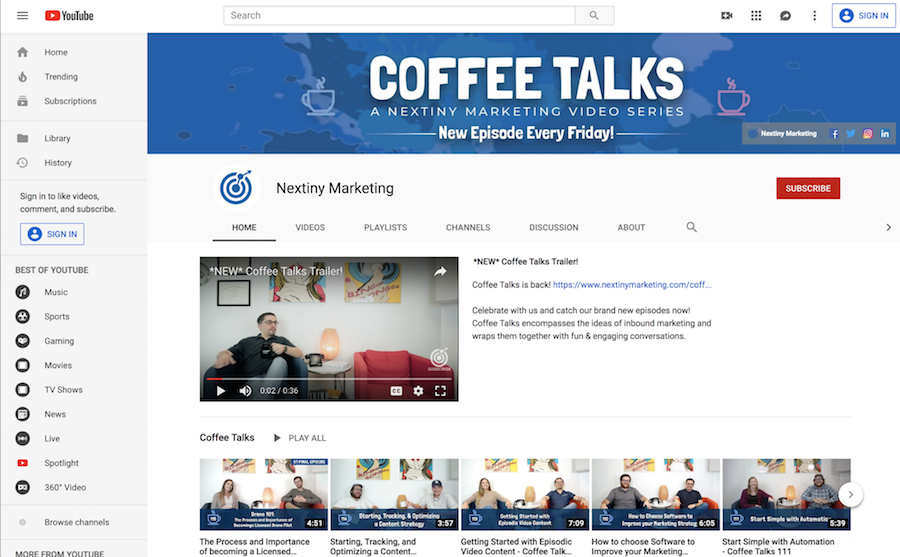 Nextiny's YouTube Channel with all its branding
6 Ways to Brand your YouTube Channel
The first step to creating a solid YouTube Channel is to make it your own. Each new channel starts out with the default versions of everything. So, it's up to you to customize and change your channel to match your branding.
1. Profile Picture: This should be something clean and easily identifiable as your own. If you are establishing your brand as you, maybe the profile photo should be of you. Contrary, if your YouTube channel is about a product or brand with a logo, you should use that logo or something relatable as your profile picture. When trying to establish yourself, it's a good idea to use the logos, colors, and images that you want to be associated with.

2. Banner Image: As with the profile picture, this should be clean and easy to identify. This is the header to your channel and is the first impression made to people visiting your page. So, make sure that whatever graphic or photo added is relevant. If you have consistent content being uploaded, a good idea might be putting "new videos every week!" or something similar to show new visitors what they can expect. Additionally, you can add all of the social media buttons to your banner on the bottom right. This is where you can really show who you are and what you have to offer, so use all the space you can without overcrowding it.

3. Playlists: These are extremely important for several reasons. First, playlists organize your content into themes where a visitor can have a pleasant experience finding and watching content that is centralized around a single thought or vision. Additionally, linking similar relevant videos into a single playlist helps with SEO and gives your channel a cleaner look. You can rearrange the playlists to make your channel look more organized as well and rank in order of importance. Overall, you always want to help people find what they are looking for and organizing your videos into relevant playlists will do exactly that.

4. Trailer: This video won't show up for current subscribers so the trailer is a way to have new visitors engage with your channel. When they visit, the first thing they will see is your profile photo and header image...but they're on YouTube for a reason! They're here to watch videos and the trailer is smack dab right in on the top in the middle for new visitors to watch. This is your sales pitch to potential subscribers. You want this video to explain what people can expect from your channel with quick, concise, and relevant information.

5. Add Featured Channels: Featured Channels is a section on your homepage channel that is off to the right showing other people's channels. Adding featured channels to your channel will create a connection to YouTube's algorithm as well as the other channels and creators out there.

6. About section: The About page is accessible via a tab on your YouTube channel homepage. On your About page, include a short but persuasive description of your channel. People don't typically spend a lot of time on the description so try to be as engaging and concise as you can be.
How to optimize your videos for SEO
Next, you'll want to do everything in your power to get your videos noticed by optimizing your videos and your video marketing strategy. This is done by optimizing the things in your control for video SEO purposes so your videos are found on YouTube and Google searches.
Title, tag, & description:
The title says it all; this is the first thing people are going to see when they come across your video. It's important to have the title name in the file extension as well for SEO purposes. Keep in mind that YouTube is the second largest search engine next to Google (which owns YouTube) so the more you optimize your title, tags, and description, the more relevant your videos are to show up in the search engine.
When writing your description, keep it concise with the most important stuff at the front because YouTube will cut you off with a "show more" button after 150 characters. That doesn't mean your descriptions have to be short, though. Everything you put in it will help with SEO and YouTube allows you 5,000 characters so don't be afraid to use them, just know that only the first few lines will be seen by everyone. It's also a great place to addlinks to your website, other channels, and anything else you want to drive traffic to.
YouTube gives you up to 500 characters per video to use on tags but adding more than 15 words looks like you are keyword stuffing. It's vital to nail down a proper algorithm-friendly pattern that you can tag your videos with to be shown more in search results. To do this, start with long tail tags that involve 3-5 words each and end on one-word tags.
Using Google tools to optimize further: Using tools like Google AdWords Keyword Planner and Google Trends allows you to break down analytical data to determine the most optimal titles, tags, descriptions, and keywords.
Optimizing Your Video Content
The optimization process starts before a camera is even turned on. You need to think carefully about the content you're making. Who is it for? What is it about? Ask yourself these questions and follow these tips to optimize your content:
Choosing keywords for your videos
Whatever your video is about, you want to make sure you spend time researching keywords that could put your video on the map. Tools like Moz and Answer The Public are helpful in finding out keywords and what people are searching for. Google Trends is another incredible tool that also has a specific YouTube search to help you find keywords for it. Then, put the core keywords in the title, description, and the tags.
Just having keywords around isn't going to do the job, though. Getting viewers is great but it's not the end-all-be-all for YouTube's algorithm anymore. YouTube wants engagement and to ensure people are actually watching your videos through, rather than loading them up and leaving, because that makes for a good advertising opportunity. So, connecting your content and your keywords is crucial because you never want your viewer to be surprised or confused by the content which leads to them leaving it behind quickly.
YouTube SEO Tips
There are many small things you can add to your videos to improve its ability to pull traffic and show up on searches:
Annotations are a neat tool that should be used wisely. Too many will drive away viewers, decreasing your engagement, but using them sparingly and in helpful spots will improve your viewing experience. Offer content the viewer of that specific video might like, insights, tips, or notes that help improve your content.
Call to Action (CTA): At the end of your video, it's generally a good idea to include a CTA to help guide your viewer to another step. This could be links to more of your videos, your website, or asking them to like and subscribe to your channel.
Subscriptions: Another indicator to Google about the quality of a video is subscribers; if Google sees that a video is converting subscribers then it assumes the content is worthwhile. If somebody has made it all the way to the end of the video, odds are that they liked it and would be willing to continue with more of your content.
Captions: A good SEO tool, as well as a way to make your video more accessible to everybody, is to add captions. Luckily, YouTube has you covered here by automatically generating captions for all your videos but it's still worth sifting through and checking for accuracy.
Find your target audience
It's important to understand your target audience as you want to cater to all relevant sections to that audience.
For example, if your channel is all about unboxing children's toys, your title should have a bit more fluff than if you were targeting a fitness workout audience. Also, creating the right color scheme for your thumbnails is important as it's the first thing people visualize before watching your video.
Optimizing your Playlists
Playlists allow you to imagine your YouTube channels like a TV network or Netflix. If someone is intrigued by a video and wants to seamlessly watch relevant videos that follow, a playlist allows you to do this. Group similar or related videos together, thus eliminating the need for your viewers to search for more as the next video in the list will play automatically, one after the other.
This is good because it keeps people engaged with your content and is essentially a CTA that does the work for the viewer.
Not only does it make it easier to consume your content, but it'll also make it more searchable. Playlists are also indexed by the search algorithm which increases the chances of your videos popping up as well as your entire playlist. That's why it's crucial to lump together similar videos with related keywords, topics, and content.
Playlists are also a great place to display episodic content. Creating episodic content is a great way to keep your viewers returning for more on a regular basis. Something like PewDiePie's Meme Review or Moz's Whiteboard Friday are both examples of a series of videos released regularly. People know the name of the series, search for it, and then each and every Meme Review episode will pop up on a search.
Promoting Your Videos on YouTube
Once you've created your channel, uploaded your video and then optimized it, you might be thinking your job is done and you can just sit back and see how it goes.
Don't relax just yet!
The next step in your process is promoting your video and getting it into the minds of potential viewers through ways other than pure SEO.
Cross Promotion on YouTube
If you are an established YouTuber and have a few videos that are doing OK already, use them to your advantage. Link your new content through your older, successful stuff. Obviously, the same rules apply here as everywhere else: don't bombard your viewers to the point of decreasing their viewing experience, but a few links, annotations, or ending CTA can be a great way to push people to more of your content.
Promoting YouTube on Social Media
This one has become essential to promoting content. Whether it's for you personally, a brand, a company, or if you're exclusively using YouTube; you should have a social media presence. After all, Social media and video viewing are the two most popular online activities.
Posting about new videos on Twitter or Facebook (or LinkedIn depending on your audience) is a great way to try and draw more eyes from somewhere other than YouTube. And it doesn't have to just be to promote videos, it would benefit you to use those platforms to help build your brand through other types of posts as well.
Social media also presents the beneficial ability to promote using paid ads and promoted posts. This way, you pay a certain amount of money to boost your posts and get seen by more people. This can be done on all social media networks, including YouTube!
Promoting Your Videos on Your Website
For many people, YouTube is just a means to an end. Most people are using it to drive traffic to their website and to host their videos. If this is the case, be sure that all your videos have a home on your site somewhere, whether it be on blogs or other website pages. Use them wherever they fit because videos tend to help with some key metrics, such as engagement and time on-site and over 50% of people say they prefer to see video on websites.
Adding videos to your high-performing blogs and web pages will get you views, increase your site's engagement metrics, and you could even link your YouTube page if you'd like.
---
There are a lot of things that go into creating a successful YouTube channel, but if you follow some of the best practices listed above and keep at it, you'll start seeing your channel grow to meet your goals and expectations.