As videos continue to become a mainstay of marketing, optimizing them to rank on Google using video SEO can make a big difference in your website visits, brand affinity, lead generation, and customer acquisition activities. If you are still figuring out how to use video to engage with your audience, you should also check our video marketing guide.
Related article: How Video is Shaping the Future of Content Marketing and SEO
Video SEO may not be as well known as the typical form of SEO most of us know and love but remains just as crucial. Therefore, we are going to show you how to go about search engine optimization for your videos and how it can help with all your SEO efforts.
What is Video SEO?
Video SEO is just as important as website SEO and the many things you do to a blog to help it rise up the rankings, and many of the techniques are similar.
Related Article: SEO Updates in 2019
The goal of Video SEO is to get your video, and the pages they live on, as high on a Search Engine Ranking Page (SERP) as possible. To do this, think similarly to the way you would when optimizing your blogs because they share a lot of the same best practices when it comes to SEO.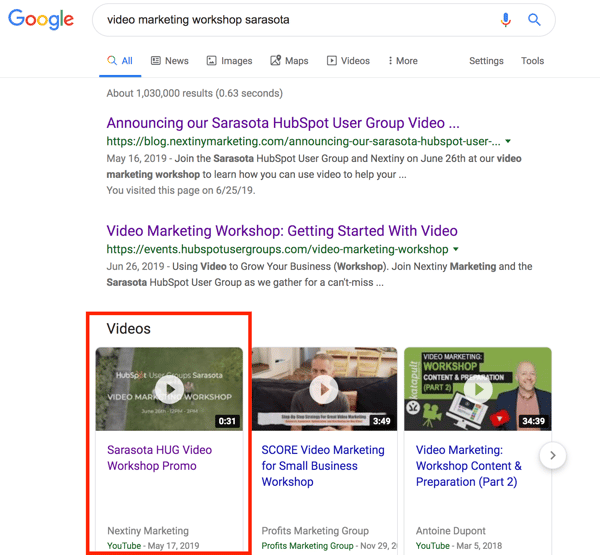 How Video SEO helps your videos on Google
How Does Video SEO work?
So, what can you do to improve the SEO of your videos? Many things, some of which you've probably seen before.
Video Keywords
Just like when you're writing a blog or other kind of long-form text, it's important to find a useful keyword and use it to focus on in your video SEO work.
The first step is always to do your research. There are plenty of powerful keyword research tools out there like Moz, Ahrefs, and Oz Content, as well as free tools like Answer the Public and Google Search Console to help find rank-able words on your chosen topics. Once you've found your keywords and done your research, it's time to put them to action and harness the magic of what video SEO can do.
In Videos, you'll be using them in many, many places:
In the video: Make sure that the word is mentioned in the video. This way it'll end up in the captions and the transcript.

Video description: This is a place where you can use it a few times and even toss in a few synonyms for good measure. If you have space, adding

a link to your site in your YouTube description is generally good practice

. A good description is

at least 250 words

.

The title: The most obvious, make sure the keyword shows up in the title of the video both on your website and eventually on YouTube and other sites. For best results, your title

should be at least 5 words

.

Filename: Include your keyword in the actual file name.

Basic keyword and SEO guidelines are in play with video SEO as well. Don't use a huge array of different keywords, don't use it in nearly every sentence, and don't jam it into every crevice you can find.
It will also benefit you to remain true to those keywords. If you stray too far you'll attract the wrong people who won't interact or engage with your video which lowers your numbers and hurts your ranking. Keep your video relevant to your keywords.
Do your research and find a keyword that matches your content and use it naturally throughout your video.
Make your video engaging
As with written content, quality is king here.
Google measures a lot of things when formulating your video's SEO and ranking and one of them is quality which it measures through a handful of different metrics such as engagement. If your engagement is low, people aren't interacting with your videos, or it's not being shared then it won't show up high on Google. You can't just shovel garbage into YouTube and expect to start showing up on the front page of any search engines.
Related Article: How to Improve Your Marketing Strategy by Conquering Video
A high-quality video, that is pulling in the right audience, keeps people watching and will result in them being much more likely to move to the next step in your desired journey for them. This improves your time on a page which, in turn, helps your video's SEO and lets Google see that you are providing great content.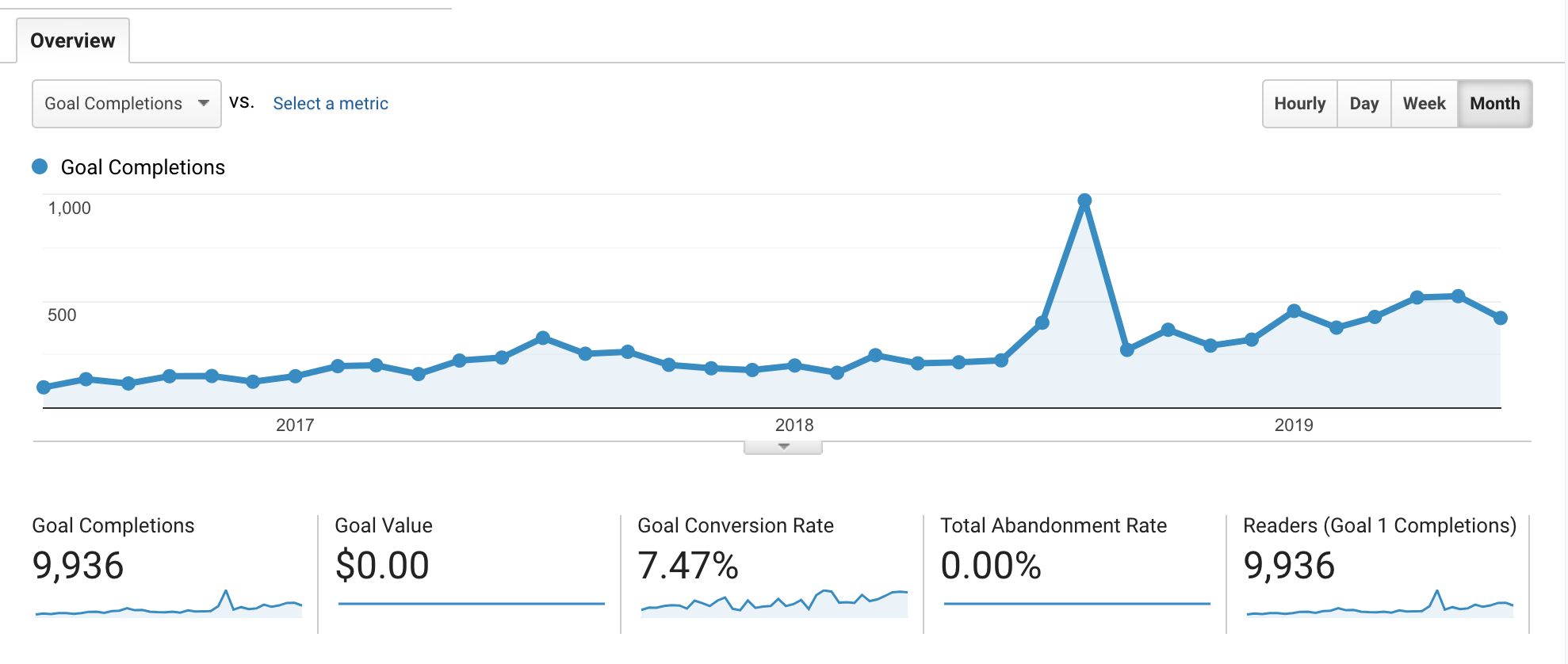 On the graphs above, you can see the correlation between video plays on Wistia (above) and people who stayed more than 3 minutes on our website, seen as a Google Analytics Goal (below).
Video plays means more time on your site.
Make Your Video Accessible
Deciding where to put your video is another big decision that plays a big part in video SEO. Obviously, the first thing you'll want to do is post it to your site on the page that aligns best with the video's topic and intention. Since this is your video's home, this is where you should be attempting to drive traffic to. Post teasers on social, YouTube, etc. and link to this page to drive traffic to your site and increase its ranking.
If your goal is to get as many views as possible, post your video to YouTube (but be sure it's still on your site). Besides Google, YouTube is the most-used search engine and will be the best option for getting eyes on your content. So, it's important to have a presence on it even when the goal is to drive viewers back to your website and other original content.
Customize Your Video
Thumbnail: A custom thumbnail is one of the biggest features that will drive people into your video. An interesting, captivating thumbnail can be a huge driver of traffic and, if you can get the thumbnail into your entry on Google,

a video thumbnail in the search results can double your search traffic

.

CTA (Call-to-action): A Call-to-action is crucial to increasing the conversion rate of your video and, odds are, that's one of the reasons you're making videos anyways. Adding a CTA to the video gives the viewer a chance to continue along your set buyer's journey. Take them to another video, a submission form, a content offer, whatever you deem to be the next step you want them to take.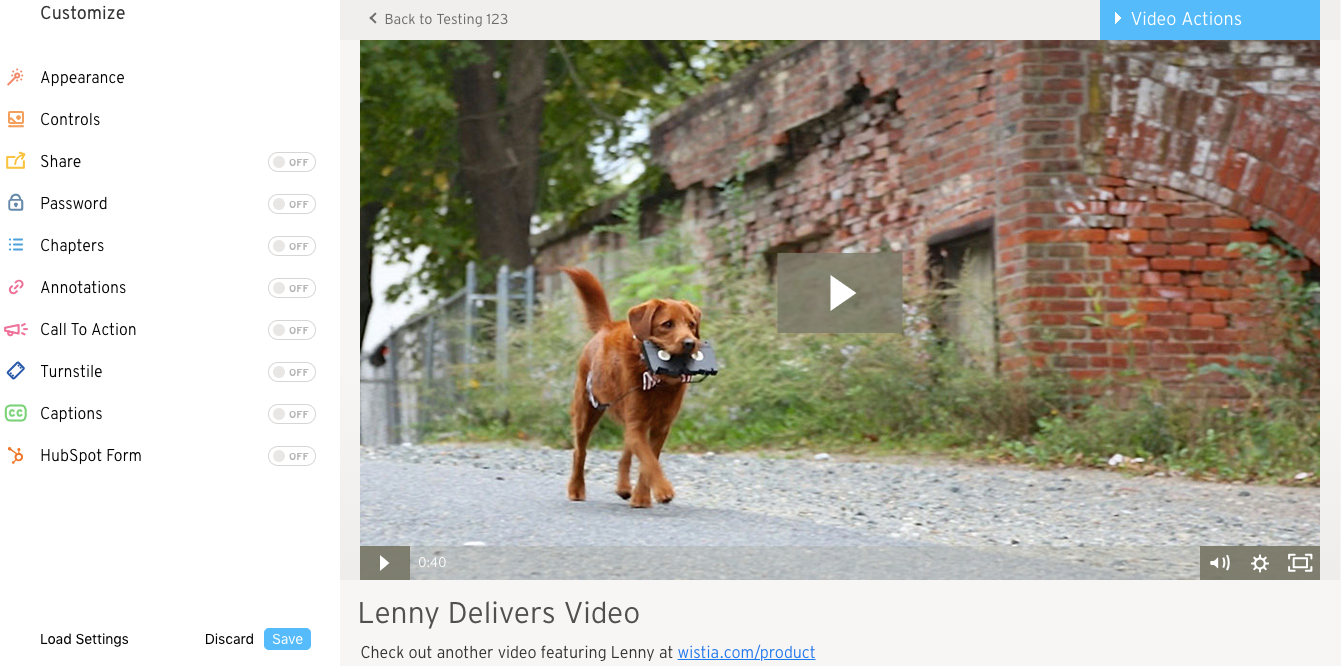 "Videos with a custom player color have an 18% higher play rate." Wistia
Video Sitemaps
Submitting a video sitemap to Google is a classic SEO play and will help the crawlers find the videos on your site and know where to look to find them.
This is crucial because it is a clear signal to Google about what your content is, shows Google where to look, will help your video show up in searches, and could provide a neat little video thumbnail on a results page to show searchers that you have a video, which alone can bring in more traffic.
Transcripts
Adding transcripts to your video is a big aspect of video SEO that you absolutely cannot forget about. Having a transcript on your website is essentially having an entire blog along with the video because it puts all your words into text and presents it to Google which makes it infinitely more findable and improves its relevancy in searches.
In order to obtain a transcript, without transcribing your entire video, gather the captions from an auto-captioning site, the easiest one being YouTube. Simply upload the video, as you would do anyway, and wait for the auto-generated captions to appear, edit them slightly and as needed, then download the files which can then be used on whichever video hosting platform you prefer for your website.
What you do with the transcript after you get it depends on the specific video hosting platform. Some, like Wistia, will automatically inject them straight into your web page's metadata and some require a more manual process.
How do video hosting platforms help with Video SEO?
Choosing a video hosting platform is an important decision that can have big impacts on your video SEO efforts. So, how do you choose the one that's right for you? There are a lot of factors, from your budget to the goals of your videos.
YouTube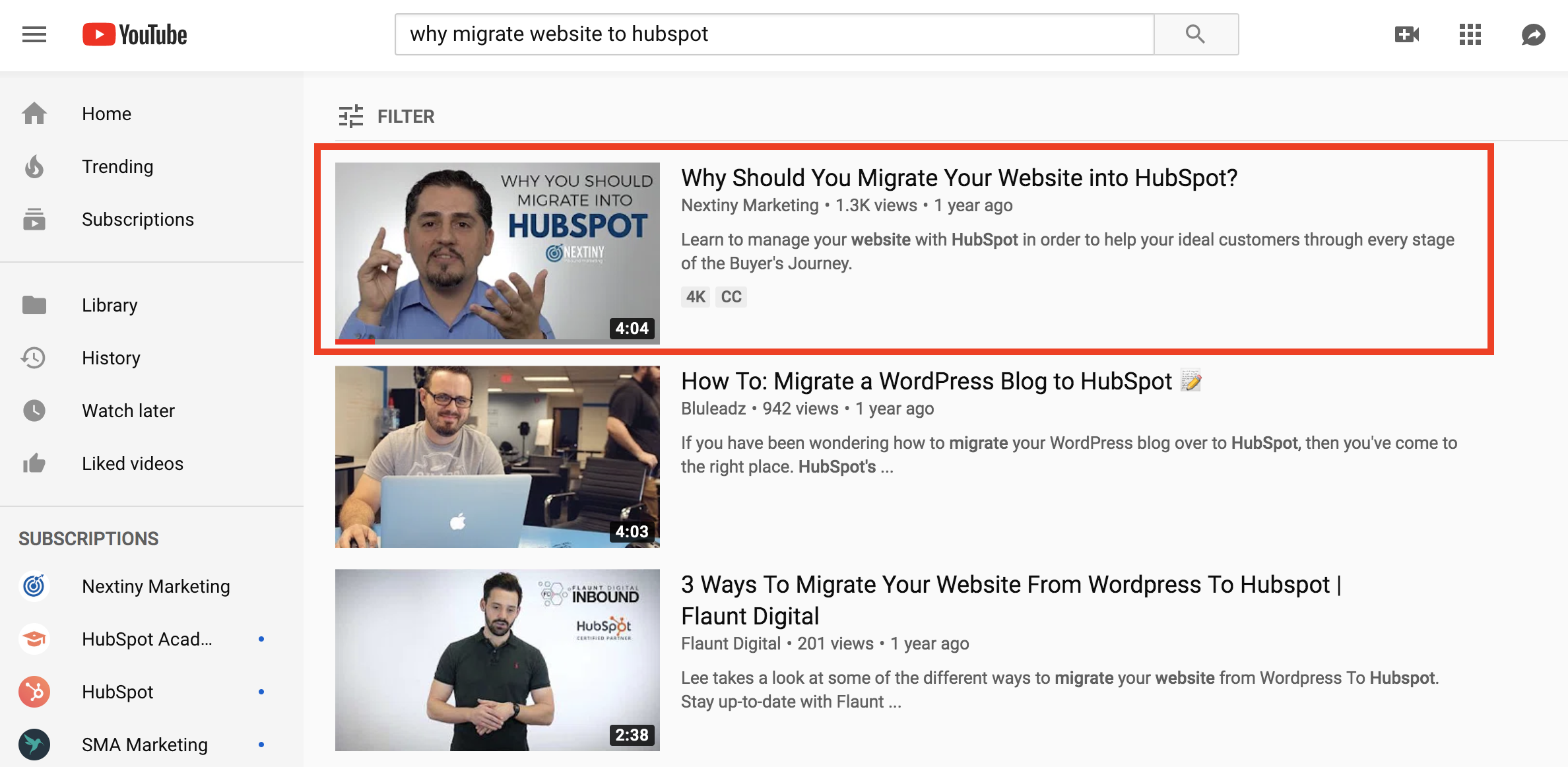 The power and reach of YouTube cannot be overstated. As the second largest search engine in the world, behind only Google itself, it has the power to help you reach a new audience of millions.
Embedding with YouTube can help your video show up on Google searches, but it will send all that traffic to your YouTube page rather than your website.
Having that YouTube presence is important and a great way to build an audience, but if your goals are to drive traffic to your site it may not be your best choice.
Wistia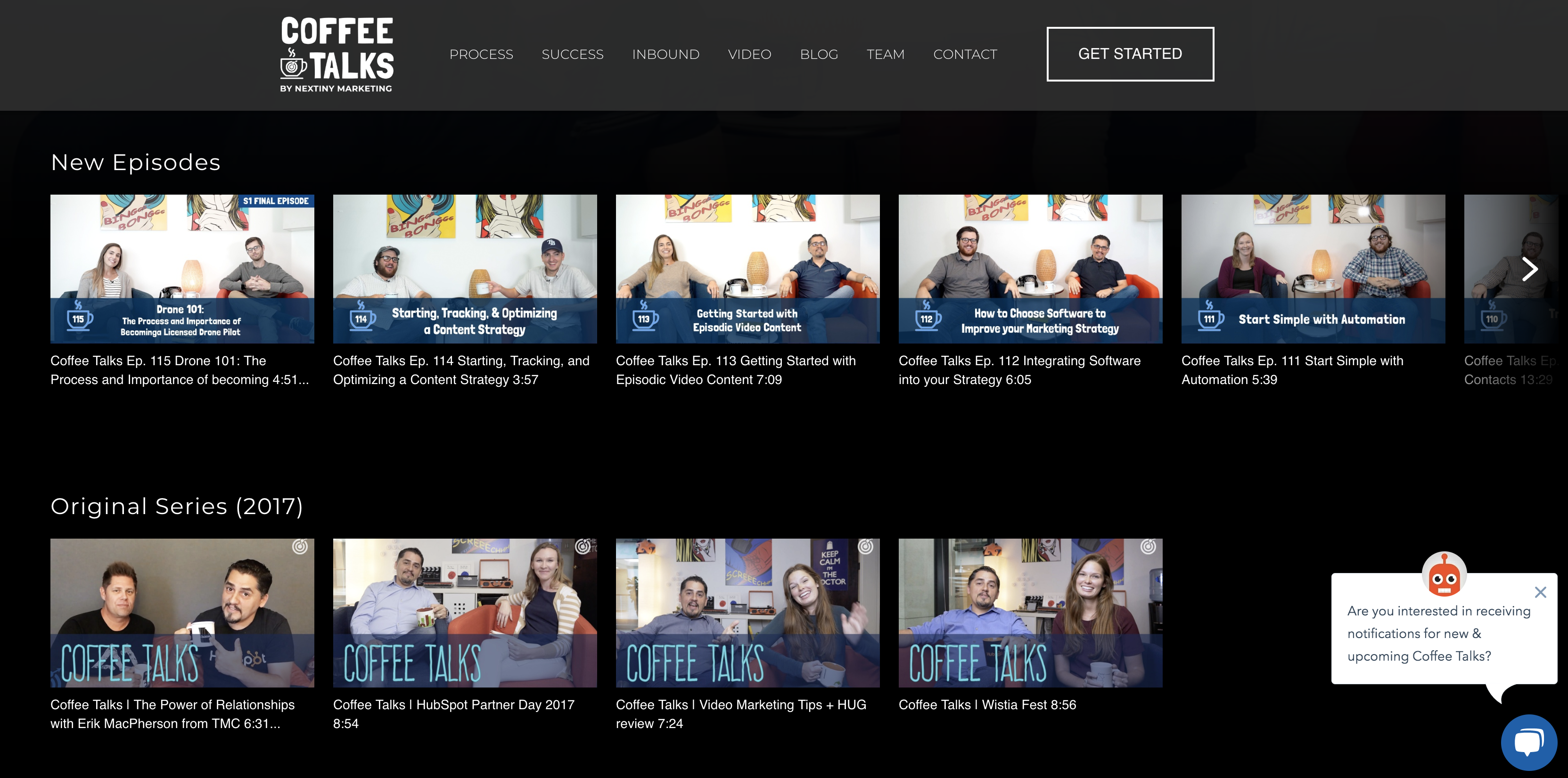 Our Coffee Talks gallery powered by Wistia Channels

If the goals for your videos are SEO focused, driving traffic and ranking highly, then there is no better place than Wistia to host your videos. It knocks out everything we've mentioned above and makes it super easy to customize all the necessary options for optimization. Also, a ton of the legwork is done by Wistia itself.
Why is it so easy? The secret is in the meta-data. Embedding a video with Wistia injects your website with the sweet nectar of video SEO. When you embed using Wistia, your website is given all the metadata needed for Google's crawlers to find everything it needs such as description, title, thumbnail URL, embedded URL, transcript, duration, and upload date. Also, Wistia's standard video embed is JavaScript optimized for speed, ensuring videos load quickly. Speed is crucial for ranking. Never heard of an XML sitemap? That's OK because Wistia will automatically generate one for you.
Wistia Video SEO - Optimize Your Video for Search Engines
With features such as Soapbox and Channels, Wistia makes it easier than ever to make videos, host them, and present them on your site. Channels are particularly helpful because they create a unique page, equipped with each individual set of captions and Schema, for every embedded video allowing them to rank for relevant Google searches individually and send people back to your channel embedded on your website.



How Video Helps with Website SEO
Creating and optimizing your videos won't only help your videos get noticed, but it can be a boon to your on-site SEO in general. Google is always scanning your content and looking to see that you have a variety of different media (video, pictures, text, etc.) to offer searchers.
Videos can increase key metrics, such as time on site, engagement, and conversion rates; all things that Google cares about when ranking your site on SERPs.
Videos are a strong SEO tool that can improve your site in many ways and in many places. They're highly flexible and can be used in places such as blogs, landing pages, pillar pages, social media posts, and much more.
Video is a powerful tool and your hard work deserves an audience. So, work needs to be done to properly optimize it to find the right audience and bring them to you. In the end, if people are happy about your video content and they are engaging with it, Google will be happy with it too.