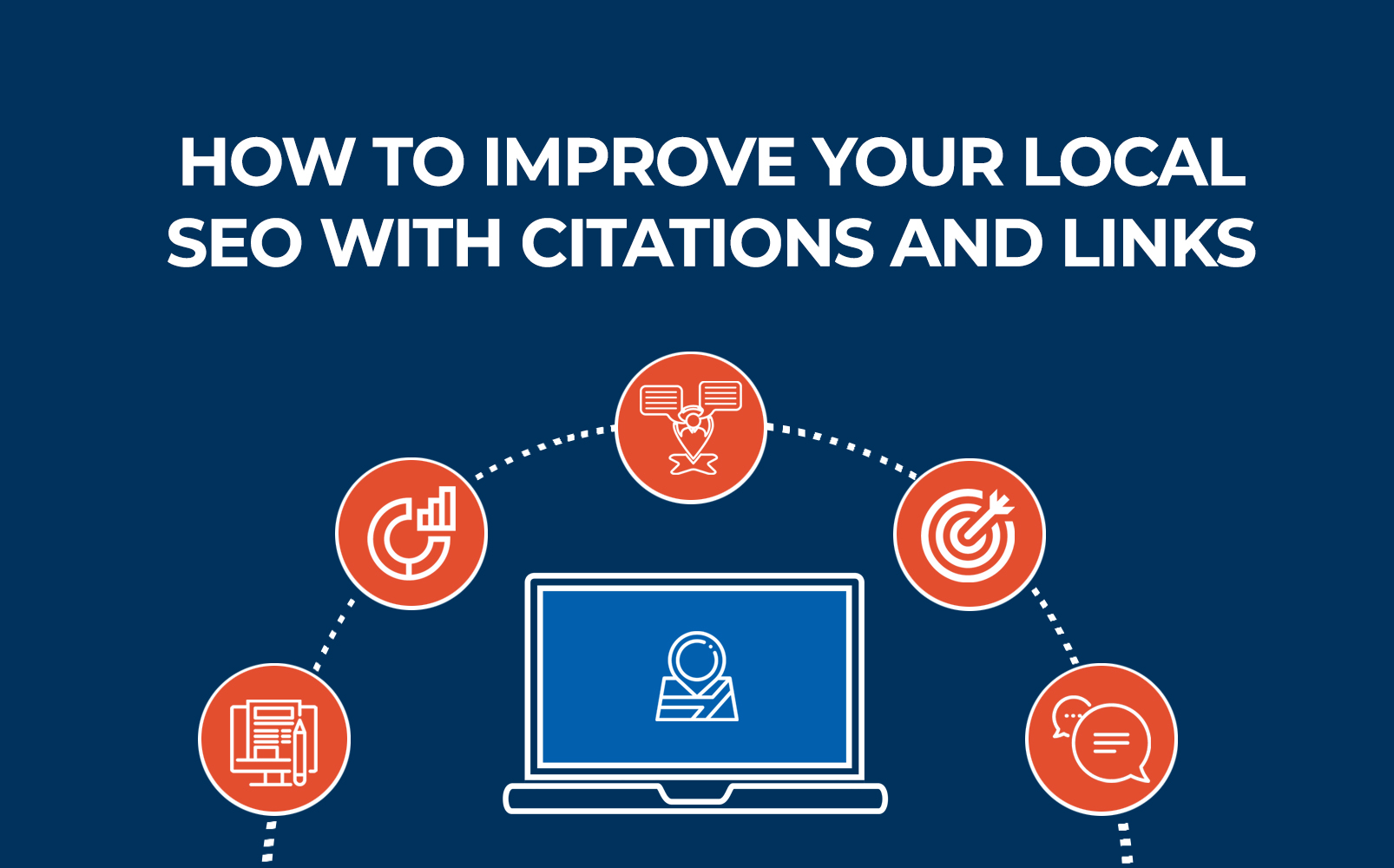 Local SEO is an often-overlooked side of SEO that remains just as crucial to businesses, small and large. In fact, Google says that over 46% of all searches have a local intent. So, is your local presence being felt?


Related Article: Video SEO: How to Rank on Google With Your Videos


Just imagine: you're sitting at home and the urge to become more environmentally friendly pops into your mind. Of course, you start to brainstorm and wonder where you can buy the materials to make your dream come true. So, you Google "solar panels near me."
What comes up will look something like this: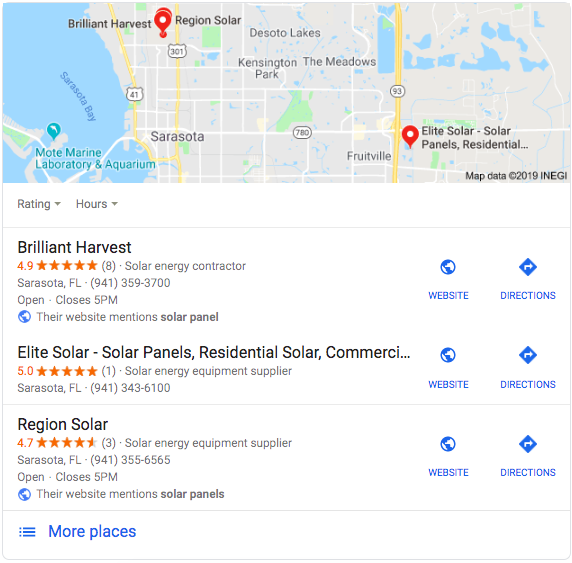 An example of what you'll see when searching locally
These are the places that show up first, the ones that have the top local SEO and rankings in this area. Local SEO is about not ending up in that "more places" button, but being on the podium of the first page.
So, how do you get there? Three things: Links, Citations, and Local SEO.
The Difference Between Links and Citations
While citations and links do share some similarities, they are also very different. Both will identify another site or business, but just in different ways.
Links
A link is exactly what you're thinking it is: a hyperlinked text that leads to a different webpage, in this case, your website.
Getting linked to from authoritative sources is a huge boost to your SEO because Google sees that as you being an authority on that topic yourself. It's also a great way to drive traffic if your site is linked from a popular one.
Links will generally look like this with a different colored text and underline, but they can also be hidden on images, videos, and CTA's.
Citations
The best way to remember what a citation is is to take a NAP. No, your dreams of a mid-workday nap aren't coming true, it's just another marketing acronym. NAP stands for: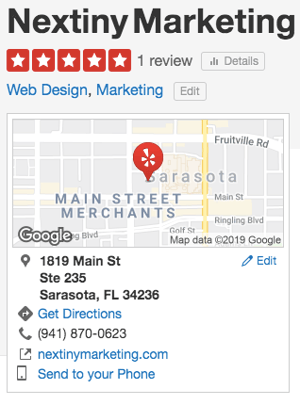 Name
Address
Phone Number
A citation (right) occurs when your business' name, address, and phone number appear on a page and a partial citation, though not as good as a full one, still counts toward a helpful local SEO strategy.
As a starting point, claiming your Google My Business page is what you absolutely must do first. It is the foundation of local SEO and will be what you build your local presence on. To do this, you must either create your business' page or, if one already exists, claim it on Google.
Links help your search rankings for organic and local search while citations help just the local search rankings. But, if links and citations are not presented properly from a search engine perspective, the site can get penalized. Sites must meet the requirements of the Google Webmaster Guidelines.
How Links and Citations Affect Local SEO
Two of the most important factors that Google uses in determining the sequence of business listings are links and citations. Google views online popularity as important for search results, in which references from credible sources are strong indicators of endorsements. Links and citations represent components of local SEO that can be very helpful in improving your search rankings, especially if the references are widespread on high-quality sites.
The three main pillars a search engine is looking for in citations are:
The amount your business has accrued

The quality of the sites from which they come

The accuracy of the information over all the sites.

The same general guidelines work for links, too. Google wants to see reputable sites linking back to you and it wants to see that it happens often.
If you don't pay attention to your local presence online and don't attempt to manage it, there will be negative side effects. The things you should be looking for that will negatively affect you are:
Inaccuracies between citations: Each citation should have the same, accurate information.

Small amount of citations: Google wants to see more and more of these so it's in your best interest to make sure you're represented on as many sites as possible.

Duplicate Listings: Make sure you don't appear multiple times on any sites like Yelp! Or Google Maps. Managing your listings will keep this from happening or allow you to delete the extras.

Links and citations represent small advertisements via local SEO that represent your business across the internet. The more these references appear online, the more credibility and authority your site establishes with search engines, which results in more organic search results. But the more of them out there, the more opportunity there is for a mistake or inaccuracy. That's why it's important to constantly be monitoring.
Your site will be incredibly hard to beat if you balance several links with several citations that are accurate. If your competitors have not done the same thing, then your site is poised to appear higher in the search rankings.
Local SEO and Citation Tools
There are many tools available to help you locate and manage the citations for your business found on the web. These are tools to use to scour the web for your business' citations and make sure they are all displaying correct information because consistent information is one of the main properties of local SEO.
Moz Local: Moz Local is a local SEO tool that works like all the rest but comes with unique features like social media integration, review management, and the ability to automatically delete duplicate listings found on the web or create a new listing if one is not found on a site.
BrightLocal: BrightLocal is another local SEO tool that comes with a citation tracker which is a useful tool for digging around the web and finding each citation for your business, including sites that don't currently have a citation for you which probably should, all while highlighting inaccuracies found that need to be fixed.
ReviewTrackers: If you didn't already know, online reviews of your business are extremely important and, like with citations, there are a seemingly infinite amount of sites that could be hosting a review. In order to find them and monitor this feedback, it could help to enlist a tool like ReviewTrackers which not only tracks your reviews but presents them in some nifty graphs and charts for easy reporting.
Yext: An excellent resource for building citations and making changes to them, Yext boasts the ability to make direct changes to your listings in many of the most popular directories, something that not every citation building tool is able to do. Yext also plays well with Apple Maps which is used when making searches via voice command tools like Siri and Alexa. This is a very powerful tool for managing citations and growing your local traffic.
How Google Uses Local SEO
As stated at the beginning of this blog, local SEO is all about local search and appearing higher on the page for local search and in those Google Maps snippets. But, how does Google get the info for the snippets?
CLICK HERE For more episodes of our Inbound Marketing video series, Coffee Talks!
Google MyBusiness
The foundation of your local SEO presence is your Google MyBusiness page.
The first thing you need to do is either claim or create a page for your business. If one already exists, work with Google to claim it as your own. If not, create one for yourself to use as a "home base" of your local SEO. This is where the standard of your business' information should be found, the info here is what should be showing up everywhere else.
Posting on Google through MyBusiness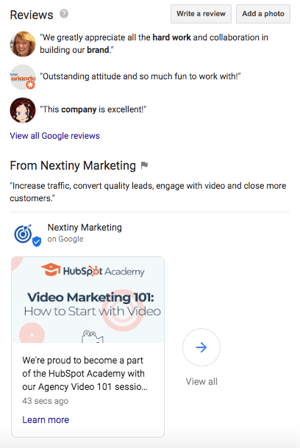 Put your latest and greatest products, services, or photo and written content right onto your Google MyBusiness page. People searching who find your company will see something like the picture to the right..
This is a great way to get your products and content in front of even more eyes and another reason why you should be working on your local SEO. This opportunity grants you a lot of real estate on the first page of Google, which is becoming harder and harder to come by, and is only available to whoever wins the local SEO race for the keywords searched.
Having a MyBusiness page is the key that opens the door to showing up on Google Maps and in local searches, but building your presence with citations, links, and reviews is what elevates your page to the top.
Google loves consistency in your information and that the information appears a lot because, in Google's mind, more citations and links to your business means that you're a legitimate and active business in the community that you're trying to market and grow in.