As time passes, various media formats grow and new gear brings new features to test. In order to capture the necessary media for their projects, people are changing what gear they use faster than ever. In recent years, video has grown tremendously and most photographers have adapted to capture video as well. In turn, this has made the "what's in our camera bag" blogs ever popular as many people who are learning new techniques need recommendations on what gear to get. If you are also looking to learn how you can use video in your marketing, sales and service efforts you can check our video marketing guide.
Here at Nextiny, we are ramping up our production output and planning to capture more content than ever before. With that in mind, let's cover everything we have in our camera bag at the moment, as well as some of the original gear from when we first started. Afterwards, we'll show you our wish list of gear and where we dream to be in the future.
Cameras:
Canon 5D Mark III, Sony Alpha 6300, DJI Mavic 2 Pro
Our most important pieces of gear are the cameras. We use the Canon EOS 5D Mark III as our main camera and the Sony a6300 as a backup when we need a 2 camera setup or have the luxury of two shooters capturing b-roll.
Both cameras exceed in quality specifications and look sharp. However, using cameras from two different brands leaves us with some color grading adjustments to make in the editing room. If you're a more advanced shooter, you might be familiar with Canon's notorious "color science" that leaves their footage looking slightly smoother and more vibrant than the footage from Sony cameras or other competing brands.
We love using both of these cameras, but we would like to eventually bring in a third camera to have two of the same brand to eliminate some of the color grading workload for each project. Have a recommendation whether we should gear towards Sony or Canon? Let us know in the comments below!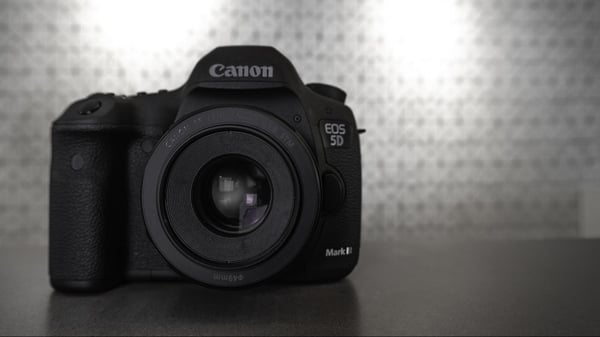 Before capturing our videos with these two cameras, we started on an iPhone. Sounds crazy, but I once heard a phrase that has stuck with me through time — "the best camera is the one you have.'' The iPhone does capture high quality video when the surrounding settings are optimal but of course it does come with limitations.
On top of the two cameras we regularly use to shoot with, we also record with DJI's new Mavic 2 Pro. The benefits of this drone are undeniable. The 1-inch sensor is perfect for our image quality requirements and the lightweight & small form makes it easy to transport. Add in all the features, and ease of use to fly, and DJI has made the perfect drone for us, especially when capturing B-Roll of our client's facilities and surrounding locations.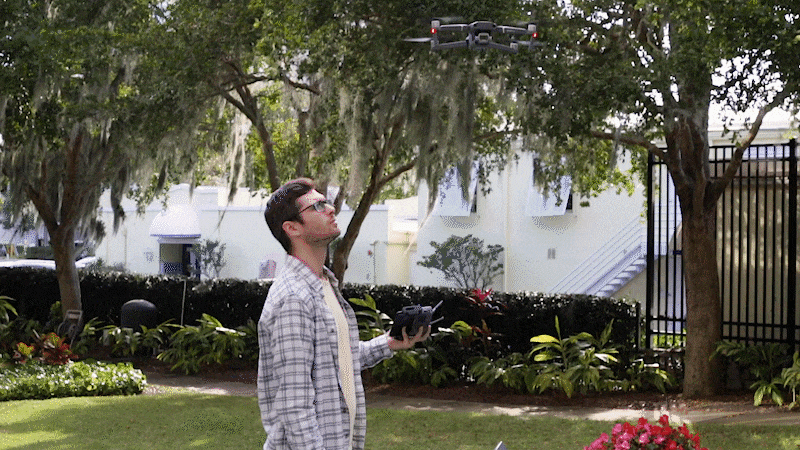 The Mavic 2 Pro is the perfect drone for us
Camera Lenses:
Canon 17-40mm f1.4, Canon 50mm f1.8, Sony 55-210mm f4.5-6.3, Sony 16-50mm f3.5-5.6
We currently have 4 lenses, 2 for each camera. We have our Canon 50mm f1.8 which is our personal favorite for interview videos because of its shallow depth of field capabilities at its focal length. Our Canon 17-40mm f1.4 and our Sony 16-50mm f3.5-5.6 are great for situations that call for a wide-angle lens such as shooting in small spaces (ie. property videos that require bedroom and bathroom footage). Our Sony 55-210 f4.5-6.3 has been useful in shoots where we need to be further from our subject or for capturing B-Roll. However, because it has such a wide range, you can sometimes detect barrel distortion in your shots.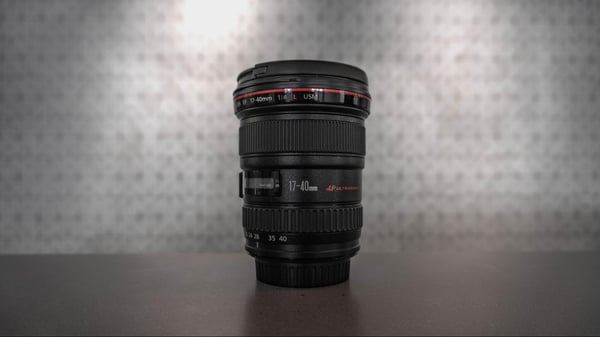 17-40mm Canon L-series lenses
Audio:
Zoom H1 recorders, Sony shotgun mic & lavalier mics
A video is only as good as it's audio which is why we use the Zoom H1 Handy Recorders. They're small, compact, easy to use, and produce great quality sound that we link up with our video in post-production. Zoom offers larger audio recorders with more channels, but the H1 is the perfect recorder for us. The H1 also allows us to plug in our shotgun or lavalier mic and with the ease of use, we can have any subject hit record, put it in their pocket, and not have to worry about being strapped down with a big, uncomfortable microphone.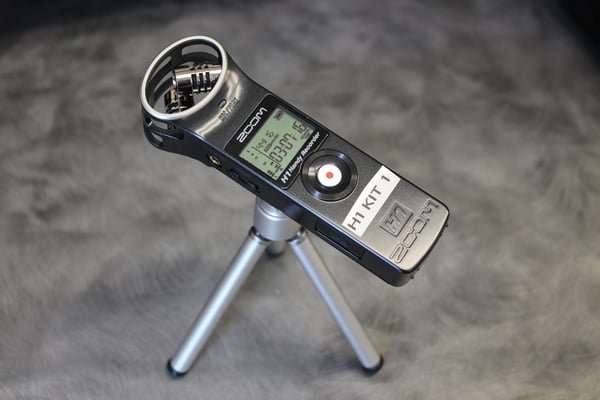 Size matters - keeping the H1 small makes a big difference
Lighting:
FancierStudio 3-way LED lighting kit, Neewer Ring Light LED kit
Lighting kits have come incredibly far in advancements when it comes to technology. A decade ago, light kits were primarily comprised of big bulky lights that used fragile bulbs and required a ton of energy. Now we can use a full LED light kit that uses significantly less energy and is easier to set-up. With our FancierStudio 3-way LED studio lights, we have versatile LED's that can be as simple as a single light set-up to advanced as a 3 way-lighting scheme. They additionally have a feature that allows color temperature change which allows us to adjust the color to the natural lighting.
Along with our LED panel light kit, we often use the Neewer ring light when capturing an interview or subject shot. It's difficult to visualize, but a ring light just makes a subject look good. The light adds depth to make the subject pop and also gives the eye just enough twinkle to really impress a viewer.
Tripods:
2x Manfrotto 290 xtra
Tripods are essential to any shooter - you need a good set of legs to capture a steady shot. Manfrotto has been in the game for quite some time and the payload, or the amount of weight a tripod can hold, is more than enough to support our current cameras as well as the ones we would like to get in the future. The Manfrotto legs are also known for their reliability and sturdiness. With them, we don't have to worry about wind knocking the tripod over or a leg giving-way for a crooked shot. Additionally, most of our accessories that we can mount our cameras to all have Manfrotto universal adapter plates. This makes life easy when swapping our cameras from our tripods to our gimbal stabilizer, for example.
Main accessories:
Zhiyun Crane 2, Glide Gear Teleprompter
Remember up at the top where I mentioned how time passes quickly and we are constantly changing our gear to capture the best footage possible? Thanks to our brand new Zhiyun Crane 2, we can now capture smooth moving video shots on the fly. This gives us huge versatility now to throw the camera on the stabilizer and start shooting. Before stabilizers, big bulky dollies with full tracks were needed - now they're a thing of the past (mostly) for shooters like us.
The Glide Gear Teleprompter has been an unsung hero for us as well - I can't tell you how many times we've gone to a shoot and once the record button is pressed, the subject completely freezes. Thanks to the teleprompter paired with the Parrot teleprompter app, we can write out a script and have the subject read along rather than having to memorize their lines or what they want to say.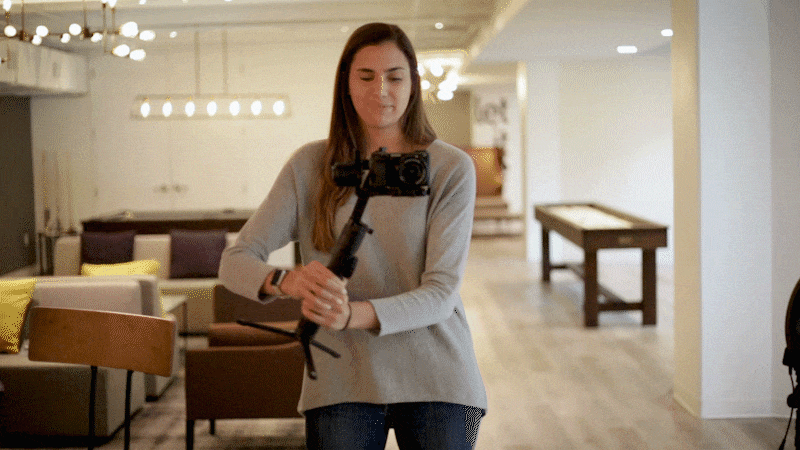 The Zhiyun Crane gives us flexibility when shooting moving shots
Secondary accessories:
IMORDEN stabilizer, Pangshi Slider, Movo Photo Motorized Tripod Head
With specific needs come specific pieces of equipment — that's why we have a wide array of gear at our disposal. With our new Zhiyun Crane always in operation as of late, we find our IMORDEN stabilizer housed in the closet much more. This is due to the direct comparison of each product and how much better the Crane operates overall. That being said, the IMORDEN stabilizer is fully manual without electronics so it's good to have as a backup in case our Zhiyun Crane has an issue for any reason. Our Pangshi 24" slider is in the same boat - the Zhiyun Crane can capture shots similar to the slider with easier use but again is always good to have in case the Crane goes out of operation. Lastly, we have a Movo Photo motorized tripod head which is a valuable asset for our bag. The size makes it easy to carry around and we usually set it up at the beginning of a shoot to capture time lapse shots we can utilize later in the final edit of a video.
Our Wish List
There you have it, a complete look at what is in Nextiny's camera bag! Now that we've covered what we have, let's go over what we would love to have. Keep in mind this is more of a wish list than anything, but a team can dream, right? Additionally, this list could be something to aspire to for other agencies looking to get the proper equipment for professional video shoots but who aren't quite sure where to find all the assets.
Cameras:
Sony A7III & Sony FS5 Mark II
Sony has been knocking the ball out of the park in recent years when it comes to quality cameras and the A7III is no exception. The incredible 4k mirrorless camera is currently less than 2,000 USD and has a small form factor, ideal for run and gun style shooting. It also has incredible versatility with the various frame-rates, resolutions, and ISO ability to shoot in low-light scenarios. All-in-all, even though the A7III isn't considered the "best" on the market, it fits our needs here at Nextiny.
Of course, if we play a hypothetical scenario and say that budget means nothing, then we would be looking at the Sony FS5. It might be a bit overkill but it's an absolute workhorse. Shooting 10-bit 4:2:2 color spacing on a super 35 sensor at 4k is already impressive but the fact you can pair an external recorder to the camera and produce uncompressed 4k video at 60 frames per second blows me away. Add the 240 fps burst mode, a built in variable ND, and the plethora of lens options and Sony has created the ultimate camera.
Drone:
Mavic 2 Pro
That's right - we already have the drone we want. Could we opt for a larger scale drone like an Inspire 2 with a better camera on it? Sure, but the image quality on the Mavic 2 Pro is exactly what we want and the size is the most ideal for us as a team. Dream drone? Check.
Lenses:
Sony FE 24-70 f2.8 GM, Sony Distagon T* FE 35mm f/1.4 ZA Lens
Of course these lenses are directly related to our A7III dream camera, but between these two lenses are everything we would need. The 24-70mm is the main workhorse for lenses on the Sony Alpha series and provides versatility in the lens world. With a 35mm prime, we can capture incredibly sharp images - ideal for our interview shoots.
Audio:
Sennheiser AVX lavalier microphones, Sennheiser MKE 600 shotgun mic
This is pretty self-explanatory - better quality audio gear equals cleaner audio channels. Our current gear is practical but there is always room for improvement on audio. Sennheiser is the industry standard when it comes to audio equipment and with the AVX lav mics and MKE 600 shotgun mic, we would be set.
Lighting:
KinoFlo Freestyle 31 LED light kit
This is exactly the same scenario as audio: better quality lighting gear means a more true color. The problem with budget LED's is that the color is not always true to the temperature. LED lights have a vast range of price but visibly look (as a form factor) very similar. It's not necessarily about the build quality but more about the panel's power outputs as well as color consistency. KinoFlo is a trusted brand that specializes in lighting gear and produces some of the best lights on the market.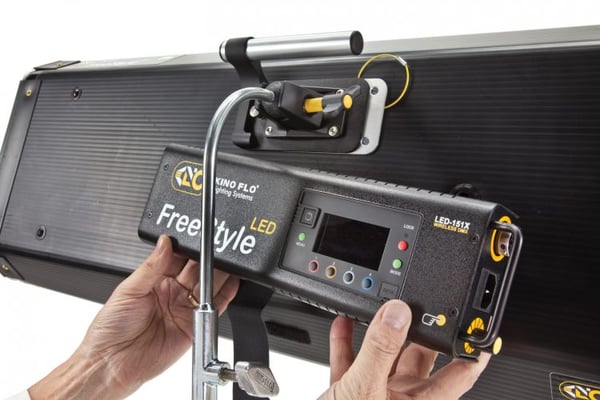 Kino Flo lights would take our production to the next level
Tripods:
Manfrotto BeFree Live, Manfrotto 504HD, Joby GorillaPod
Tripods aren't the most elaborate piece of equipment but a quality tripod has its benefits. First, the Manfrotto BeFree Live tripod has a significantly smaller size than our current tripods and would help with the ease of transportation. As for the Sony FS5, we would need to bump up to a Manfrotto 502 or 504 tripod as the payload is significantly more than the A7III. Even though we could splurge and get a "luxury" tripod like a Sachtler, I would better utilize our budget and spend more on image quality rather than tripod quality. Also, adding a Joby GorillaPod to the arsenal is a great idea as it adds flexibility (literally) to any shooting scenario.
Extra accessories:
Atomos SUMO19M 19" HDR/High-Brightness Monitor
An external recorder is crucial to any shooting setup if you have multiple people on a shoot. It adds extra visibility to the shot so everyone can give clear input on improving the image. Additionally, it avoids people crowding around your viewfinder and making situations uncomfortable.
Now that you've seen our camera bag, as well as our wish list, do you have any suggestions or recommendations on what we should get? Leave us a comment below. Happy shooting!