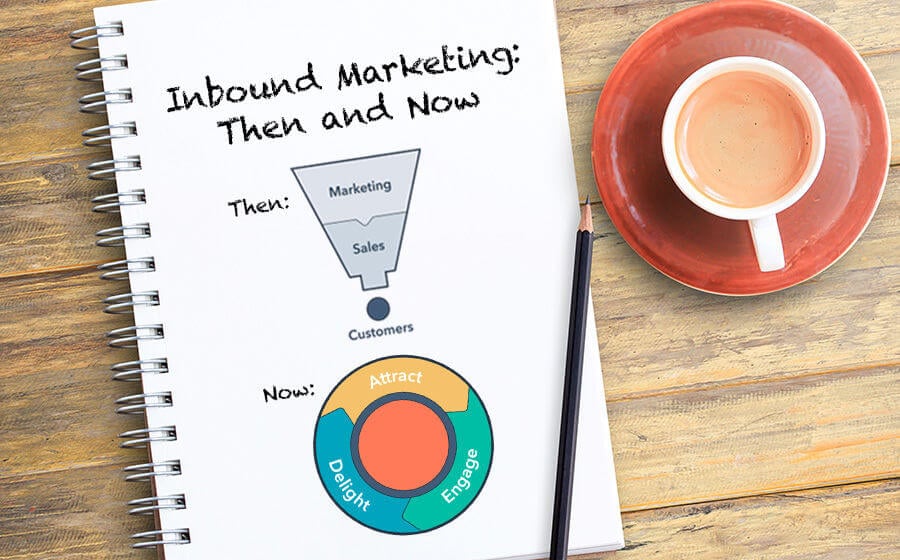 Once upon a time, inbound marketing didn't exist. There were no podcasts or online videos, email marketing was a laughable concept, newsletters came in the mail, and SEO was the acronym for Self Employment Opportunity.
Those times are now over and Inbound has been here for more than 10 years.
Related article: Behind the Scenes of an Inbound Agency
The Birth of Inbound Marketing
The concept of inbound marketing wasn't born until 2005, after the phrase was coined by HubSpot's co-founder and CEO, Brian Halligan. It began to show up in tiny blips and bleeps on the Internet in 2007 but it wasn't until 2012 until it really started to grow.
A long, slow road to success started and eventually turned into what the world knows as Search Engine Optimization (SEO) and Inbound Marketing. An ever-changing cycle of optimization followed and is still the good fight fought every day at agencies like Nextiny.
Inbound Marketing Today
Check out all the episodes of our inbound marketing video series, Coffee Talks!
Today businesses and entrepreneurs capture the world with blog writing, podcasts, videos, eBooks, and more. They take it a step further by promoting these educational resources via social media and email campaigns. Businesses create all kinds of creative and engaging content, all in an effort to serve their ideal customer through the valuable and powerful online sales funnel. Companies using inbound marketing and inbound sales strategies have their marketing and sales teams work together and feed off of each other to help the business grow.
Several years later and the successes of inbound marketing are now very apparent.
Did you know that businesses that Marketers who prioritize blogging efforts are 13x more likely to see positive ROI? Inbound marketing starts with blogging. If you're not blogging you should start now! A blog could make your business more profitable.
Using HubSpot allows you to use marketing tools that can help boost your marketing efforts and measure success through data-driven strategies. The HubSpot platform, a selection of marketing tools that integrate directly with HubSpot, help users attract ideal customers and convert those customers to buyers through an incredible array of available metrics.
Related Blog: Top 10 HubSpot Integrations to Generate Leads and Close Customers
From Funnel to Flywheel
Here's one thing that's changed drastically in the last year. You may notice a familiar face being replaced around HubSpot: The funnel has been replaced by the shiny new Flywheel.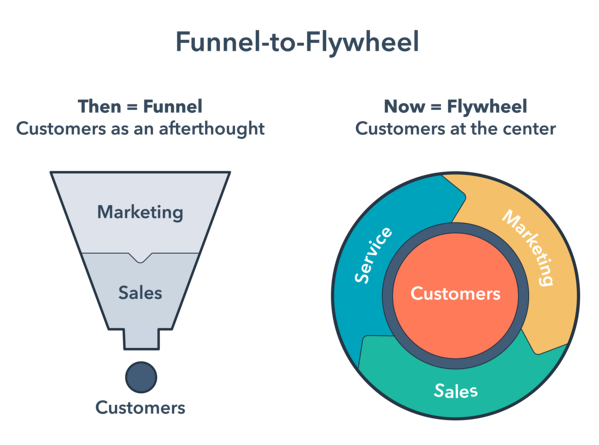 The evolution from the sales funnel to the flywheel
What does that mean for your inbound marketing strategy? The change comes at the end of your buyer's journey. Rather than dumping them out of the bottom of the funnel into the dark void, they come back around.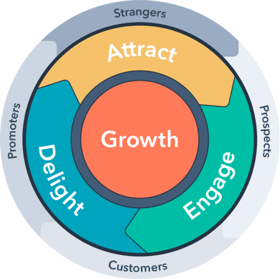 The entire ideology of the flywheel is based on the fact that happy customers create more customers. This emphasizes the third part of the flywheel: Delight, and how the flywheel is able to efficiently maintain energy or, in this case, a flow of customers.
This is done by using customer service tools like HubSpot's Service Hub to keep track of customers who've completed the buyer's journey and who still need to be serviced and "delighted."
Inbound Marketing Tomorrow
So where is inbound marketing going now? With Google consistently keeping us on our toes, we're always ready for anything that may come our way. One thing we do know, though, is that we're pretty sure what the future looks like:
Video in Inbound Marketing
You won't find a marketing agency that has embraced video more than Nextiny. Video drives a 157% increase in organic traffic from SERPs and 75% of millennials watch video on social media daily. We've seen into the future and the future is video.
Related Blog: How Video is Shaping the Future of Content Marketing
Our advice: start using videos everywhere that you can. Attach them to blogs, put them in your social posts, use them in emails, wherever you can find a place for them.
Videos alone are a great tool, but videos in addition to other content can show tremendous potential. You can pair a related video with a blog, social post, or on a web page to help increase engagement. Just having a video on your page is important because having a video thumbnail in the search results can double your search traffic.
More people than ever are using video to grow business. So, the right time to start is now.
Though producing professional-quality videos can be difficult, it doesn't have to be. There are a plethora of tools that make capturing video easier such as SoapBox by Wistia and Wistia Channels. If you're looking to go deeper into an even higher quality, take a look at what we have in our camera bag to find out what a marketing agency takes to every shoot.
The work doesn't stop after you've finished, edited, and posted your videos. Being able to track metrics like play rate and average engagement mean you can learn from how your audience interacts with those videos. Use this information to continue to improve your already created videos, as well as the ones you'll make in the future.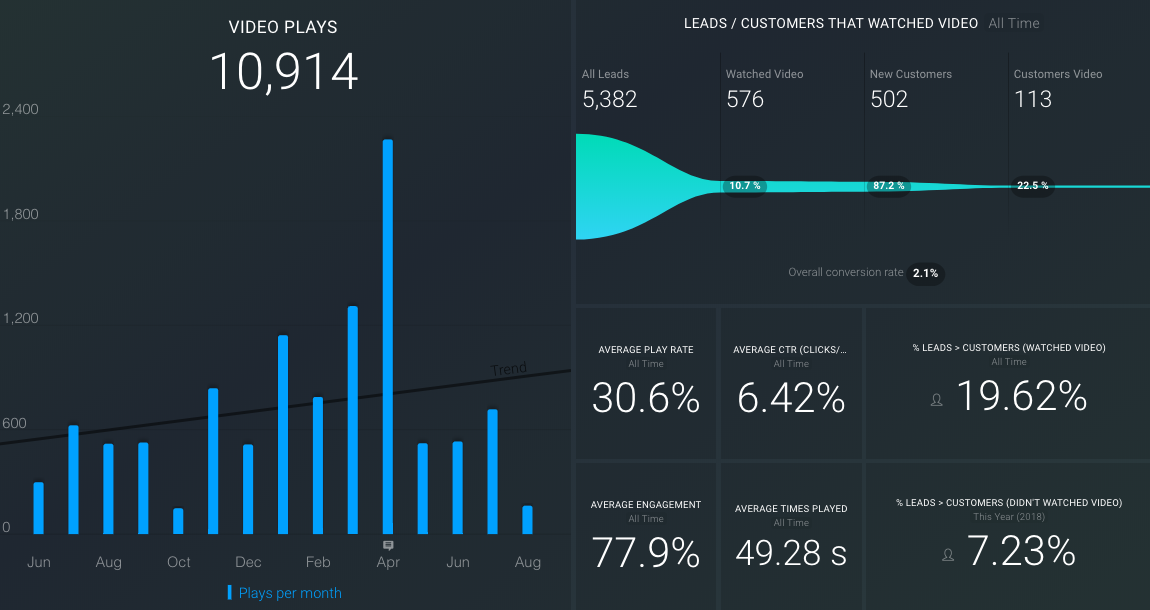 A Databox Board showcasing the many video metrics you can track
Conversational Marketing
Talking directly to your customers is not something new, but the ways that we do it have evolved rapidly in the last few years. Conversational Marketing, a 1-on-1 style of personal marketing, plays a significant role in inbound marketing and encompasses many different things such as:
Social Media: Communicating with your audience has never been easier than through social media. Each social platform is unique in the types of people you communicate with. By implementing a conversational strategy to the engagements you're having on each platform, you'll be able to communicate better with the audience that you want to be in contact with.

Over 50% of Americans believe customer service through social media has made it easier to get answers to their questions.

Luckily, each network also has its own type of instant messaging, such as Twitter DMs and Facebook Messenger.

Chat-Bots and Live Chat: A friendly chatbot or live chat option is a great way to break through the funnel and connect with your engaged leads. Create segmented bot options to create a better user experience for your site visitors. Inbound is all about being contextual with your marketing output, chatbots and HubSpot allow you to do just that. It also allows your company to remain approachable to the people who are making their first touches with you.

Email: Email has been around for a long time and it is not going anywhere.

91% of shoppers want to hear from companies they do business with via email

. Conversational and inbound marketing are important because it teaches you how to communicate with prospects and leads. Conversational means being human. Write your emails to your audience the way you'd speak to them in person.

Phone: Speaking directly over the phone is the tried and true, original marketing conversation and is still the preferred option for many. It's as easy as being available and having a number to call. Integrations such as AirCall or CallRail will help you keep track of phone records and make it as simple as possible for your sales team to be ready.

Each of these methods of communication provides a different expectation in context and response rate. Each method is best used for different situations. Where social media works, a chatbot or phone call might fail. When someone asks a question and would expect an instant response, don't ask for an email which could take days to get a response.
HubSpot has made getting into conversational marketing easier and easier as time goes on. Chatbots, social media, email, AND phone are all integrated directly into HubSpot.
Related Blog: Conversational Inbound Growth Strategies: Live Chat, Chatbots, and More
Outbound for Inbound
Another way inbound marketers have started to spread their wings is in finding more ways to incorporate outbound methods into inbound marketing.
Inbound Marketers are using these in their outbound strategies:
Google Pay Per Click ads: Use Google Pay Per Click (PPC) ads to reach your audience while only paying for exactly what you want. You only pay once somebody has clicked on your ads and you decide budget beforehand so you can solidify your budget right from the beginning.

Facebook and other paid ads: Reaching out to your audience on social media is a great way to find exactly who you're searching for.

Phone Tracking: Using

HubSpot integrations

like

CallRail

to track calls coming from offline marketing efforts to measure their success.

The world of Inbound Marketing is in a constant state of change and innovation and it's our job to stay on top of it all and make sure we're consistently on the cutting edge of the technology and strategies that are leading the way forward.