Behind every great video series is a tech stack that's full of helpful software. Each one has a role to play and a niche to fill and when put together they form the technological foundation of great video content. Not only is this Nextiny's official 2020 Stackies contender (Here's our 2019 Stack), it's also the full tech stack of our inbound marketing video series, Coffee Talks.
From Planning to Promotion, here's all the software you need to produce a high-quality episodic video series.
We are proud to announce that we were named a winner of the 2020 Stackie Awards. The Stackies is a contest that invites marketers to send in a single slide illustrating their marketing stack and the way they conceptualize them together as a whole.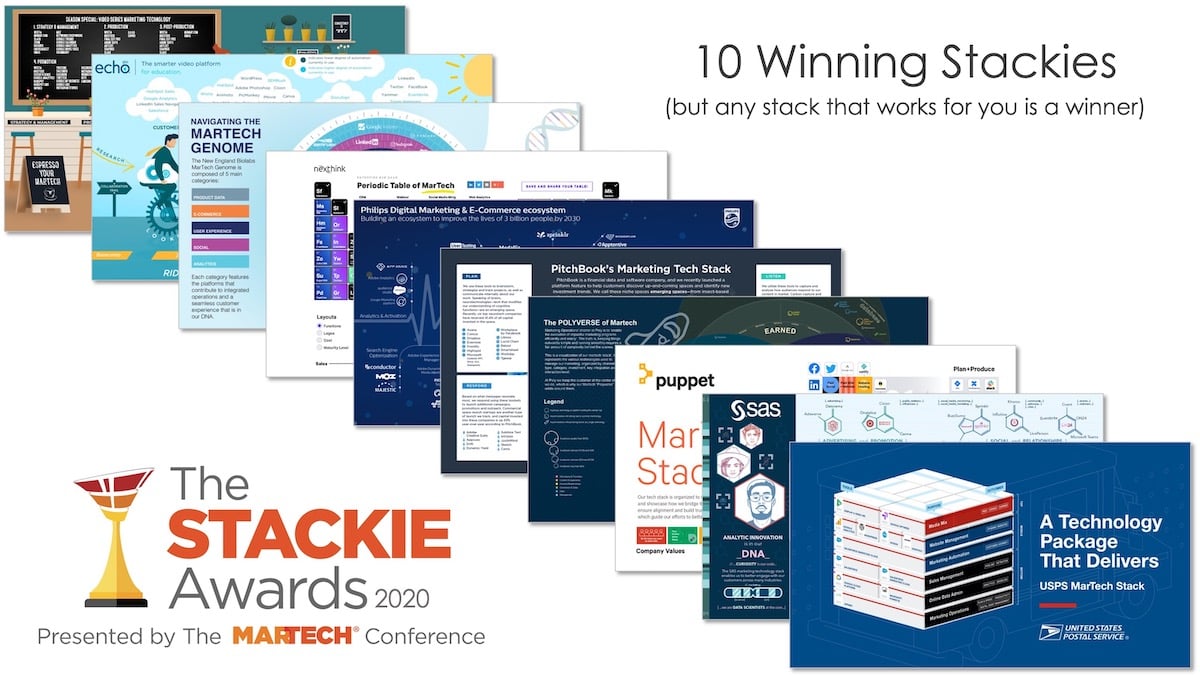 The Stackies and Our 2020 Tech Stack
Welcome to our tech stack!
Like an exclusive club, getting into a Nextiny tech stack is not easy for a software. First we do research, then we vet our options, we try them out, talk about it, and then we decide if a software has what it takes. We want to make sure that every single piece of software we choose to use has a distinct purpose and a good reason to be here so as to not waste time or money.
Without further ado, here is our 2020 Stackies entrant in all its glory: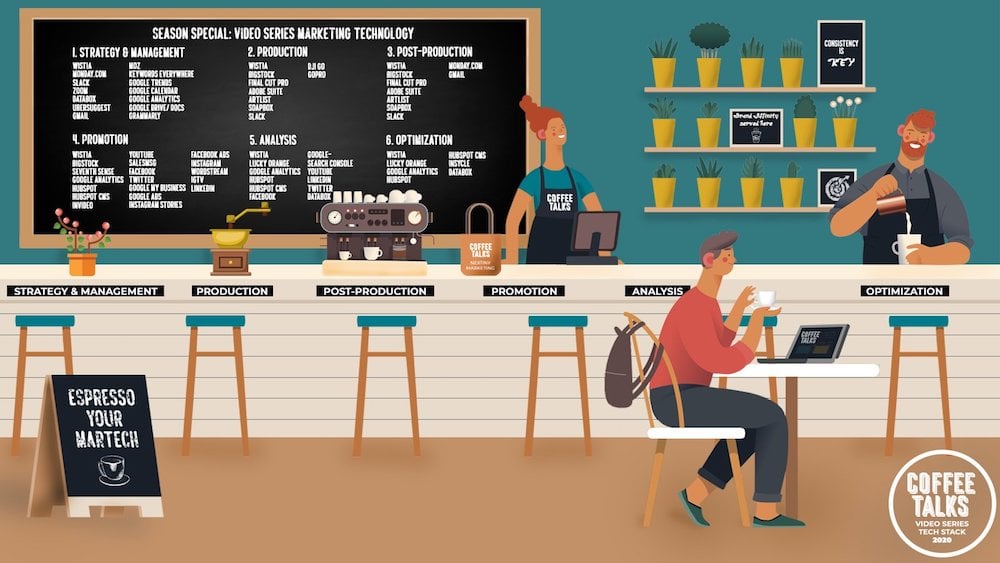 The official 2020 Nextiny Stackies Entrant
Our Episodic Video Series' Essential Software
Below you'll find each and every one of the incredible software we use at each step of the development process for our series, Coffee Talks.
---
Table of Contents
---
Communication Tools
When planning something as intricate as a full episodic video series, communication between everyone involved is crucial. Some of the tools we use for communication are:

Google Calendar: Using this shared calendar tool from Google lets you schedule your strategy meetings, plan your video shoots, book your guests, and much more.

Google Drive/Docs: Work together in a shared document that can easily be sent to anyone at any time. Also, save all your files in a place that can be accessed by your whole team.

Gmail: For all types of communication—both outside and in—Gmail is the ultimate communication tool.

Slack: For internal communication, Slack is perfect because it's an instant messenger, it lets you organize conversations into channels, and allows you to share documents.

Zoom: If your team works remotely or needs to connect with someone not in the office, starting up a meeting in Zoom is your best option. It's high-quality video conferencing that lets you invite people to meetings with a simple link share.

Monday.com: The team at Nextiny uses Monday.com for all of our project and team management. This self-described "Work OS" provides a deeply customizable—almost spreadsheet-like—layout that fits any project and keeps everyone working together.

Soapbox by Wistia: Make quick, easy videos with Soapbox by Wistia and use them to send quick tutorials, video messages, and so much more. You just download the Chrome extension, fire up your webcam and start filming.
---
Researching Tools
Doing quality research helps in every aspect of your video series. We use these tools to find topics, optimize our content for SEO, and learn what people want:

Google Search Console: The Google Search Console is a free service from Google that helps you monitor, maintain, and manage your site's presence in Google Search results.

Moz: Moz really is your all-in-one SEO research tool and when making an episodic video series, it's the ultimate help in finding new topics that are interesting and searchable.

Keywords Everywhere: Sometimes inspiration strikes in strange places. Keywords Everywhere is designed to be there when it does. It's a browser tool that shows you the keywords on any site or page you visit with the click of a button.

Google Trends: What are people in the world, your country, or community searching for on Google? Use Google Trends as inspiration for putting the right content in front of the right audience at the right time.

Ubersuggest: A keyword research tool—built by known SEO expert Neil Patel—that's in the same vein as Moz, Ubersuggest excels in not only finding similar keywords to what you're researching, but also in finding sites that rank for them so you can scope out the competition.
---
Creative Tools
These tools allow us to be at our most creative by helping us edit, shoot, and create everything we need to make the video series our own:

Wistia: We use Wistia as our video hub. With Wistia, you can customize your videos with captions, branding, and colors; share straight to social media; and embed them on your site. Wistia also lets you build out a custom channel for your video series called a Wistia Channel that provides a Netflix-like customer experience.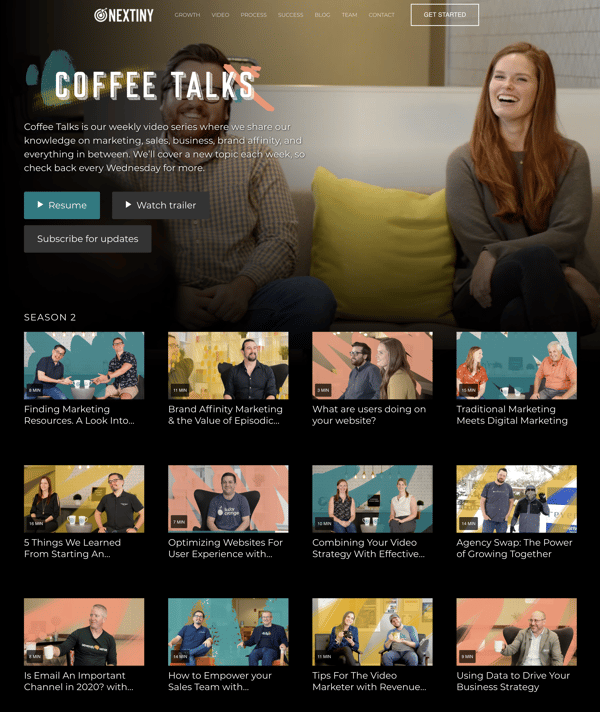 A Wistia Channel lets you customize, brand, and display your videos in a sleek Netflix-style format

Adobe Creative Cloud: The Adobe Suite is the home to tools you've probably already heard of such as Photoshop, InDesign, and Premiere. It has a tool for almost anything. We use Photoshop and InDesign to create custom animations or graphics while we use Premiere as one of our video editing platforms.

Final Cut Pro 10: An advanced video editing software, Final Cut Pro X helps us deliver a pristine final product. This is Apple's premiere video post-production tool and so FCPX is fairly exclusive to Mac users on the App store.

Artlist: With thousands of stock songs available, Artlist has one for any type of video which helps you customize your video and achieve the theme, feel, or emotion you're trying to capture.

Big Stock: If you need that perfect image for anything, Big Stock has you covered. It's the hub of stock imagery on the web.

Grammarly: Whether you're writing schedules, planning, or scripts, you want to make sure your grammar is correct. Grammarly goes beyond the red squiggly lines of Word and gives you tips on tone and alternative words to go along with it's top-notch grammar and spelling checks.

DJI GO 4: Allows us to operate our DJI Mavic 2 Pro paired with an iPhone or Android device.

GoPro: Gives us remote functionality with the GoPro for easy control.
---
Promotional Tools
Your job isn't done once you've got a finished product. These tools will help you find your audience and build a following:

HubSpot: Everything you need to put together a web page, email, blog post, or social media post is all in one place with HubSpot and its all-encompassing CMS.

LinkedIn: All businesses should have a LinkedIn page by now—especially if you deal primarily in B2B.

Facebook: It's the most popular social media platform and almost everyone uses it which means you should too. It's a great place to promote and post your videos and you can even make your series its own page. You can also use Facebook Ads to create more buzz and get your posts in front of more people.

Twitter: Twitter is a fast-paced social media platform that is ideal for communication between brands and between brands and customers. You can do anything on Twitter including promoting your video series.

YouTube: Though we primarily host our videos using Wistia, YouTube is not something to be forgotten. It's the 2nd biggest search engine aside from Google and is one of the best ways to get eyeballs on your video. It's also a great (and free) caption machine.

Google My Business: Your Google MyBusiness page is important to your local SEO presence because it's what people see when they find your company using things like Google Maps. Update your page with videos, posts, and more.

Salesmsg: It's all about connecting and engaging with people where they are, whether that's on social media, by email, or even text messaging. Connect Salesmsg to your HubSpot workflows and use it to promote your videos, send new episode reminders, and much more.

Invideo: For quick short videos—like for social media—Invideo is an easy solution that's intuitive and easy to use.

Instagram: The most visual of the social media platforms, Instagram is a great place to advertise your series even though it probably won't support a full episode—unless your episodes are less than minute. If that's the case, IGTV is your answer.

Google Ads: Google Ads is an online ad platform that helps set up ads on the web and specifically on Google and its many applications. You can customize your ad campaign based on goals and budget.

Wordstream: Wordstream is an organizational tool that helps us manage all of our digital ads in one place.
---
Analysis Tools
Learning from the data is the best way to continuously improve your content. These tools help us learn how people are engaging with our content and establish a data-driven plan for future videos.

Wistia: We use Wistia as our video analytics tool. With Wistia, you can track how people are engaging with your videos, create audiences for promotions and allow people to subscribe to your channels to own your audience and build it over time.

Lucky Orange: Ever wonder how people are interacting with your website? Wonder no more! Lucky Orange is your destination for site engagement data and the super helpful site heat maps that show exactly where people are going and clicking.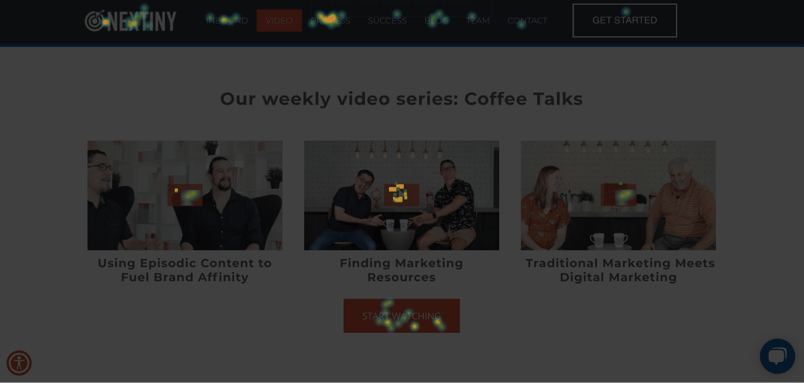 A Lucky Orange heatmaps show you exactly how people are interacting with your website

Seventh Sense: When you promote your show via email, Seventh Sense is here to help you find out exactly when to send to each of your contacts. This helps improve your open rates and keep your emails out of that dreaded spam filter.

Databox: Display and analyze all of your data with Databox, a data aggregator that uses its software integrations to pull data from all of your sources and put them neatly in a pretty data board.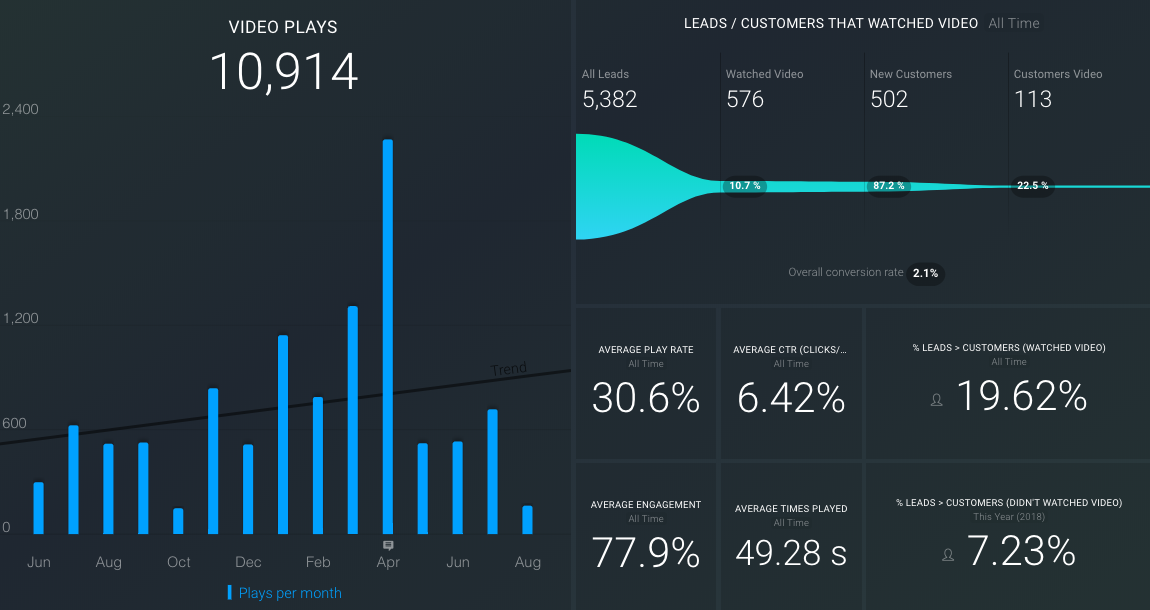 A Databox board is a sleek way of analyzing data from multiple sources

Google Analytics: If you want more data than you know what to with, Google Analytics is what you need. There's a stat for everything and, if you can't find what you need, you can even create your own.

Insycle: Every contact database goes through its sloppy phase. Connect Insycle to your CRM and receive insights on how you can easily make your contact database a system you can rely on.
---
Other Episodic Video Series Resources
Make Easy, Professional-Quality Videos with Soapbox by Wistia
How to Build a Professional-Quality Video Studio at Home
How to Improve Production Value on Your Episodic Video Series
Combining Your Video Strategy with Effective Written Content
How to Add Value to Your Videos With Intentional Messaging & Production
Vidyard vs. Wistia: Video Hosting and Analytics Comparison
Brand Affinity Marketing: How to Use an Episodic Video Series
Video SEO: How to Rank on Google With Your Videos
How to Get a Part 107 Remote Pilot (Video Drone) License
How to Improve a Marketing Strategy by Conquering Video
Wistia Channels: Your New Video Pillar Page
---
A lot goes into creating an episodic video series from the planning stage to production. Lucky for us, there are plenty of software and tools ready to help us along the way.